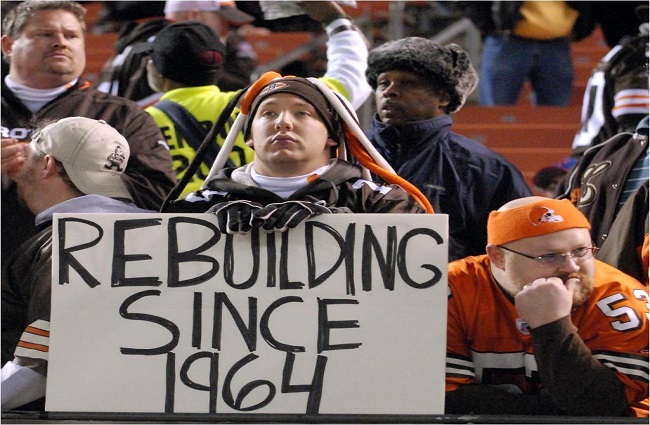 On Monday night, myself and a buddy of mine scored some discounted tickets in some prime real estate for the Browns-Ravens game. We were in the closed end of First Energy Stadium, and the fans in our section were pretty riled up for the whole game.
As a fan, I can get pretty riled up, especially when I'm at a game, so to be around kindred spirits only helped fuel that. But, I noticed around my section that most of the fans were adults. There weren't very many kids.
Now, of course, the fact that it's a Monday Night game could have played into it. It is a school night, after all, and night-time crowds at Browns games tend to get a little bit rowdier than day-time crowds because fans have had longer to consume some pre-game beers.
But I can remember going to a Monday night game as a 15-year-old and being excited about the prospect. And, yeah, I had a hard time waking up for school the next day, but I made it and I had a great story for all of my friends in class.
That was 1989. I've been to at least one home game every year (not including the three years the franchise didn't exist) since 1988 and I was a season-ticket holder from 2010-14. The Browns are, clearly, my favorite team of the three teams in town, and even though they are pretty terrible and the Cavs could very well win an NBA Championship this summer, that will not change.
My oldest memory of the Browns involved my grandfather selling Cadillac's to the players. I got the chance to meet Leroy Kelly when I was a baby in 1974, although I don't remember that (my parents told me that story all the time), and my grandpa got me a signed football with members of the Browns teams in the 70s, including Jerry Sherk, Brian Sipe, Reggie Rucker, Dick Ambrose, Paul Warfield, Greg Pruitt.
I remember being 6 and riding to school with my mom and hearing songs about the Kardiac Kids on the radio and seeing Kardiac Kids T-shirts everywhere. The year was 1980, and everyone was convinced Brian Sipe was going to take the Browns to the Super Bowl. I was too young to appreciate it, but I remember walking around singing the words to "The 12 Days of a Cleveland Browns Christmas" song.
I didn't know who "Both the Pruitt's" were or why "DeLeone-a-hikin" was important, but I knew every single word!
When I got old enough, the Browns of the 80s were starting to get really good. Bernie Kosar. Kevin Mack and Earnest Byner.
Hanford Dixon and Frank Minnifield and the Dawg Pound. Five straight playoff berths and three berths in the AFC Championship game. Sure, John Elway broke my heart in all three of those games, but you began to expect the Browns would win and be contenders.
The Indians were awful during that time and the Cavs were just starting to find their way with Mark Price, Larry Nance and Brad Daugherty, but the Browns were it. And even though the team has been pretty much a laughing stock since 1990, I never let go of that fandom.
Over Thanksgiving, I sat down with my nieces and nephews and some of their friends and cousins who happened to be all together to celebrate the holiday. I asked them all to rank, in order, which Cleveland team was their favorite – the Browns, the Indians or the Cavs. All of them ranked the Cavs first, most ranked the Browns second and the Indians third.
When I asked why the Cavs, most of the answers centered around LeBron James, they were winning, they reached the NBA Finals, they have Kevin Love and Kyrie Irving, they're expecting them to win a championship, they like basketball the most.

NEO Sports Insiders Newsletter
Sign up to receive our NEOSI newsletter, and keep up to date with all the latest Cleveland sports news.