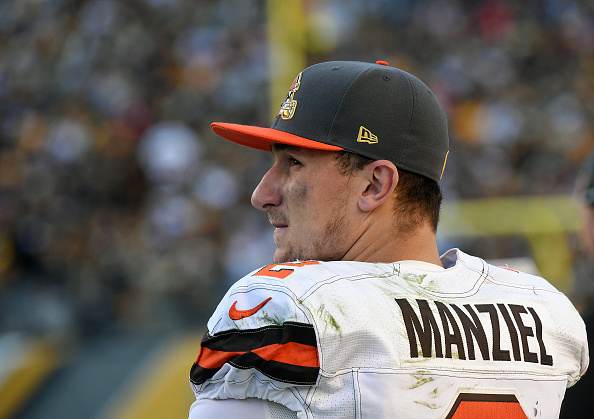 You didn't think that twitter would be a kind place today after the decision by Mike Pettine to start Austin Davis over one of last seasons first round picks Johnny Manziel – did you?
Well, here's a sampling of what's being said and talked about today on Twitter – and just some of the reaction after the decision by Pettine was made.
Just release Johnny so he can go to the bar for lunch.

— Busted Coverage (@bustedcoverage) December 2, 2015
All Mike Pettine did was tell @JManziel2 that if he wants to be Jeff Spicoli instead of an NFL quarterback, he's getting his wish.

— Bob Frantz (@FrantzRadio) December 2, 2015
If I could travel back in time, I would travel to the time when Mike Pettine was in elementary school (1940's) and make fun of him balding..

— SC Cleveland™ (@SC_Cleveland) December 2, 2015
Austin Davis was sent here to save a City

— Austin Bofa (@TheKardiacKid) December 2, 2015
The #Browns should be showcasing #johnnymanziel for a potential trade or at least to try to win games but they want to punish him.

— JT The Brick (@JTTheBrick) December 2, 2015
Updated Browns QB depth chart: 1. Austin Davis 2. Help Wanted sign 3. Terrelle Pryor … 256. Josh McCown's collarbone 257. Johnny Manziel

— NOT SportsCenter (@NOTSportsCenter) December 2, 2015
#BrownsTwitter reaction to Johnny Manziel not starting. pic.twitter.com/T2xnjMEWzf

— McNeil (@Reflog_18) December 2, 2015
"Hi. We want you to be our new Head Coach. Ray Farmer will be your GM. And Johnny Manziel will be your QB. Hello? Hello? Is anyone there?"

— Ryan (@RyInCBus) December 2, 2015

NEO Sports Insiders Newsletter
Sign up to receive our NEOSI newsletter, and keep up to date with all the latest Cleveland sports news.