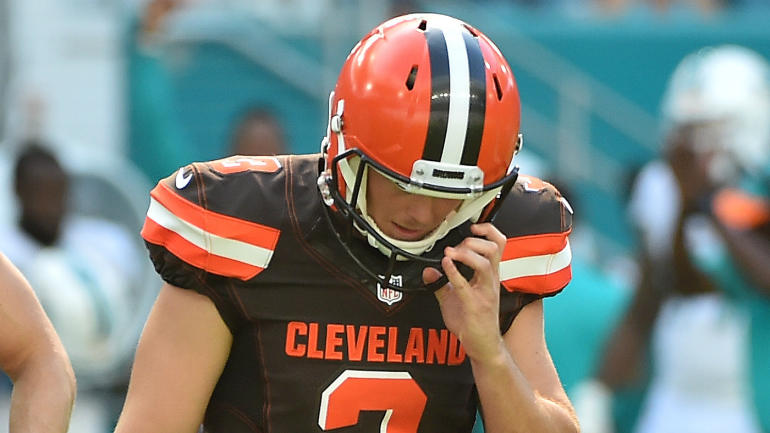 The Cleveland Browns played a hard fought game on Sunday against a winless Miami Dolphins team. This game came down to a potential game winning field goal attempt by newly acquired kicker Cody Parkey.
Parkey, 24, is an undrafted athlete from the University of Auburn. He was picked up by the Philadelphia Eagles in 2015 and spent one season in the Keystone State.
The Browns lost their kicker Patrick Murray to a season-ending knee injury. He was replaced by Parkey, who played his first game in a Cleveland uniform this Sunday.
This game is one that he would love to forget. Parkey went 3-6 on field goals and missed a 46-yard game-winner as time expired. The team eventually went into overtime but it was too late as the Browns defense couldn't prevent a touchdown by Dolphins running back Jay Ajayi.
After the loss, many fans were questioning this acquisition and needed to hear something from head coach Hue Jackson.
Jackson, in his first season as head coach, gave his opinion on the whole situation and why he will hold on to Parkey for a little while longer.
Yes, I do right now. I do. That is a tough job. I challenge any of us to come in here on a flight late Friday night, wake up and meet the coach for a second and then get on another flight and head to Miami and not know really a lot of your teammates but some and walk out and kick in pregame and then go kick in a game where you attempt five of these field goals – not two, not one but five; that's a lot of pressure – and then here is a game-winner hitting you right in the face. I can't put that on him. That is a tough situation.

Everybody says, 'Well, that is the kicker's job.' It is his job, but normally, a guy has a job, he has been around his employer a little bit and he has been around his teammates a little bit. It was tough. It was tough circumstances. It is unfortunate. If he would have made it, we would be celebrating right now, but he didn't. It is unfair just to dump it all on him. There are a whole bunch of other plays we left out there with some guys that have been here since OTAs since I first met them way back when that we could have made. There is blame to go all the way around, starting with me. It starts with me and ends with me so we have to get better.
There are so many better kickers that are currently free agents, said many Browns fans. Jackson told the media that he was very confident in Parkey and will continue to support him during this tough time.
We made an organizational decision that that was the right guy for us. He was the right guy. We felt good about watching him kick on tape. We felt good about everything that he was doing. We felt he was the best of the group. We all made that decision together. I have heard that there have been different things said but that is so far from the truth. Any decision that is made here about our football team, we make together. I felt very comfortable. If there is anything that comes out of this building, it should come from me, OK? Not from anybody else. If I didn't say it, I guarantee that nobody else has any right to ever say anything about we should have had this guy or somebody wished we had that guy. We took the guy that we wanted. It was Cody Parkey. That is the guy we put on our team and that is the guy that kicked for us.
Parkey will start against the Washington Redskins this Sunday. Let's hope he bounces back and doesn't miss any more field goals this season.

NEO Sports Insiders Newsletter
Sign up to receive our NEOSI newsletter, and keep up to date with all the latest Cleveland sports news.