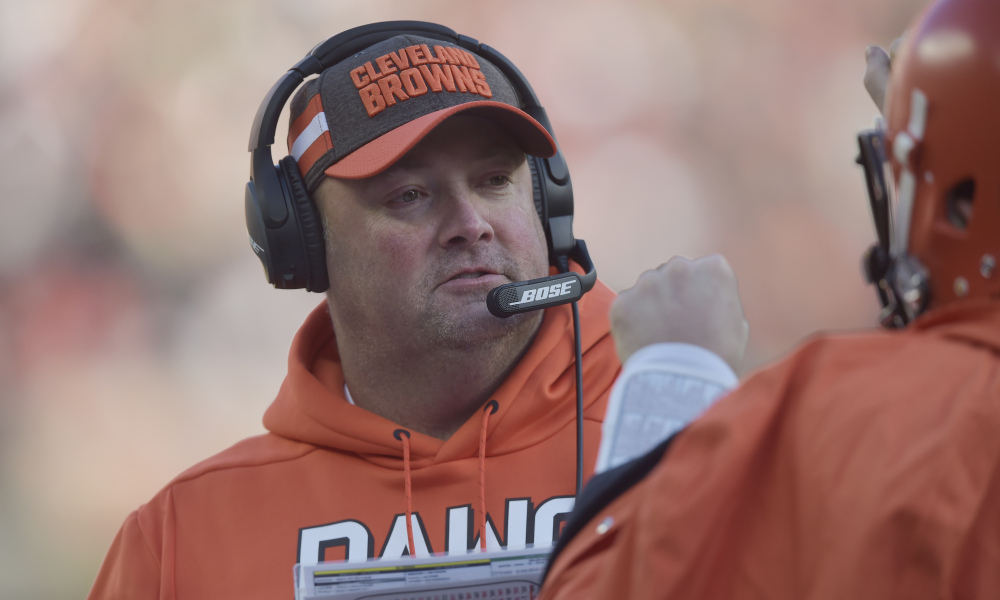 John Dorsey didn't have to look too far to find the Cleveland Browns 21st head coach. That's because he was already in the building.
One day after multiple reports listed Freddie Kitchens as one of two finalists for the Browns coaching vacancy, Chris Mortensen of ESPN revealed Wednesday afternoon that Kitchens is in fact the guy they'll hire.
Freddie Kitchens will be named new Browns head coach later today, per sources.

— Chris Mortensen (@mortreport) January 9, 2019
The 44-year-old beat out former Vikings quarterback coach turned offensive coordinator Kevin Stefanski, who according to Ian Rapoport of the NFL Network was back in Cleveland for a second interview but returned home without being offered the job. Rapoport also added that Kitchens was unlikely to stay on as OC had the team hired Stefanski.
In total, Dorsey and his search committee interviewed seven candidates for the job since the season ended 15 days ago. The first of which was interim head coach Gregg Williams, last Tuesday. Dorsey and company apparently saved the best for last as Kitchens had his interview with the team this past Monday. He was the only candidate to interview in week two of the search. Williams, meanwhile, has been relieved of his duties as interim head coach and defensive coordinator.
Kitchens emergence as the Browns new head man is a bit of a surprising one. Four months ago, as the 2018 season was getting started, hardly anyone in Cleveland could have even told you who Freddie Kitchens was. At the time, he was serving the team's running backs coach under head coach Hue Jackson and newly anointed offensive coordinator Todd Haley.
Eight weeks into the season though, Kitchens career took an abrupt new turn when both Jackson and Haley were fired and he was promoted to offensive coordinator. What was a surprising, unexpected move at the time turned out to be the right one for the Browns.
Under Kitchens' guidance, Cleveland's offense made immense strides over the second half of the season, particularly in the red zone where the Browns went from scoring TDs on just over 50-percent of their red zone possessions midway through the season to 66-percent.
Most importantly though, Kitchens developed a strong relationship with rookie quarterback Baker Mayfield and figured out how to maximize the No. 1 overall pick's skillset within the offense. Over his first five starts with Jackson still in charge, Mayfield was completing just 56 percent of his passes and had barely thrown more touchdowns (8) than interceptions. Mayfield's competition percentage spiked to 68-percent under Kitchens as he wound up throwing for 19 touchdowns and eight interceptions for the remainder of the season, while establishing a new rookie record for TD passes (27).
It's safe to assume that Kitchens familiarity with Mayfield and the comfortability that exists between the two from this past season played a role in Kitchens winning the job.
Meanwhile, the on the field success made Kitchens name a household one here in Cleveland, as droves of fans have tried to validate his case for being head coach in recent weeks. It's obvious the Browns felt similarly about Kitchens, in wanting to see him stay here in Cleveland. So much so that they actually blocked other teams from interviewing Kitchens from lateral offensive coordinator interviews according to a report last week.
Prior to joining the Browns staff this past season as a running back coach, Kitchens served in the same role with the Arizona Cardinals in 2017, after spending the previous four seasons as the team's quarterbacks coach and six more before that as the tight ends coach. His NFL coaching career got started in 2006 where he joined Bill Parcells in Dallas as a tight ends coach. Kitchens time with the Cardinals spanned two different coaches as he was first part of Ken Wisenhunt's staff and then teamed up with Bruce Arians, who is taking the Buccaneers head caoching job.
As is coaching history shows, Kitchens had never called plays prior to taking over as offensive coordinator this past season. That lack of experience is the one knock on Kitchens concerning his readiness to be a head coach. That clearly doesn't matter much to Dorsey and the Browns brass though as the risk of losing Kitchens and watching him success elsewhere, clearly outweighed his lack of experience.
Interestingly, Kitchens is the fourth offensive minded coach to earn a head coaching job this offseason, as NFL teams attempt to follow in the footsteps of the Los Angeles Rams in finding the next great offensive guru. So far only the Broncos were bold enough to buck that trend, hiring Bears defensive coordinator Vic Fangio to fill their head coaching vacancy.
Follow: @Spencito_

NEO Sports Insiders Newsletter
Sign up to receive our NEOSI newsletter, and keep up to date with all the latest Cleveland sports news.