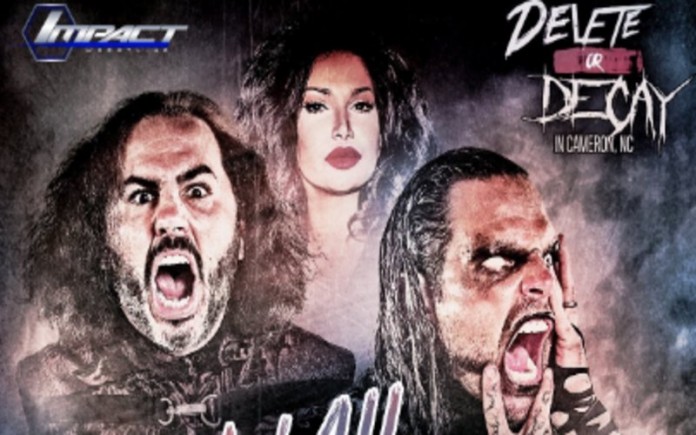 It is time to talk about something that does not get recognized all to often anymore, and that is IMPACT Wrestling. Slowly they are making a name for themselves and getting recognition from everyone, including WWE.
Broken Matt Hardy and Brother Nero are the best thing going on currently in Professional Wrestling, that is televised. During a July 5 episode of IMPACT there was a fight between Broken Matt Hardy and Jeff Hardy, the winner got the right to keep the Hardy name. This fight between the two brothers was at Broken Matt Hardy's compound. The video is below.

WWE enjoyed that idea so much that they used it with the Wyatt Family when they fought the New Day at the Wyatt Compound. I have to say TNA did it better.
Matt Hardy and Jeff Hardy have been known to do some crazy things but I think this fight topped it all. Eventually Matt Hardy won and Jeff lost the Hardy name. Matt had control of Jeff and was going to fire him until he realized Jeff can become his Obsolete Mule. During that night when Matt Hardy determined Jeff his Obsolete Mule, he was calling him Brother Nero throughout the night.
Broken Matt Hardy declared that he wanted to reclaim the TNA Tag Team Championships that Brother Nero forced them to vacate when he got into a legitimate dirt bike accident. Broken Matt Hardy made Brother Nero fight in tag team matches without any help from Broken Matt.
After about a month of going through 2-1 handicap matches, Brother Nero finally snapped on August 11 after the match against The Tribunal.
The following week Brother Nero and Broken Matt competed in a 4-team ladder match to become the #1 Contender for the TNA Tag Team Titles. This was the first time IMPACT viewers got a glimpse of "Broken" Brother Nero.
The Broken Hardy's fought Decay at the Hardy Compound during last night's edition of IMPACT. This match was called Delete or Decay. Before the fight happened Broken Matt said that the Brother Nero and himself have to visit his own personal zoo so they can get in touch with their primal instincts. Broken Matt Hardy set up a sparring session for Brother Nero with Smokin' Joe Frazier, a kangaroo. Broken Matt went over to a cage that was full of "spot monkeys" , he named everyone after a member of the X Division. Broken Matt introduces them to a former spot monkey, Brother Nero.
Below is a video of DELETE or DECAY.

There was no true winner of the match but this feud between The Broken Hardy's and Decay is something special because you have two creepy teams and a fantastic storyline, plus they are keeping fans interested.
The promos that Broken Matt Hardy has done are fantastic and they make you laugh. There is a possibility that Broken Matt and Brother Nero come back to WWE this way depending on how liked they are around next year when their contracts expire in TNA.
Feel free to give me your thoughts on Twitter, @PaytonVince . If you are not watching IMPACT, you are missing out on Broken Matt and Brother Nero and I suggest you change that as soon as next week.

NEO Sports Insiders Newsletter
Sign up to receive our NEOSI newsletter, and keep up to date with all the latest Cleveland sports news.