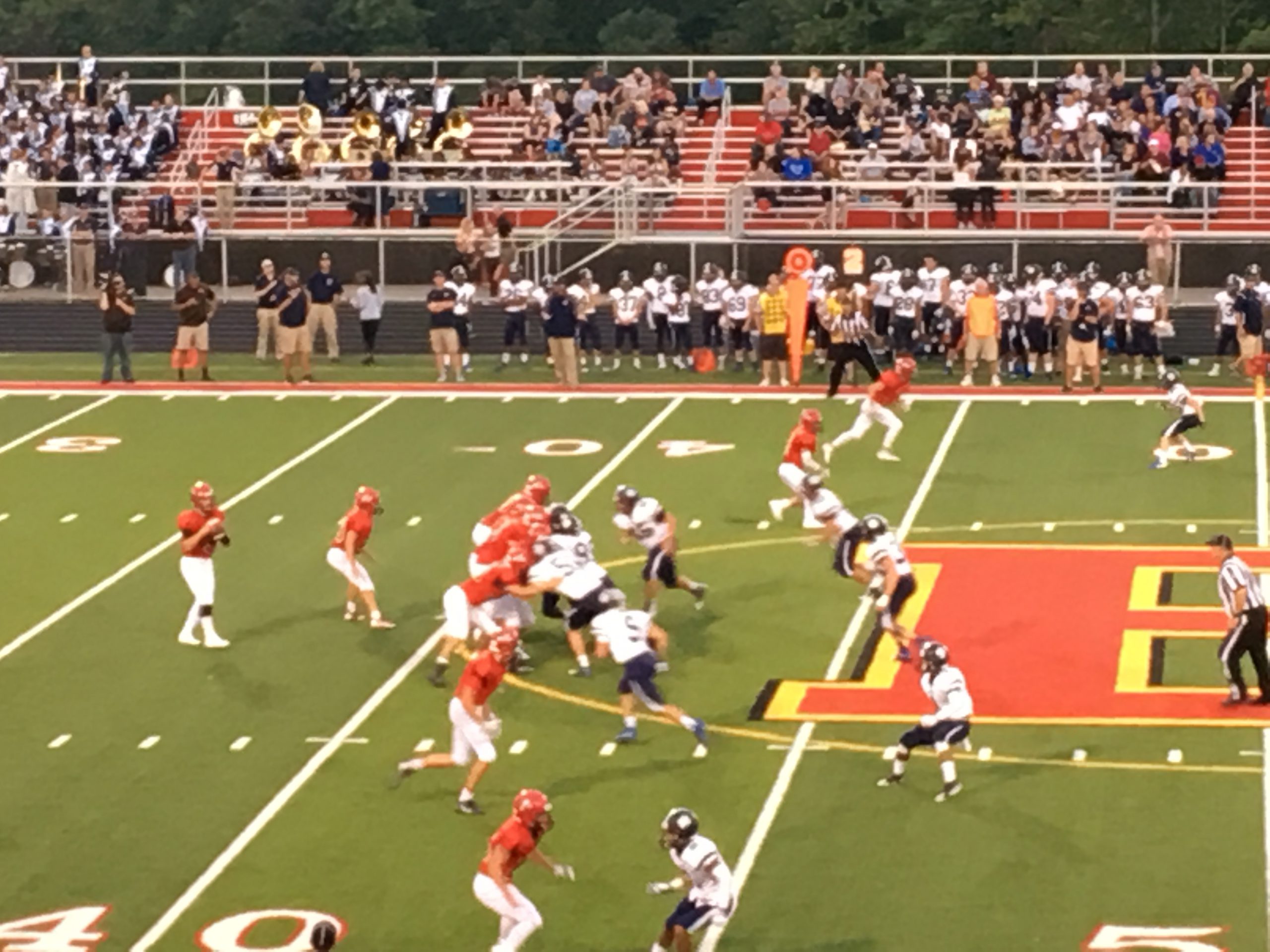 BROADVIEW HEIGHTS-It was homecoming night at The Bee Hive, with the visiting Twinsburg Tigers (1-4, 1-1 in the Suburban League)  looking to crash the party. The Brecksville-Broadview Heights Bees (5-0, 2-0 in the Suburban League), however, would not allow the Tigers to ruin their night, as Brecksville went on to win in a game that resembled a wild west shootout, 48-37.
On the game's very first play from scrimmage,  Twinsburg  Junior wide receiver Christian Edgerson took the end-around hand off from Senior QB Jalen Tucker, who was then was forced to throw the ball after getting swarmed by a group of Bees defenders. Senior defensive back Steve Klaus was there to pick off the pass for the Bees who set up shop at the Tigers 34 yard line. Brecksville wasted little time capitalizing on the Tigers turnover, as Senior QB Luke Strnad found Junior wide receiver Steve Wiglusz for the 28 yard touchdown reception, to give the Bees an early 7-0 lead.
The Tigers were able to get their first points on the night in the second quarter, on the strength of a 32 yard field goal by Senior kicker Casey McCarthy, to make the score 7-3. After Brecksville's passing offense sputtered, Twinsburg was able to capitalize on their next drive, as Sophomore QB Adam Van De Motter was able to find speedy wide receivers, Sophomore wide receiver James Bessett and Christian Edgerson, for several big plays on the drive, which was capped off by a 24 yard pass from Van De Motter to Edgerson, to give the visiting Tigers a 10-7 lead. Then, on Brecksville's next drive, when it looked like the Tigers stopped the Bees at midfield, holding was called on Twinsburg, which gave the Bees an automatic first down at the Tigers 35 yard line. On the very next play, Brecksville Junior tailback Alec Buckley was able to weave in and out of defenders to run 33 yards down to the Twinsburg 2. Two plays later, Strnad scampered 3 yards into the endzone, to give Brecksville the lead once again, 14-10. After Twinsburg was unable to get anything going on their next possession, Brecksville was able to then drive right back down the field with under a 1:25 to go in the half, as the Bees passing offense found their rhythm, which ended with Strnad finding Wiglusz  for a touchdown pass from 27 yards out, pushing the Bees lead out to 20-10. The point after attempt was missed. Twinsburg's Christian Edgerson then took the ensuing kickoff 72 yards down to the Bees 20 yard line. Twinsburg was unable to cash in on the big return with 5 second remaining, as Van De Motter was unable to get a pass off, which closed the half with Brecksville leading, 20-10.
The Bees took the second half kickoff and marched right back down the field on a array of passes from their gunslinging QB Strnad, who connected with Senior wide receiver Joey McGonegal for the 9 yard touchdown, to increase the Bees lead to 27-10. Twinsburg then turned around and put together a drive of their own, as Jalen Tucker found James Bessett for the touchdown, which then made the score 27-17. It was Brecksville's turn to move the ball back down the field, as Strnad again was able to find his wideout Wiglusz for yet another TD pass, from 13 yards out, making it their third connection on the game, and pushing the Bees lead to 34-17. Twinsburg's electricfying wide receiver Christian Edgerson then sliced the Bees special teams on the kickoff return for 72 yards, only to cough it up and see Brecksville recover the lost football. The very next play, Strnad's pass was picked off by Twinsburg Junior defensive back Kris Jones, who brought the ball inside the Bees 20 yard line. QB Jalen Tucker finished off the short drive, by running around left end for the 1 yard touchdown on 4th and 1, to the make the score 34-23
Brecksville was able to answer the Twinsburg touchdown with another one of their own, as Strnad found Sophomore wide receiver Ken Ganley for a 17 yard touchdown, making the score 41-24 to start the fourth quarter. For Strnad, it was his 5th touchdown pass on the evening. Not to be outdone, the Tigers put together yet another drive, this time QB Adam Van De Motter ran 10 yards to paydirt. The botched kick and subsequent incomplete pass, made the score 41-30  After Twinsburg's onside kick attempt was recovered by Brecksville, the offensive was able to put yet another drive together, which lead to an Alec Buckley 3 yard run around left end to make the score 48-30. Twinsburg was able to score once again, as Van De Motter drove the Tigers down the field, this time, with Sophomore Tre Radford pulling in the 10 yard pass, making the score 48-37. The Bees would recover another onside kick attempt by Twinsburg. Brecksville, however, could not get their offense going and had to punt the ball back to Twinsburg. The Bees were then able to stop the Tigers and force them to turn the ball over on downs as time expired, making the final score Brecksville 48 and Twinsburg 37.
Brecksville Head Coach Jason Black had this to say about his team's performance tonight: "I am happy we had one more point than them at the very end of the game (laughing). I thought our kids answered the challenges. They are a very tough team to play against. They run everything so well, they do everything so quickly, and if you are on your heels for a little bit, and all of a sudden you are giving up a 20 yard play, you are still back on your heels. It took us a little bit of time to find our footing, moving forward through there, but in the end, we answered enough of those challenges to win the game." I asked wide receiver Sam Wiglusz this thoughts on his big game and the teams victory. He had this to say: "The homecoming game is always fun. Always extra festivities, extra fans, extra students. So it is enjoyable to play a good game that night because of the fun atmosphere, and it is a good time".
Stars of the Game:
Brecksville QB Luke Strnad was unofficially 26 of 38 passing, for 371 yards and 5 touchdowns. Strnad also added a rushing touchdown to his total. The Bees had an amazing game from wide receiver Sam Wiglusz, who went on to catch 12 passes on the evening, for 207 yards and 3 touchdowns. Tailback Alec Buckley chipped in 62 yards rushing on 9 carries, and scored 2 rushing touchdowns. Twinsburg was led by Christian Edgerson, who had 6 catches for 78 yards and a touchdown. He was also electrifying on kick returns, highlighted by his 2 returns that went over 70 yards. James Bessett caught two touchdowns for the Tigers, and Tre Radford finished with 5 catches for 84 yards and a touchdown. QB Adam Van De Motter was 13 of 19 passing, for 186 yards and 2 touchdown passes, and another 9 carries for 59 yards a a touchdown on the ground.
Next Week:
Brecksville visits Nordonia on 9-30.
Twinsburg hosts Stow on 9-30.

NEO Sports Insiders Newsletter
Sign up to receive our NEOSI newsletter, and keep up to date with all the latest Cleveland sports news.