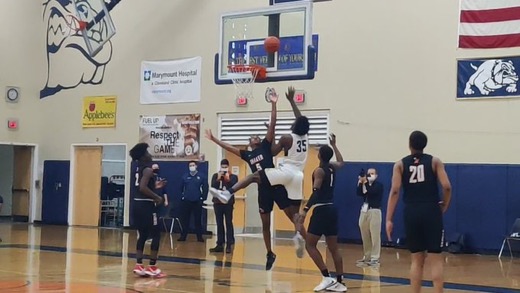 BEACHWOOD, OHIO – Richmond Heights led Beachwood 14-11 at the end of the first quarter. According to the Spartans, they did not play to their potential.
"This is something that we have to come out strong with the energy [in the first quarter]," Junior forward Josiah Harris said.
"In the second quarter we came out with it. We need to come together as a team and just come out stronger. In the first quarter, we didn't really give it our all. We didn't play with as much energy as we did for the rest of the game."
Richmond Heights put their foot on the gas from the second quarter to the rest of the game to defeat Beachwood 94-57.
From the opening tip there was a noticeable size advantage in the Spartans' favor. All five starters, Harris, Amarion Dickerson, Jaiden Cox Holloway, sole guard Jamarr Talbert, and Priest Ryan are listed above six-foot.
They put the height in Richmond Heights with the length, fundamentals, and athleticism to match. Their unit had limited holes on the defensive end. The Spartans attacked on defense, forcing turnovers, snatching rebounds and turning into points on the other end.
Dickerson goes coast to coast off the steal for an and-1. Spartans lead 28-22 I'm Q2.@Spartan_Hoop @BisonAthletics pic.twitter.com/J9mNh6ZH6e

— Mark Perez-Krywany (@MarkPerezK10) January 31, 2021
Harris (19 points), Dickerson (15 points), Cox Holloway, (25 points), and Talbert (15 points) benefited the most out of it.
Halftime in Beachwood!@BisonAthletics 28@Spartan_Hoop 39

– J. Cox Holloway (RH) 14 PTS
– D. Houston (B) 10 PTS pic.twitter.com/yCkFbdZOcC

— Mark Perez-Krywany (@MarkPerezK10) January 31, 2021
"Defense leads to offense," Harris said.
"That is what is going to get us on the court. Essentially, playing defense and locking our man down. On offense, that just comes. You are going to be on or off [on offense,] but the defense is going to be the same."
Richmond Heights (7-4) outrebounded Beachwood (3-1) 38-22.
Cox Holloway set the scoring tone early for the Spartans by scoring the first nine points, all of them from three. He had 14 first half points and was 4-of-6 from beyond the arch.
"Jaiden (Cox Holloway) alway comes in when it comes to open shots, hands in his face. That is something that we rely on and we want him to deliver. When you keep delivering, you keep feeding him the ball. Keep feeding the hot hand."
Holloway starts off making 3 straight threes.@Spartan_Hoop @BisonAthletics pic.twitter.com/5psluJ6PtJ

— Mark Perez-Krywany (@MarkPerezK10) January 31, 2021
They continued to feed him in the third quarter. He started the second half 0-of-3 from three before making back-to-back threes in an instrumental 20-6 run and making another three-pointer to start the fourth quarter.
Coming off the bench was Lorenzo Nettles Jr., who scored one point with 12 assists.
"As a point guard, this (team) is a point guard's dream," Spartans' coach Quentin Rodgers said.
"Skilled forwards, and you have another shooting guard like Jamarr (Talbert) that can knock down shots and is just as athletic as him. It's a point guard's dream you don't really have to do much."
As Richmond Heights kept extending their lead, coach Rodgers wanted his players to keep playing.
""We don't play the scoreboard," he said.
"You are just supposed to just do your job. We don't want to play the scoreboard. We don't want our guys to start leaking and picking up bad habits and things of that nature."
After their win, Richmond Heights will go on the road to face Independence on Tuesday, February 2. Beachwood will go on the road to face Cleveland Heights on Monday, February 1.

NEO Sports Insiders Newsletter
Sign up to receive our NEOSI newsletter, and keep up to date with all the latest Cleveland sports news.