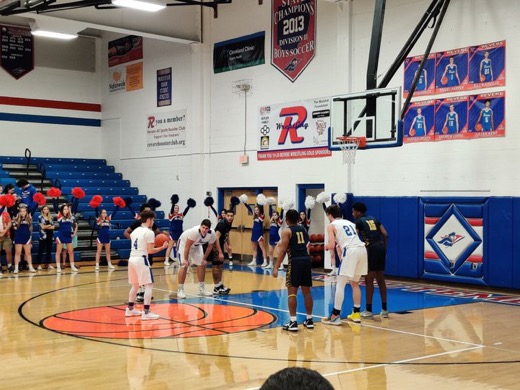 By Mark Perez
Entering the fourth quarter, Revere Minutemen lead the Warrensville Heights Tigers 55-54.
After that, the Minutemen outscored them 26-11 in the final quarter to pull away with the 81-65 win over the Tigers.
"I think we played harder in the fourth quarter than they did," Revere's Jimmy Salamone said after the win.
"At the end of the third quarter, we were like: "Hey, let's blow this lead open; lets win this game. I think we all bared down in the fourth quarter. We defended, rebounded, scored and hit our free-throws."
Free-throws played a huge factor for both teams as (9-10, 5-4) Warrensville Heights made 18 of their 20 and Revere converted 21 of 24. But, making them had more significance for (17-2, 9-1) Revere.
"Free-throws are what win championship and what win games," Salamone said.
When we lost to Copley, I missed a front-end of the (single bonus free-throw), and we missed another one and we lost that game (59-55). If we hit free-throws, then we win that game."
Salamore admitted that loss made the team more focused on optimizing their free-throw opportunities.
Both teams made the bonus with plenty of time left in quarters two and four.
Salamore led the Minutemen in scoring with 31 points as he had a wide variety of places to score from threes, in the lane, at the line and with the mid-range jumper.
"I felt good from the start," he said.
"Credit to Andrew (Rinn), Julian (Kent), and Hunter (Drenth)… When I get hot, they make nice passes that get me going. From there, I try to attack and get more aggressive."
The student section for Revere felt the rhythm as they chanted "Jimmy Buckets" in the second and fourth quarters.
The main passing playmaker was Rinn, who had 8 of Revere's 16 assists as their wing.
"At the beginning, I wasn't making my shots,.." Rinn said.
"Then, I started getting my teammates open like Jimmy (Salamore), Hunter (Drenth), Jullian (Kent), (Andrew) Cooke, and Grant (Scherler). As soon as (Warrensvlle Heights) started collapsing on them, I was able to get my shots in.
Warrensville Heights' off-ball pressure turned against them as Revere's off-ball movement left holes from backdoor passes.
Entering the fourth quarter, Tigers' Ramelle Arnold led them with 24 points. Then, he went cold as he didn't score until there was two minutes left with Revere leading 79-60. From that point on, he scored another seven points to finish with 31.
"We stopped Ramelle (Arnold) in the fourth quarter," Rinn said.
We also out-rebounded them really well."
Revere out-rebounded Warrensville Heights 14-7 in the fourth quarter.
Rinn, the Junior, also had a big impact on the defensive end, as he blocked four shots and had two steals.
The game started off slow for both teams, as they missed shots. It took a while, but bother were able to get themselves going. Revere more so than the Tigers.
"Early on, I think we had a lot of great shots," Revere's coach Dean Rahas said.
"We were moving the ball around and had a lot of great opportunities. I think it was a matter of getting those shots to drop and keep doing what we were doing."
Other top scorers for Revere were Drenth (16 points) and Scherler (10 points).
On Feb. 14, Revere, who have secured the Suburban League crown hosts Aurora and Warrensville Heights will host Maple Heights on the 14th.

NEO Sports Insiders Newsletter
Sign up to receive our NEOSI newsletter, and keep up to date with all the latest Cleveland sports news.