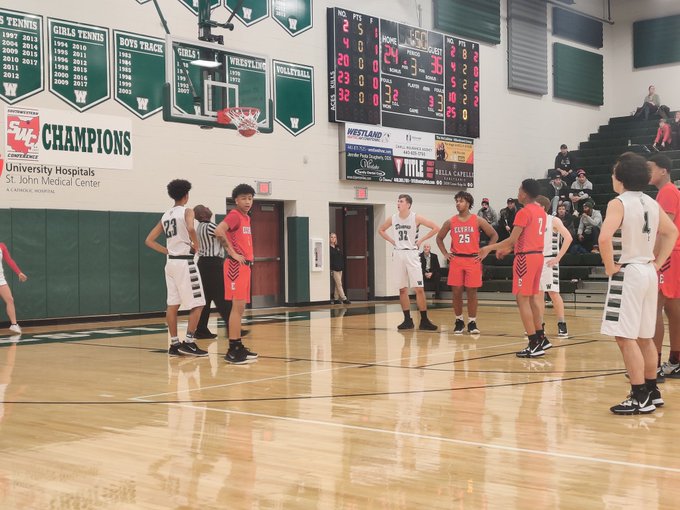 By Mark Perez
WESTLAKE, OHIO – Earlier in the season, No. 11 seed Elyria lost on the road to No. 6 seed Westlake 64-61.
These two teams met again in the Division I Sectional Semifinals in the Elyria District. This time, Elyria played a complete game to defeat the Demon's 63-41.
We played hard for four quarters," Pioneers coach Brett Larrick said. We played how we wanted to. Our guys were unbelievable. It wasn't just tonight. They worked on Sunday. They worked yesterday and Tuesday… We then came out and played with effort and played for each other."
Leading the charge for Elyria were their guard play, especially from Senior Aiden Carter, Juniors Dezararon Shelton and MarSaun Robinson.
"I thought all of our guards did an unbelievable job," Larrick said.
"We wanted to set different guys at the point guard to keep our guys fresh. We were able to play more guards. I thought (Dezaron Shelton), (Robinson) and Aiden (Carter) were really good… All of our guys did exactly what we wanted and what we needed."
Offensively, Carter was a well-oiled machine from the mid-range jumpers against Westlake's defense. He was 7-of-11 from the field for 14 points, along with four rebounds.
He provided a spark for the Pioneers' offense in the second quarter, as he scored eight of his 14 in that time period to propel a 12-3 run.
Both teams late in the second quarter struggled to score after the run until halftime as (5-18) Elyria led (12-11) Westlake 28-15.
Elyria mainly had three runs, one in each of the first three quarters.
The Demons led 7-4 in the first quarter before Elyria defense turned up the heat as they forced seven of Westlake 17 total turnovers in the quarter.
"[On defense], everybody was on the same page," Larrick said. We only gave up one or two contested shots the whole first half. We made it hard on (Westlake) and it was a group effort."
The defense inevitably turned into offense off the fast-break to launch a 12-1 run that lasted until the end of the first quarter with Elyria leading 16-8.
"We got on a spurt," he continues about the defense.
We got out and ran on transition. And when you can do that, it gets the energy up. Our bench was into it. That's what we were looking for. It was a momentum swing and it started because of the defense on that end."
Robinson led the Pioneers with four of their 10 total steals to go with his 11 points, five assists and a block in the second quarter.
Westlake, who did not have their 6-foot-8-inch leading scorer, Justin Garcia (18.1 PPG), were able to cut the lead to 10 points in the third quarter by pressuring Elyria the full length of the court and out-rebounding them.
With Elyria leading 34-24 late in the third quarter, they went on their third run. This time, it was an 11-0 run to extend the lead to 45-27 entering the fourth quarter.
Tyren Lee (10 points, six rebounds) and Jesse Stevens III (seven rebounds) patrolled the paint for the Pioneers.
Elyria's win marks their first road win of the year and ending a 13-road-game losing streak that's lasted for more than a year, along with a current eight game losing streak.
No player on Westlake scored double-digits. Nate Klima, Tyler Kolocouris, and Joe Klessel (eight rebounds) lead the team with eight points each.
No. 11 seed Elyria advances to the Sectional Finals and will have to go on the road again to face No. 3 seed Amherst Steele on Saturday, Feb. 29.

NEO Sports Insiders Newsletter
Sign up to receive our NEOSI newsletter, and keep up to date with all the latest Cleveland sports news.