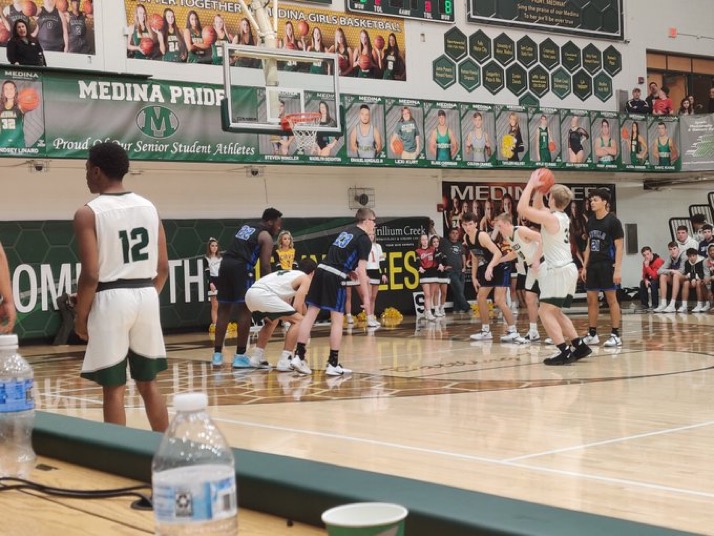 By Mark Perez
MEDINA, OHIO – In the third quarter, Medina's Senior guard Spencer Aylward scored an and-1 layup to extend their lead over Brunswick 47-33 to assist a 20-3 run.
Aylward would score a season-high 22 points to help the Bees defeat the Blue Devils 81-50.
"(Aylward) was such a flame for us tonight and really got us on fire tonight," Medina head coach Chris Hassinger said after the win.
"Offensive and defensively, he gets a lot of assignments to get up and pressure the ball. He's gotta be worn down, with the way he was shooting the ball tonight and the defensive effort he had."
The Bees' defense was a team effort as their full-court press on Brunswick helped force 16 turnovers to their five.
"I think our defense runs every team down," Aylward describes the Medina defense.
"When we are up on the ball, it's hard for them to run in transition and get anything set up. It makes them tired coming up the court."
Hassinger also thought the defensive energy wore Brunswick down, throughout the course of the game. He credits the players for being in the right position to make plays.
"We work a lot on defense," he said.
"We pride ourselves on defense and a lot of teams have two or three kids that can play defense. We feel like we have 13 kids that can play defense."
6'3" guard Kyle Szumski lead the team in steals with four.
"We knew that (Brunswick) wanted to grind it out," Hassinger said.
"But, we had to try and keep the tempo fast paced. They did a great job in the first half. I think our defense's pressure and our bench especially tonight, wore them down a little bit. I was really proud of our bench and the commitment they had to playing great defense tonight."
Bench players for Medina included Jajuan Jackson, Jack Hagan, Brandon Geschkem, Brandon Curie and Sam Peacock.
According to Hassinger, his team was itching to play after losing their first Greater Cleveland Conference (GCC) loss of the season to Shaker Heights the last time they were on the court and one improvement he saw was the performance of his bench.
"Our bench was so much better tonight," he said.
"[They were] able to give that first five a chance to rest tonight. We had guys come off the bench and play great minutes."
Offensively, the bench totaled 10 points. Jackson lead the bench with four points. The well-rested starters, Szumski (15 points), Doug Sartain (12), Christian Howard-Caffey (8), Aylward (22), and Corey Tripp (14), were able to carry much of the scoring load.
Medina (8-2, 4-1) began to separate themselves from Brunswick (7-4, 1-4) in the second quarter, after the first ended with the Bees leading 14-13.
Blue Devils' leading scorer Tra Massey made the first basket of the quarter to take a 16-14 lead.
Brunswick's lead was short-lived, as Medina went on a 9-0 run and never looked back as they went into halftime leading 34-22.
Soon after the Brunswick went on a 8-0 run in the third quarter, Medina went on a 20-3 run.
In the run, Medina had a wide distribution of scorers as their leading scorer was Tripp, who scored six of those points. Szumski had four points in the run.
For the Blue Devils, their GCC play continues to struggle, as their only win is against Elyria, who sits at the bottom of the GCC standings. Their GCC losses were against Euclid, Mentor, Solon, and now Medina.
Massey lead Brunswick in scoring with 23 points after having a season-best 74 combined points in the last two games. No other Blue Devil had double digit-points.
Medina goes to Elyria to face the Pioneers on Jan. 10 and Brunswick will host Mentor in another GCC match-up.

NEO Sports Insiders Newsletter
Sign up to receive our NEOSI newsletter, and keep up to date with all the latest Cleveland sports news.