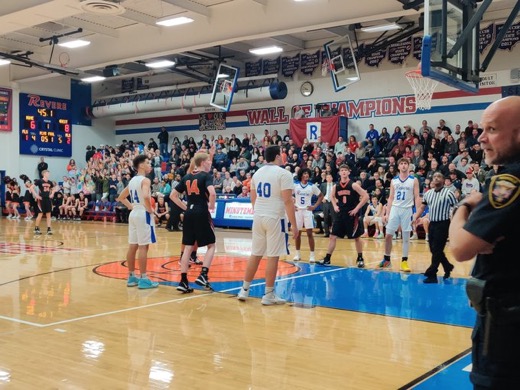 By Mark Perez
The Green Bulldogs have a lot of pride in their defense.
In their last regular season game against Revere, their defense played key to spoil the Minutemen's Senior Night 76-49.
It started with the turnovers.
"Teams talk about unselfishness on the offensive. But, I think we are unselfish on defense too," Green's coach Mark Kinsley said.
"They do a great job talking. When somebody gets beat, someone else picks them up. That guy isn't running back to his guy. He's going to the guy that's open. That's a big key for us."
Green forced 19 Revere turnovers. Half of them didn't end up with steals by the Bulldogs. Instead, they drew offensive fouls, traveling violations, and plays ending up out of bounds.
"We're able to guard each position on the floor with multiple guys," Kinsley said.
"If you have post guys, we can match up with size. If you have a good ball handler, we have guys that can guard that. We have length on the win. It really allows us to be versatile into playing different lineups, depending on the match-ups."
(20-2) Green was effective in the rebounding department as they had a 23-13 rebound advantage over (19-3) Revere.
Ryan Smith played the prototypical point guard for the Bulldogs. He scored seven points, but dished 10 assists.
"I just like to get my team involved," Smith said.
"Get the best shot. Not just a good shot. I trust my teammates fully and they make the shots for me and it's easy for me as point guard."
As the play-maker, he was also one of their many defensive stoppers, who was responsible for guarding Revere's dynamic point guard Jimmy Salamone.
I try to shut down their best player every game," he said.
I try to get steals. The more steals, the more possessions for us. I take pride in my defense and try to limit as good as looks they can get.
The tone defensive tone was set in the first quarter as they forced six Revere turnovers to give the Bulldogs the 10-6 lead.
The closest Green was to losing was them tying Revere 2-2 in the beginning. From that point on, the Bulldogs never let go of their lead.
According to Smith, the team isn't used to playing in more compact courts and lamented the atmosphere felt like a playoff atmosphere as the gym was packed.
In the second quarter, Green got their offense going by involving Donovan O'Neil, who scored 12 of his 18 total points in the quarter, and Garrison Keeslar, who scored seven of his 15 points and seven rebounds.
Their performance helped propel a 20-5 Bulldogs' run in less than four minutes of play. They led 38-20 at halftime.
In the third quarter, Revere diversified their scorers to cut the Green lead by three points, which was made possible by a 13-5 Minutemen run late in the quarter.
"They went on a little run," Smith said.
"We gathered in the middle and we said that we gotta go on a run and answer this back and we did."
After trading baskets to start the fourth quarter, Green went on a 16-4 run to cap off the win and send them to the state tournament with an eight-game winning streak.
Another top scorer for Green is Alex Casper with 15 points.
Salamone (14 points), Andrew Rinn (10 points), and Hunter Drenth (12 points) were the Minutemen's top scorers.
Green, the Regional Runner-ups last year, is the one seed in the Division I, Canton District. They have a first-round bye, but will host the winner of Massillon Perry and Dover on Feb. 29.
Revere is a second seed in the Division II, Stow District. They will host the winner of Penninsula Woodridge and Aurora on Feb. 28.

NEO Sports Insiders Newsletter
Sign up to receive our NEOSI newsletter, and keep up to date with all the latest Cleveland sports news.