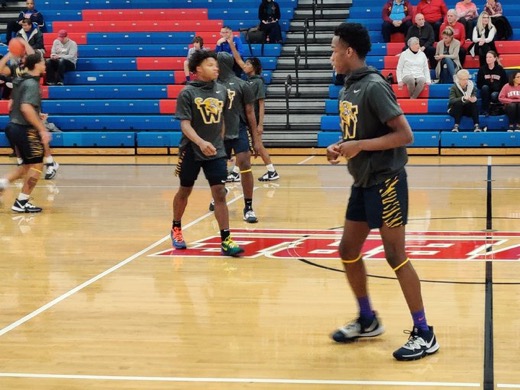 By Mark Perez
WARRENSVILLE HEIGHTS, OHIO – The fourth seed Warrensville Heights Tigers didn't take long to capture the momentum against 13th-seeded Brooklyn Hurricanes in the Division III, Bedford District Sectional Semi-Final.
It took less than 10 seconds after the opening tip for Tigers' guard Ramelle Arnold to make an and-1 corner-three-pointer, plus the free-throw to gain the early 4-0 lead. The momentum snowballed in the Tigers' favor in their 78-24 win over Brooklyn to advance.
Warrensville Heights' defense was suffocating in the first quarter. In a game that included a running clock after halftime to the end of the fourth quarter, they forced Brooklyn to turn over the ball 26 times.
The Tigers outscored the Hurricanes 36-3 in the first quarter.
"A lot of our style of play is defense and playing up-tempo basketball," Tigers' coach Brian Swift said after the game.
"A lot of our offense is predicated on our defense. So, we just try to speed teams up. We try to get teams to do things they aren't comfortable doing. That's what we did tonight."
According to Swift, Warrensville Heights had 16 steals in the first half. Dobbins and Arnold both had four steals each in the game.
Their defense quickly turned to offense as Arnold scored 10 of his 22 total points in the first quarter. Other players like DeAngelo Bell, who scored all of his eight points in the quarter and Omahn Dobbins, who scored 11 of his 17 points in the quarter, propelled the Tigers' offense, which often came after forced Brooklyn turnovers.
The Tigers' starting lineup has three seniors and two juniors, compared to Brooklyn's lineup, which was much younger and Swift believed the experience played a role in the outcome.
"Looking at (Brooklyn's) roster, you saw that they have a lot of young guys," he said. They started a Freshman. We definitely feel like we had an advantage there. We have a lot of Juniors and Seniors."
Brooklyn's lineup had two Seniors (Tristan Peggs, Jamiar Tate), two Sophomores (Maceo Pytel, Ar'eon Cowling), and one Freshman (Calvin Gore). Seven of their 15 players on their roster are Sophomores, or Freshmen.
The leading scorer for the Hurricanes was Pytel, who scored 13 points.
Other scorers for the Tigers Jamarion Johnson (10 points) and Trey Washington (nine points)
The Tigers' lost four of their last five games at the end of the regular season to some of the elite programs in Northeast Ohio programs (Garfield Heights, Lorain, Revere, and Cleveland Heights).
However, Swift feels the bumps later in the season, prepared them for the type of competition they are going to face in the tournament.
"(The scheduling) helps," he said.
"I try and schedule that every year, because coming into the tournament. Obviously, we play a majority of Division I; Division II schedule. A lot of athletes and things like that. The competition is very high. So, when we come into tournament time, we'll be ready for hostile environments. We'll be ready for pressing teams, uptempo teams, half-court teams. Any type of style that teams play, we will be ready for."
Their readiness for hostile environments will have to be put on hold as they will host the Sectional Final against fourth seed Beachwood after they defeat MLK Cleveland 92-56 on Friday, Feb. 28.

NEO Sports Insiders Newsletter
Sign up to receive our NEOSI newsletter, and keep up to date with all the latest Cleveland sports news.