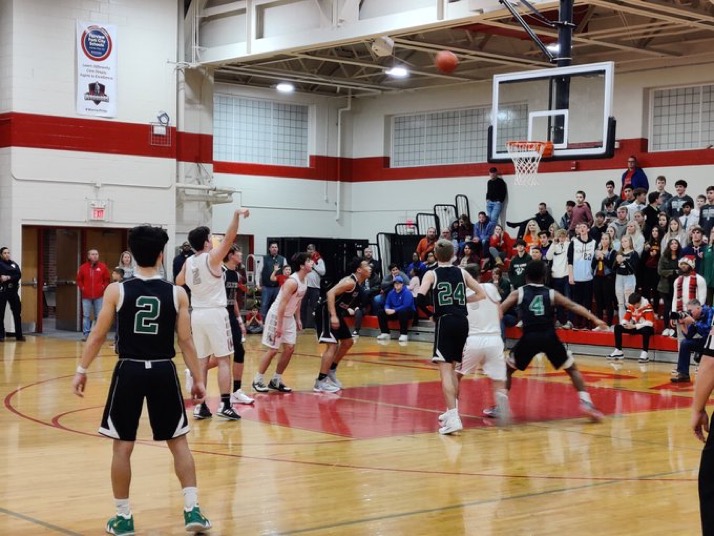 By Mark Perez
FAIRVIEW, OHIO – Two juggernauts in the Great Lakes Conference faced-off in Farview high school and in the end, the Warriors were the last team standing after their 86-79 victory over Elyria Catholic.
(6-1, 4-0) Fairview's victory over the (4-2, 2-2) Panthers did not come easy for them as they trailed for much of the game's infancy to parts of its adolescence. They scored 10 points in the first quarter to Elyria Catholic's 18.
"In the first quarter offensively, Elyria Catholic made shots, which can usually slow down transition," Warriors' coach Ryan Barry describes the first quarter.
"But we have a philosophy that even on makes, we try to get the ball quickly and go. I saw up, kinda of walking [the ball up-court] and then try to run sets. We are capable of [doing that], but that's not our bread-and-butter. Once we get a little chaos going, the other teams tend to speed up and try to match it and that's when we really get them on the ropes."
The ropes were exactly where Fairview put them to start off the second quarter, as they went on a 10-0 run to tie the score at 20-20.
Luke Howes, the Warriors leading scorer, had a season high 32 points, outscoring his second highest performance by three points.
He is averaging 23.1 points per game.
Howes consistently scored for Fairview, as he scored as he scored five of the 10 points on the 10-0 run to start the second quarter and made a buzzer-beater three-pointer on the left wing over Panthers' Jack Griffin to extend their lead 62-58 heading into the fourth quarter.
He also made four-straight free-throws in the third quarter after Panthers' Jaret Frantz committed a technical foul after Howes was fouled, while in the shooting motion.
This gave Howes four free-throws and Fairview the ball back on the next possession as they led 54-52.
"Anytime you can score four points with the clock stopped when you are down and have guys get a breather in too and then end up with the ball,…" Barry said.
"That's a huge momentum swing."
This was the Panthers' second technical foul in the quarter as their big man Branson Taylor was given one earlier in the quarter.
For Barry, he believes those free-throws had a massive momentum change, but Martin Lowry believes it was the three-pointer after by Ethan McQuate soon after.
"I think [the turning point] was when Ethan McQuate hit the three and we went up by five, 57-52," Lowry said.
"I think that's what got the crowd really into it and we just built off the momentum."
In the fourth quarter, Elyria Catholic managed to tie the score 66-66, but an 11-0 run by Fairview recaptured their lead and didn't plan to look back.
Elyria Catholic tried to rally once again, but players like Lowry (5/6) and fellow Senior Noah Mesaros (2/3) came in clutch at the free-throw line in the fourth quarter.
"It makes my life a little easier, knowing that they are usually going to put those free-throws in, aside from a couple here and there," Barry said.
"But, when it is 'clutch-time,' we got five guys on the floor, no matter who they are that have been in those moments and will put them down."
Even when his team was trailing, Barry still wasn't fazed.
"I was not nervous at all that we were going to win this game, even at halftime [trailing 35-34]," he said.
"I know what (Fairview) is capable of. It's a very experienced group. They've been there, they've done that. When it gets tight down the stretch. They are going to come out on top more times than not."
For Elyria Catholic, their leading scorer Edward Wright did not enter the game until the start of the second quarter, but finished the game with 22 points.
Other than Howes' 32 points, other leading scorers for Fairview were Lowry (20 points) and Mesaros (15 points).
Taylor and Griffin both had 17 points.
Fairview stays at home to face Kenston Dec. 27 and Elyria Catholic faces Lakewood. On Dec. 28.

NEO Sports Insiders Newsletter
Sign up to receive our NEOSI newsletter, and keep up to date with all the latest Cleveland sports news.