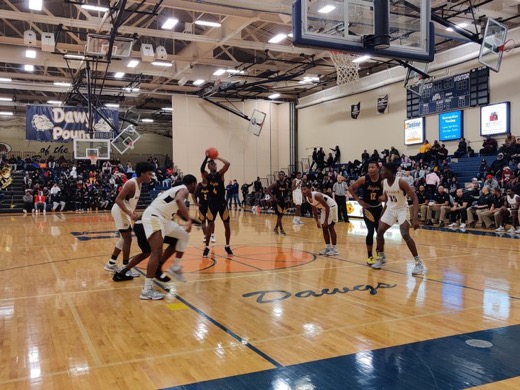 By Mark Perez
GARFIELD HEIGHTS, OHIO – Everything had to happen perfectly for third place Cleveland Heights to reach the top of the Lake Erie League.
Lorain had to lose to Bedford, which they did, 39-37, and the Tigers had to beat the first place Garfield Heights Bulldogs.
With a huge performances from Tigers' guard Garvin Clarke and forward Juruan Hardin. They defeated the first place Bulldogs 48-43 to take the lead in the Lake Erie League.
"I just wanted to come out with the victory," Clarke said after the game.
"We are trying to become (Lake Erie League) champs. We knew that (Garfield Heights) was going to be a good team. We knew that we had to step up and do what it takes [to win]."
(12-5, 5-2) Cleveland Heights win over (10-3, 3-2) Garfield Heights completes the season sweep for the Tigers.
Clarke scored 21 points for the Tigers and also had a big impact rebounding the basketball on the offensive and defensive end.
"My mindset is to do everything I can do to make my team win," he said.
"It doesn't matter if I score one point, but I have 12 rebounds; 12 assists. The things that will help [the team win] is effort and the little things."
Clarke started the game off scoring zero points in the first quarter.
But the second and third quarters was where he shined as he scored all 21 points in the two quarters. Nine points in the second quarter and 12 points in the third.
"(Clarke) started off slow," Tigers' coach J.R. Bremer said.
"We had to get him to slow down a little bit and let the game come to him and he did that. We sat him down for a little bit and let him know that the game is going to come to him… After that, he turned it on."
Hardin was another impact player for Cleveland Heights. He did everything from scoring, to playing defense in the paint and making effort plays for the Tigers.
"Juruan (Hardin) brings the energy and the toughness that we need," Bremer said.
"It gets contagious. Not only does he rebound and play hard. He also does the dirty work. He takes the charges, he dives on the floor. There was one point where Garfield (Heights) was making a run and he took two charges in a row that was really big for us and it got us going… He brings us so much, sometimes you don't see it in the statistics.
The Tigers and the Bulldogs kept the game tight the entire game. The first quarter ended with the score 11-11. The first half ended 23-23.
The largest lead in the game was at the end of the third quarter and midway through the fourth quarter as the Tigers led by six points in both occasions.
A put-back dunk by Hardin halfway through the third quarter ignited a 9-0 run while the Tigers trailed the Bulldogs 28-31.
Three more baskets were followed up by Clarke within the last 2:30 of the third quarter. Two free-throws, a three-pointer, and a buzzer-beater layup assisted by a driving Christian Dillard to give Cleveland Heights a 37-31 lead heading into the fourth quarter.
Both teams had sloppy moments in the fourth quarter.
The Tigers turned the ball over 11 times in the fourth quarter to help the Bulldogs come back and tie it 43-43 with 2:13 remaining.
"(Garfield Heights) play hard," Bremer said. "They try to force you to go fast and turn it over. They have good rotations (on defense). They press when they try to double. If you start to play too fast and get out of control, they'll make you pay for it. That's how they got back into the game in the fourth."
"I was just telling the team to slow down and be patient," he said.
"Don't let their pressure make you speed up. We have to play at our own speed and we have to do what we know how to do and what we have been practicing all year."
Tyler Jackson (six points) and Tavion Tatum (six points) were the only players who scored for the Bulldogs in the fourth quarter.
Tatum, who came off the bench and Jackson led Garfield Heights in scoring with 12 points each.
The fourth quarter was not a quarter Garfield Heights' Makail Cottingham (eight points) would like to remember as he made a number of plays that didn't go his team's way.
It all started with an open lane to the basket off a Bulldog steal as they trailed by three with 3:37 remaining. With a running start, Cottingham looked like he was going to dunk it, but instead stopped his jump, turn around, and pass it behind him, resulting in a turnover instead of two points.
"I was happy," Clarke comments on the missed opportunity.
"I was laughing my head off back there, because that could have [helped them]. It worked out in our favor."
Eight seconds later, he commits a foul while trying to intercept a pass from Dillard to give the Tigers two free throws.
Later in the fourth quarter, he turns the ball over and misses a potential game-tying three-pointer like he made against Cleveland Central Catholic to send it into double overtime weeks ago.
"You definitely [feel bad for him]," Clarke said.
"He folded under pressure. Our defense was what set that tempo. So his turnover was because of the impact of our defense."
Garfield Heights' next game will be at home against Warrensville Heights on Feb. 4. Cleveland Heights' will host Maple Heights in their next game on Jan. 31.