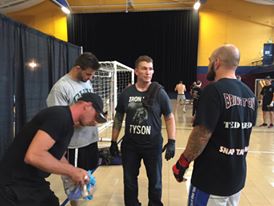 Bryan Gedeon, recent inductee into the State of Ohio Boxing Hall of Fame, continues to teach life lessons in and out of the ring!  While we struggle to find Heroes' and Role Models in the athletic world for our children, Gedeon provides the exact example of what a true pro athlete should be!
Bryan Gedeon is one 37-year-old dad that leads by example every day of what it means to be a great human being. He is a great role model for his daughters and any athlete for that matter who is looking to chase their dream as Bryan has chased his in the world of Boxing.
He has been a lifelong boxing fan. Gedeon used to watch HBO boxing with parents every time it was on. After his Dad passed away in 2012 he decided to step in the ring for the first time.  Since then he has inspired many dreams from those who have watched his journey, and also touched many lives with his help.  Gedeon is a true champion in and out of the ring.
He has had 16 sanctioned fights for a few promotions. His favorite promotion to fight for is Kincaid-Godhard Battle in the Ballroom. It's a great show to be a part of. He has also fought for Kings Gym Friday Night Fights, Pinnacle, and King of the Ring.
Gedeon has been involved with combat sports for over a decade. He started his own fight team in 2011. Before starting his team. Gedeon was a dedicated jiu jitsu practitioner under legendary trainer Ricardo Pires.
Gedeon has produced four successful professional boxers, a Golden Gloves champion, five Golden Glove runner ups, the 141 pound amateur champion and he has his team registered as a certified USA boxing gym.
He won the Masters Division title for King of the Ring in January.  He is also the oldest person to ever compete in Cleveland Golden Gloves.  He received his blue belt in Brazilian Jiu Jitsu and placed in every tournament he has entered including multiple first place finishes.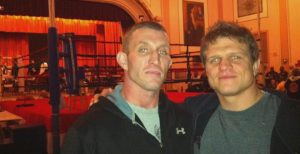 His gym was originally planned to be a mixed martial arts gym but after competing in his first boxing event in 2012 that all changed. He encouraged his team to compete in as many boxing events as possible.
He is a USA boxing official, the Lake Erie Association merchandise chairman, a professional cut man, a professional manager, Golden Gloves runner up, safe sport certified, a certified USA Boxing level I coach, and the 201+ Masters division champion.
He does not take his introduction in The Hall of Fame lightly or for granite.  He is a true champion and a man who knows just how special the honor was.  Gedeon had this to say about his induction into the hallowed halls of fame!
"Being inducted into the Hall of Fame as well of coach of the year was a tremendously humbling experience. Last year's coaches of the year or the world heavyweight champions coaches(Alex Cooper and Joe Delguyd)! And now I am listed with great coaches like that?! Wow.
Being inducted to the Hall of Fame was just as humbling. I am the 175th person in the 45 Years of the Hall of Fame's existence to be inducted. Some of the other names and there are legends like Joe Gentile, Gene Glenn and Tony Rodriguez.
None of this would've been possible without the support of my family especially my wife Allegra and my daughter Mary- and most importantly all of the guys that step foot in the gym to train under me.
I am truly blessed to have each and everyone of them in the gym.
I respect the hell out of all of them, and I truly do look at them as my extended family. Coaching is easy when you have people like the ones that I have. Without them I am nothing. I have trained three of these guys for over five years- pro fighters Roger Blankenship and Josh Krizan, and 141lb amateur champion, Dib Kaddah.
Other guys like professional fighter Jose Martinez, Nick Papadimoulis, Tim Hayes, Joe Bemer, Tyree Johnson, Greg Massengill, and Ted Riedy have been with me for multiple years as well.
Whether the people have been with me for one month, one year, or five years I am thankful to have them, because they all contribute to me being able to live my dream.
My credentials- 2017 Hall of Fame Inductee, OFSBA coach of the year , level 1 USA boxing coach, amateur boxing judge, 201+ open division champion, 201+ masters division champion , coach of the 141 lb amateur champion, coach of national amateur champion, coach of 201- novice golden gloves champion, and coach of many professional and amateur fighters. "
The praise for Gedeon was widespread by the men he trains and trains with, as shown below.
"An all-around great friend and guy inside and outside of the gym as well. Never hesitating to help me in any way possible: allowing me to use the gym any time I needed in addition to regular practices, finding me sponsors, setting up great matches and pushing me farther than I thought I could go.
He commands respect from numerous talented athletes and coaches across the state! This guy will always be remembered for his huge heart in and out of the boxing ring and has undoubtedly put his stamp on boxing and many hearts. "
Josh Krizan – Pro Fighter
"I first met Bryan Gedeon about 5 years ago when a friend of mine brought me up to the Wrestling Factory. I could tell from the beginning that he was very dedicated to his gym and to his fighters. I knew from then that this is the gym I wanted to fight for.
Bryan has put a lot of time and effort into training me and I am grateful for that. Now here we are almost 5 years later and more fights then I can keep track of and we aren't slowing down anytime soon. Thank you Sensei Gedz! "
Dib Kaddah 141 lb amateur boxing champion
"All I can say is he makes our gym a home and our team a family because he is the coach that sweats and bleeds with us he doesn't just tell us to push through he endures it all with us. "
Ted Riedy – Pro Fighter
"Hi my name is Jose Martinez I'm a pro MMA fighter currently 2-0. I've been fighting for Brian and the Wrestling Factory of Cleveland for about three years. Bryan has been a great coach and mentor to me and many of the of the other fighters.
He's always looking for our best interest and well-being. Always pushing us to be better and get better; getting us the extra work we need to excel in the foreign arts so we aren't just one-dimensional fighters. He's always pushing for more out of you with no exceptions. He's an awesome coach to have"
Jose Martinez – Pro Fighter
Gedeon next fights on August 5 at The Meadows Casino in Pittsburgh.

NEO Sports Insiders Newsletter
Sign up to receive our NEOSI newsletter, and keep up to date with all the latest Cleveland sports news.