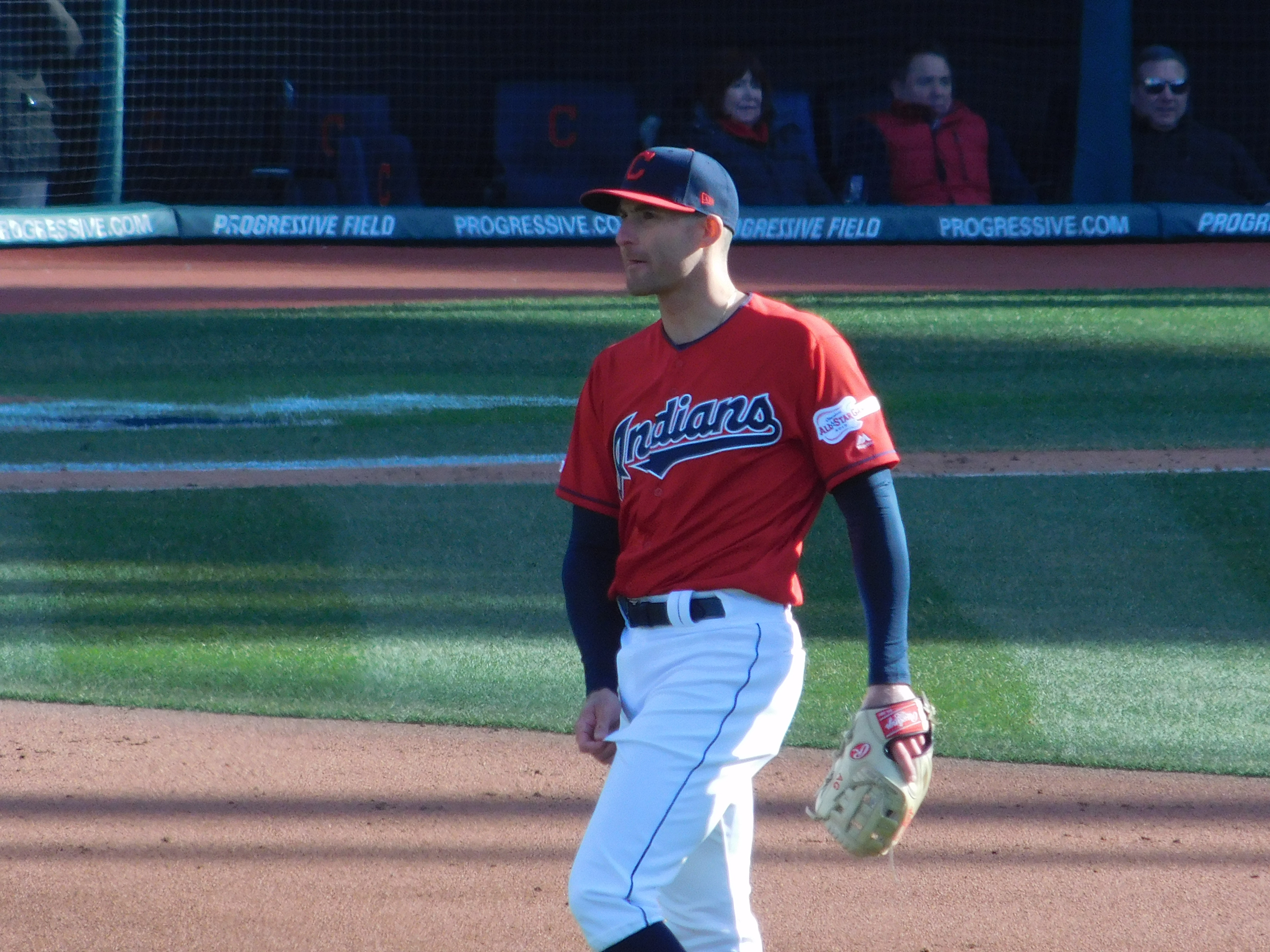 Sunday the Indians made a move that by most accounts is just a normal roster move – but what has ensued after that has become another black eye for the organization and more so the owner and front office.
The move was designating veteran infielder Brad Miller, cutting ties with him due to the fact that Jason Kipnis is ready and will be back with the team tonight when they take on the Mariners in Seattle.
On paper it's a fairly simple move, Miller plays the position that Kipnis does, and since Kipnis was anointed as the starer early in camp, there's really no debate about the subject.
That was until Miller more or less slammed the organization on his way out the door Sunday in Kansas City.
Miller lit into the Indians front office, telling Paul Hoynes of Cleveland.com that "obviously, they don't want the best guys up here."
He's got a point, as he's actually one of the few players on the team hitting the ball at all 15 games into 2019 (.250 average with one homer and three RBI), but then again, he had to know his time with the team would be short with Kipnis getting closer daily to coming off the injured list.
Some points to both sides as to why Miller is right – and why he's wrong about being shown the door by the Tribe.
Why Brad Miller is Right
1. His Numbers Don't Lie
Hitting .250 in the big leagues isn't exactly worthy of a batting crown, but on a team that has struggled as much as the Indians have the first 15 games hitting the ball, it's actually one of the better averages on the team.
Miller's .250 average ranks fourth on the club, behind Carlos Santana (.383), Leonys Martin (.271), and Tyler Naquin (.268).
The veteran also has a .742 OPS, which ranks third on the team. Overall Miller was 9-for-36 with three doubles, a homer and three RBI.
2. The Team Could Use Some Vets
Miller has seven years of big league experience, and with a team that has had such a major transition and is younger than it's been in awhile, it would be nice to have someone that knows teams and the game as well as he does.
Over his career Miller has seen time with Seattle, Tampa Bay and Milwaukee, and played this last spring with the Dodgers before being released.
Just having a guy on the roster who was a good clubhouse guy and a player who has seen a lot of AB's over his career is never a bad thing to have in the clubhouse.
3. He Can Play Multiple Positions
While Miller played all 13 games he appeared in at second base for the Indians, he also over his career has played at shortstop as well as first base, and even in the outfield.
Not only can he play elsewhere, but with the other two middle infielders on the roster hitting under .100 (Max Moroff hitting .077, Eric Stamets .053), it would have been nice to see Miller get a bit more of a chance to stick around.
Why Brad Miller is Wrong
1. What Did He Think Was Going to Happen?
Miller basically was a veteran stop gap for Jason Kipnis – pure and simple. While yes, he was one of the early better hitters on the roster, this wasn't a tough move to have to make.
Kipnis is going to play just about daily, and even with Francisco Lindor getting closer with a rehab stint coming this week, Miller would have rode the bench for the most part, with little to no playing time.
In that sense, it makes sense for him to get the chance to move on and play elsewhere.
2. It is a Money Issue
Think about it like this, Miller (according to Paul Hoynes of Cleveland.com) was with the Indians for 18 days and made an $105,000.
This is based on a 162-game season consisting of 172 days. That's not bad money considering he was with the team for all of 18 days.
Where fans are getting back on the 'Dolan is cheap' bandwagon is the fact that if Miller was on the roster for 45 days his $1 million dollar contract would have been guaranteed.
It's simple dollars and sense, but tell me a franchise that would keep a player who is playing maybe once a week that would keep that player around having to pay him about $900,000 just watch and maybe pinch-hit once in awhile.
It makes no fiscal sense to keep a guy around making a million dollars, when you have two players (Max Moroff $571,000 and Eric Stamets $555,000) who combined will make just over a million, and be able to play the same position that Miller was.
3. Let's Remember Who We're Talking About
Yes the argument can be made that his .250 average was one of the better averages on the team, but let's be realistic, this is a career .240 hitter who last year with two teams hit .248, and the season before that hit .201.
Miller is a nice bench player who you'd like to have for his veteran presence, and while you can argue that both Moroff and Stamets are killing this team right now with their lack of hitting, let's not sugarcoat and pretend that Miller is the second coming of Roberto Alomar.
Again, none of this comes to light without Miller taking a cheap shot out the door at the front office, and while it might in the end seem like a penny pinching thing to do, saving roughly $900,000 on not having to have a backup infielder on the roster is a smart move for the time being.
Once Lindor is back, it should not matter all that much about Morofff and Stamets, as both of them should be sitting the bench, or playing in the minors.