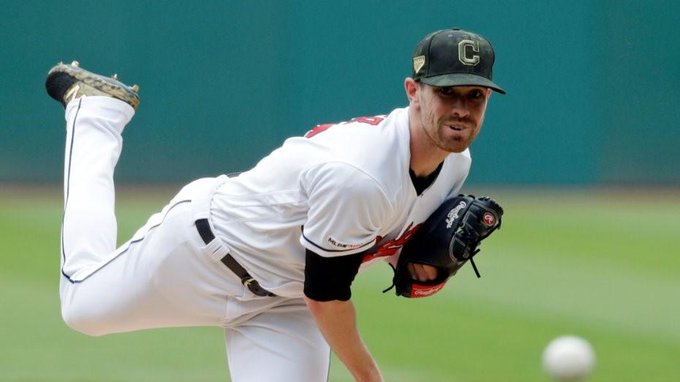 Sunday was the most complete effort of the season for the Indians, as they took care of business on both the offensive side of the plate as well as pitching wise, cruising to a 10-0 win over the Orioles at Progressive Field.
If you are a RoulettePRO.com fan you could have cleaned up betting the Tribe all day long, as Shane Bieber made it look easy, striking out a career-high 15 batters in the win.
Carlos Santana, Jason Kipnis, Francisco Lindor and new roster addition Oscar Mercado all paced a Tribe offense that scored early and helped the team to 10 runs on 11 hits in the victory.
Now 3-1 on their 11-game homestand, the Indians will prepare for three games against the Oakland A's starting on Monday night at 6:10pm at Progressive Field.
Here's a few tidbits from the win on Sunday to put the team at 25-20.
1. Bieber Rebound
And what a rebound it was for Tribe starter Shane Bieber, who last threw on Monday night in Chicago, allowing four homers in a loss to the White Sox, his first career loss on the road.
Bieber got an extra day of rest, and looked sharp all afternoon, allowing just five hits, no walks with 15 K's.
How good was Bieber? Consider that his outing was the first shutout with at least 15 strikeouts by a Major League starter since Houston's Gerrit Cole did it on May 4th of last season
It's also just the 4th shutout by an Indians starter with 15+ strikeouts (last, Carlos Carrasco, 15 on Sept. 25, 2015 at Kansas City).
With the hopeful return soon of Mike Clevinger and eventually Corey Kluber, the pitching staff has still held up their end of the bargain thus far in 2019.
Bieber is now 3-2 with a 3.22 ERA in 2019.
2. Let's Hear it for the O
The offense had one poor outing in the four games against the Orioles, that coming Friday when they scored just one run in their only loss in the four games.
Other than that they had a blast, scoring 29 runs in the four games, total, 10 on Sunday.
Carlos Santana went 2-for-4 with a homer, two RBI and a walk, Jason Kipnis was 1-for-3 with a walk and run scored, Francisco Lindor had a pair of doubles going 2-for-4 with two runs scored.
Oscar Mercado got in on the action with his first career multi-hit game with a double in the 6th inning and a single in the 7th inning.
The team was up 5-0 after three innings, and at that point the Orioles might as well have started the buses to the airport to get out of town.
3. Better Than 2018
While the Indians won't wake up in first place on Monday, they are still playing better baseball than they did just one season ago at 45 games into the season.
Consider after 45 games of 2018 (that coming on May 20th) the team was 22-23, and yes while they were up 1.5 games in the AL Central, they still were a game under .500.
The club did not win their 25th game until Saturday, May 26th (25-25) and by the end of the month of May the team got hot going 30-25 by months end, taking a 4.5 game lead in the division.
The Twins are going to hang around all season, but don't discount that the Indians are worse than a year ago, because based on how they are playing they are playing better than 2018.