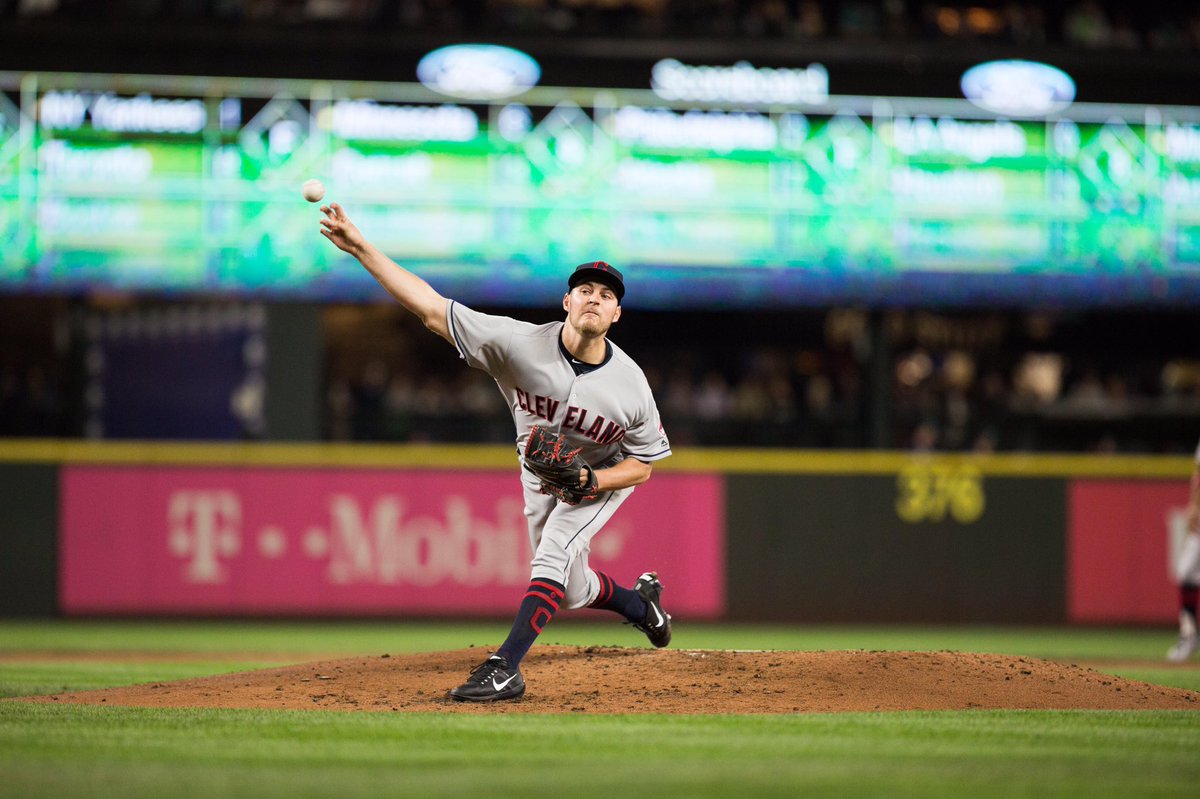 Once again the offense was not very good, but unlike on Thursday when they couldn't get a run across the plate, this time they were good enough, pushing two runners to home plate, and it was enough for a Tribe 2-1 win over the Twins.
The frigid cold didn't hurt Tribe starter Trevor Bauer, who was dominant, striking out nine over seven innings, allowing one hit.
The offense came through when they needed it, as in the ninth inning against Twins reliever Blake Parker, as they got a runner on third with one out (Carlos Santana singled, went to second and third on wild pitches).
Greg Allen, then hit a sac fly after a walk to Hanley Ramirez, gave the Tribe the lead for good.
Brad Hand got the save after an awful break to start the bottom of the ninth, when Max Moroff misplaced a ball in shallow center allowing Byron Buxton to get to second base.
From there, Hand worked some magic, getting C.J. Cron to fly out to end the game.
Here's some more details on the action, with three takeaways from all the action at frozen Target Field.
1. Bauer Was Awesome
While Twitter is ablaze with how the Indians offense has been downright bad the first two games, the Twins are not exactly lighting up the scoreboard, and they are not dealing with the injuries like the Tribe's lineup is.
After the Twins pushed two runs across on Corey Kluber Thursday, against Bauer they managed just one, with it coming after a triple by Jorge Polanco in the fourth.
He scored on a ground out, but after and even before that, Twins hitters had no chance against Bauer.
The Tribe starter went seven innings, giving up the one run on one hit with a walk and nine strikeouts. He threw 108 pitches, 67 of which were strikes.
He worked out of a jam in the seventh when a walk and hit by pitch gave the Twins two on with no outs.
It also looked like his new change-up was on fully display, confusing Twins hitters all day.
BIG MOOD.#RallyTogether pic.twitter.com/Prn9XqkV2C

— Cleveland Indians (@Indians) March 30, 2019
2. The Offense Did Enough
Twins pitcher Jake Odorizzi, who struck out six of the first nine Indians he faced, looked like Cy Young for the first three innings, but finally Hanley Ramirez got a hold of a pitch in the fourth, and crushed it 420 feet to give the Indians a 1-0 lead.
The offense still managed just four hits, but in the ninth was good baseball, as the team got Santana to third on a hit and two wild pitches, and then Allen got the sac fly to give the Indians the winning run.
Again this offense is going to be a serious work in progress, but if you have to take the difference between a win and a loss on a day like today, you surely would take a win, and hopefully in the next day or two this offense will have a better day at the plate.
3. The Pen Did Its Job Again
While it came in a losing effort Thursday, Saturday the pen again did a nice job in picking Bauer up, as Jon Edwards got his first win as an Indian with a perfect 8th, and Hand did a great job out of the jam in the ninth.
Moroff's mistake (which counted as a hit) opened the door, but with Buxton on second, he got Max Kepler to K, and then Polanco to fly out to center.
After two walks on the second pitch to Cron he got out of the jam, thus getting his first save as well as helping the team save its first win of 2019.
Again, not perfect or pretty, but when you're sitting at 1-1 after scoring two runs in two games, you'll take it.
Brad Hand leaves the bases loaded & the @Indians get their first win of the season!

Postgame with @AlPawlowski & @JLEWFifty up next: https://t.co/a5vOVwpo7i pic.twitter.com/XncyQbZ2yb

— SportsTime Ohio (@SportsTimeOhio) March 30, 2019

NEO Sports Insiders Newsletter
Sign up to receive our NEOSI newsletter, and keep up to date with all the latest Cleveland sports news.