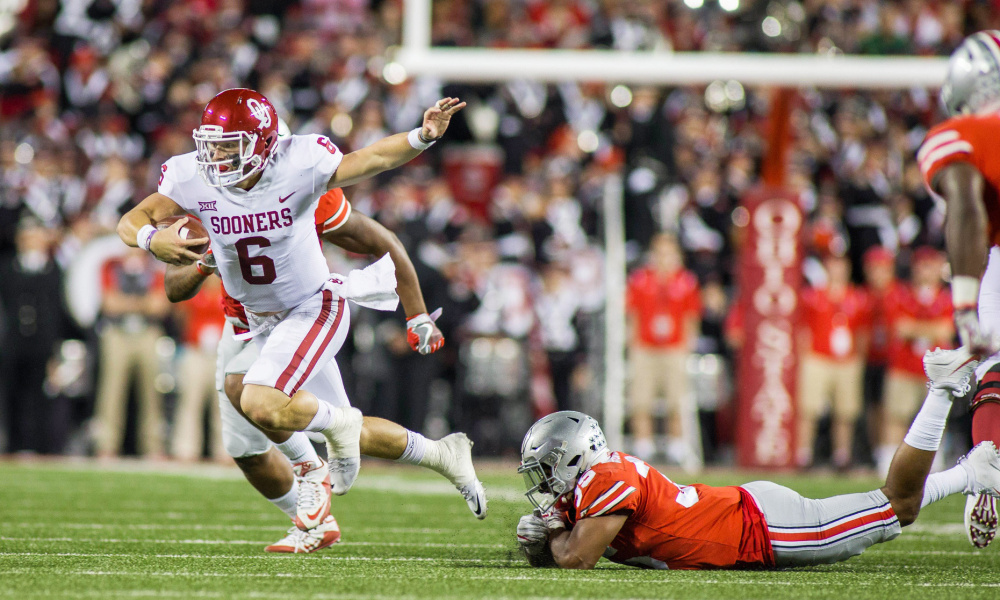 By: Mike Bohm
In what was hyped up as a showdown at the Shoe, the Oklahoma Sooners rolled into Columbus and claimed the revenge they so clearly craved.  There was no question the Sooners wanted this one more, as their perseverance prevailed with a 31-16 victory.
After appearing to have answered the dozens of questions that surrounded this Buckeye team last week in the second half against the Indiana Hoosiers, all the excitement and optimism that Buckeye faithful felt going into Saturday night's squabble was quickly squashed.
In a first half that could only be described as shaky, both teams were far from flawless, but neither was able to capitalize. Oklahoma turned the ball over twice on fumbles, once on downs, and missed a field goal. Meanwhile, red shirt senior signal caller JT Barret only managed to notch 25 first half passing yards, as an ignored Sooner defense stepped up and locked down the playmakers of the Buckeyes. Barrett would only finish with 183 yards and an interception.
The two teams entered their respective locker rooms at halftime tied at three apiece, but Oklahoma had the edge over Ohio State in both yards and time of possession, despite losing their top playmaker of week one, junior tight end Mark Andrews, to an apparent knee injury.
Led by redshirt senior quarterback Baker Mayfield, the Sooner offense torched this Ohio State secondary that has allowed an astonishing 806 yards through the air in just two games. First year head coach Lincoln Riley and company executed exceptional play-calling as receivers were finding open space left and right, leaving the Buckeyes without an answer. Mayfield took advantage nearly every time, as he hooked up with nine different receivers for a total of 386 yards on 27 of 35 passing, including three touchdown throws placed where only his teammates could reach them.
The combination of Mayfield's impressive improvisation and smart strategy – quick throws to prevent that Buckeye defensive front from providing pressure – was simply too much for Ohio State. The scarlet and gray offense, which showed some promise as the third quarter got underway, scored on their first drive thanks to the emergence of true freshman stud JK Dobbins, who would finish this game with 72 yards on 13 carries and one touchdown. Oklahoma answered, then the Buckeyes had the Sooners on their heels the following drive, but a crucial defensive stop on some predictable home team play-calling halted any momentum. Barrett and the Ohio State offense showed some remnants of last season, as the QB rushed 18 times (more than any Buckeye tailback) for 66 yards. Oklahoma capitalized, and did not look back as Ohio State was unable to respond to such an explosive Sooner squad.  
The all-time series currently stands at 2-2 as the two teams finish their two-year matchup. Oklahoma, now 2-0 and primed for a postseason run, looks to build on their momentum next Saturday against Tulane (1-1). Meanwhile, the one-loss Buckeyes will attempt to get their passing attack going against 2-0 Army.