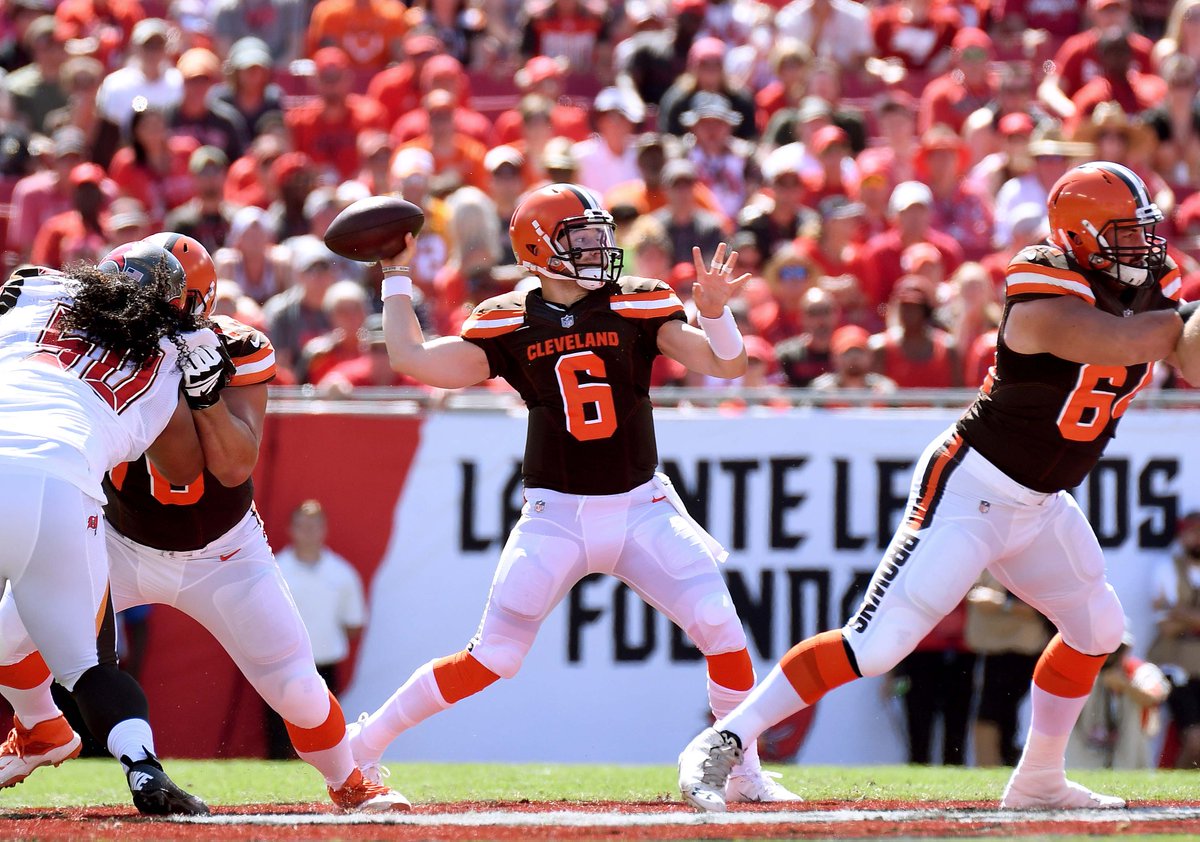 The quest for a franchise quarterback appears to be over for the Cleveland Browns. Baker Mayfield looks to be the quarterback Cleveland has been searching for the last two decades. A city that has been the punching bag of the NFL for so long not only found their guy, they found a fighter.
The list of quarterbacks the Browns have passed on since 1999 is long, but the one they selected in April is perfect for Cleveland. I said in the summer, via social media that when the Browns get good, their fans are going to be cocky and arrogant, and they'll have the right.
The city of Cleveland has always been and will always be a football town. The blue collar, lunch pail city has been stomped on while down for far too long, but those times are over. Baker Mayfield embodies that blue collar, lunch pail mentality and his brash and cocky personality is welcomed by Browns fans.
Obviously the most important thing is that the guy can flat out play, but he brings something extra: attitude. Sports fans already know this, from the crotch grab against Kansas, to planting the OU flag at midfield at Ohio State. He will take on anyone. It was on on full display this past week when Mayfield called former Browns head coach, Hue Jackson "fake" on social media and didn't backtrack from his statement when asked about throughout the week.
Baker Mayfield is the face Cleveland needs and deserves. He will not allow the Browns to be bullied anymore or be the punchline of jokes. He will lay it all on the line every Sunday and that is something the city of Cleveland loves and needs.
Mayfield has everyone believing in him, including former Cleveland Cavalier LeBron James. He had this to say about Mayfield to the Athletic's Jason Lloyd.
"I think the quarterback of the Browns should always be the face of the city." LeBron James on Baker Mayfield … 'Good things are going to happen': Everywhere he's been, Baker Mayfield's magnetism, talent have won the day by @ByJasonLloyd #Browns #NFL

— The Athletic (@TheAthleticCLE) November 30, 2018
The former King of Cleveland is right and it looks like a new King is being crowned. Historians say history repeats itself. If that is true, Cleveland should expect and look forward to a lot of wins because Mayfield has a history of not only being a fighter, but also a winner.