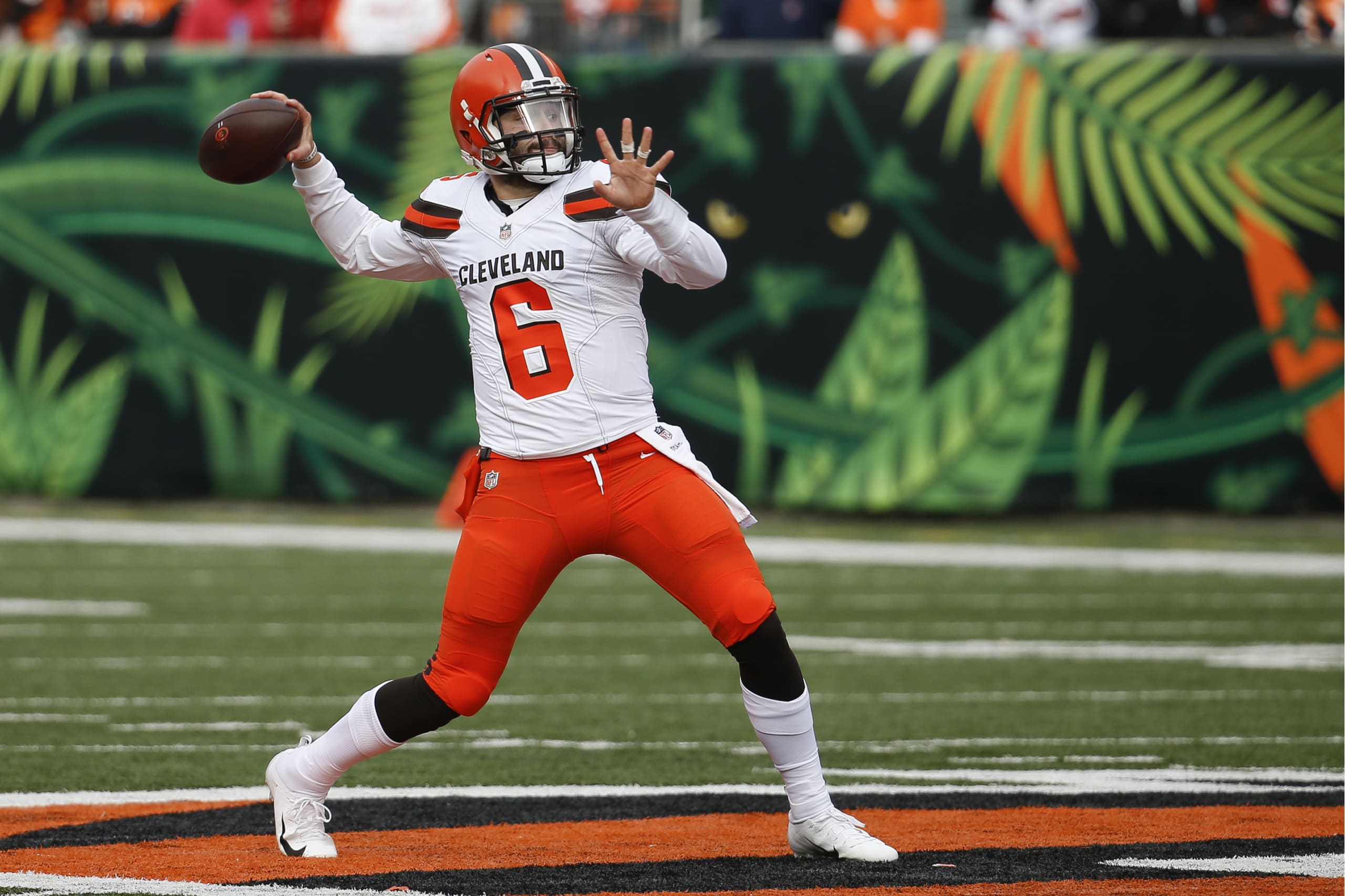 Sports shows across the country can't keep Browns rookie quarterback Baker Mayfield's name off their airwaves this week, after Mayfield publicly criticized his former head coach Hue Jackson for joining division rival Cincinnati two weeks after being fired.
Here in Cleveland, it's been mostly support for the Browns signal caller. That includes Mayfield's offensive coordinator, who came to his quarterback's defense on Thursday.
"First of all, I don't have a problem with Baker saying anything like [his remarks after the game]. The guy spoke what he felt to be true and I don't know when it became big news to speak the truth. If that's what he feels, then he should voice it. I mean, Hard Knocks is in here, everybody's looking for a story. Well, he's giving you a story. He's telling you the truth. Everybody's wanting an inside look at the truth, well hell, that's the truth."
Before ripping into Jackson during his postgame press conference, Mayfield had an awkward exchange Jackson at midfield immediately following the franchise's first road win in 25 games – a 35-20 victory over the Bengals. The No. 1 overall pick had no problem shaking his ex-head coach's hand, but when Jackson leaned in attempting to hug Mayfield he was denied by the rookie.
Kitchens thinks the entire sequence of events was blown out of proportion.
"I know there's people in that locker room that have never gotten on a plane to come back here on a road game with a victory," the Browns OC said. "So they didn't know that feeling until then. But suddenly it's big news if we didn't want to turn it into a kumbaya after the game and turn it into fist bumps and hugs.
"I don't think Baker disrespected anybody with what he said. He spoke what he felt and…I don't have a problem with it. At some point, at some point, everybody's going to realize what anybody else says It doesn't matter what anybody says in Cincinnati, Baltimore, Pittsburgh. Nowhere. It's about what's said here."
It's been a long time since Cleveland has had a quarterback willing to speak his mind quite like Mayfield. And while that may have gotten him in trouble with the national pundits, locally, it's only made him more respected by both his own teammates and fans. Don't expect it to stop anytime soon either.
"I promise you this, Baker isn't going to blow smoke up anybody's ass," Kitchens said. "So, if he said it, that's what he feels, and I'm standing behind Baker Mayfield. I don't care about anybody that doesn't work in this building and what they think about what he said, alright?"
Follow: @Spencito_