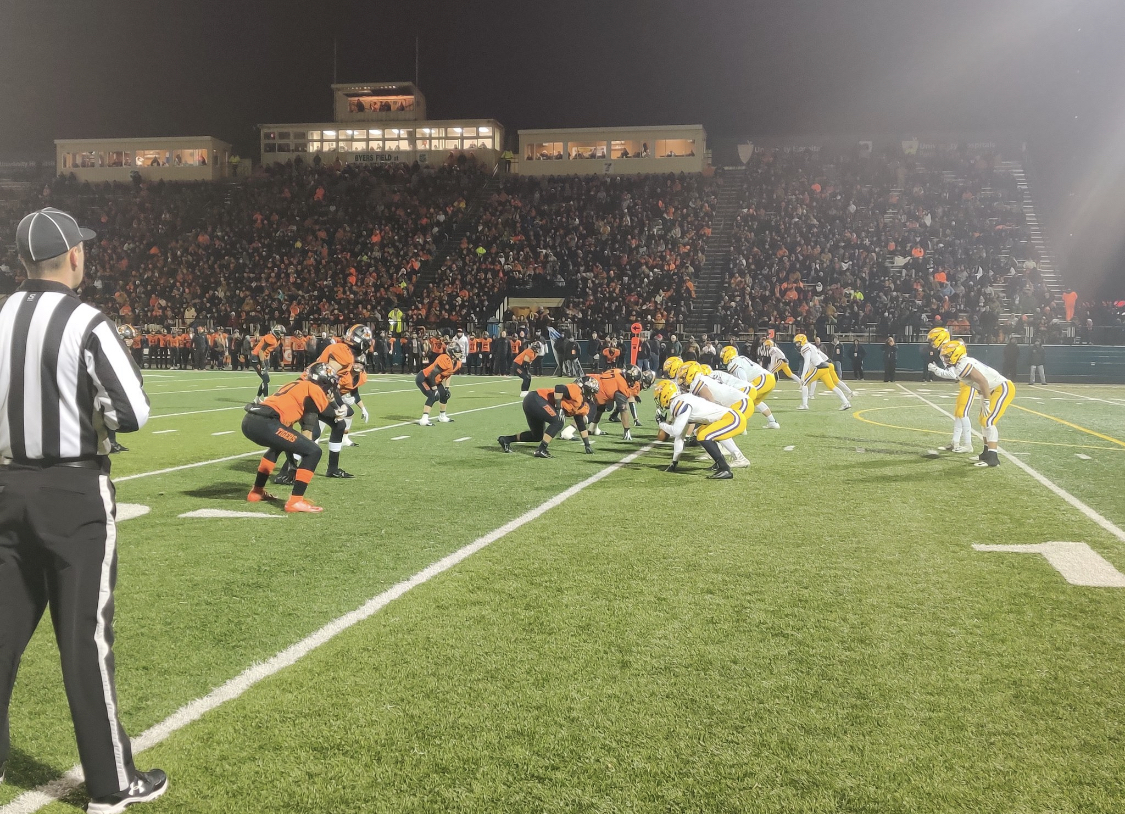 By Mark Perez
PARMA, OHIO – At the end of four quarters, the Massillon Tigers' defeated the Avon Eagles 35-10 at Byers Field to advance to the Division II, State Championship game.
Leading the way for the Tigers was running back Zion Phifer.
The senior's power running style with his 5-foot-8-inch stocky frame made tackling a challenge for the Eagles' defense as he bullied Avon for 168 rushing yards and four touchdowns.
"To us, (Phifer) did what was expected of him,.." Tiger's head coach Nate Moore said after the game.
"Everybody played well. He happens to be the one who we handed the ball to. There is a lot of guys that played well. The offensive line played well, our fullbacks played well and Zion (Phifer) ran well, but that's what he was supposed to do."
In the passing game, Massillon relied on him heavily on third and long to third and medium as quarterback Aiden Longwell threw him the ball in the flat three separate times and converted them into first downs.
He scored three touchdowns in the first half alone and a 25-yard touchdown late in the third quarter to make the score 28-10. The first half touchdowns were from 13, nine, and four yards.
The Tigers' running game cooled off briefly coming out of halftime.
"In the first half, I thought we didn't play very good run defense," Eagles' head coach Mike Elder said.
"But, in the second half, we did sure it up and we did a better job, but not good enough."
Phifer shared snaps with fellow running back Raekwon Venson, who scored a goal-line touchdown in the fourth quarter after Phifer was stuffed there on the previous play. It made the score 35-10.
For Avon, their passing game was almost non-existent as they completed three passes for a total of 41 yards.
"Against a team like Massillon, you gotta be balanced [offensively]," Elder said.
"We gotta be able to throw it and run it, and tonight, we were just able to run it and we did that pretty well. I was proud of our kids. We needed to throw the ball and we weren't able to."
Avon's Sophomore quarterback Chase Meyers, early in the game, threw an interception to Robbie Page in their own territory while trailing by 7. Massillon answered with a 4-yard touchdown run by Phifer. The score was then, 21-7.
Being forced to run the ball, Senior wide receiver Joey Lance carried much of the load, as he took many snaps as the quarterback and was one of the few players who was able to gain yardage for Avon.
Lance carried the ball 33 times for 172 yards in his final game as an Eagle and also scored their lone touchdown of the game. He scored on a 2-yard touchdown tie the score at seven in the first quarter.
"Joey Lance single-handedly throughout the playoffs, willed us to the state final four," Elder said.
"The kid is tough as nails. Tonight, we couldn't throw the ball, but certainly putting your best athlete back there and letting him run it was a good plan. Massillon made some good adjustments like every good team will. But, for the most part, I admire his courage for what he did tonight."
The Eagles also used Lance to construct a last minute drive at the end of the first half that led to the 6-yard line. With one second remaining, Avon's kicker Nathaniel Vakos made a 23-yard field goal to make it 21-10 at halftime.
This game was Avon's third consecutive Division II, State Semi-final appearance. All of them ended in a loss, but he refuses to throw in the towel.
"You keep knocking on the door and eventually, one day, you are going to kick it in," he said.
"We have different goals in our program than just state championships, if you keep showing up in these games, eventually you are going to get back there and we are going to get one. And when we do, it's gonna be for every single kid who has ever wore this uniform."

NEO Sports Insiders Newsletter
Sign up to receive our NEOSI newsletter, and keep up to date with all the latest Cleveland sports news.