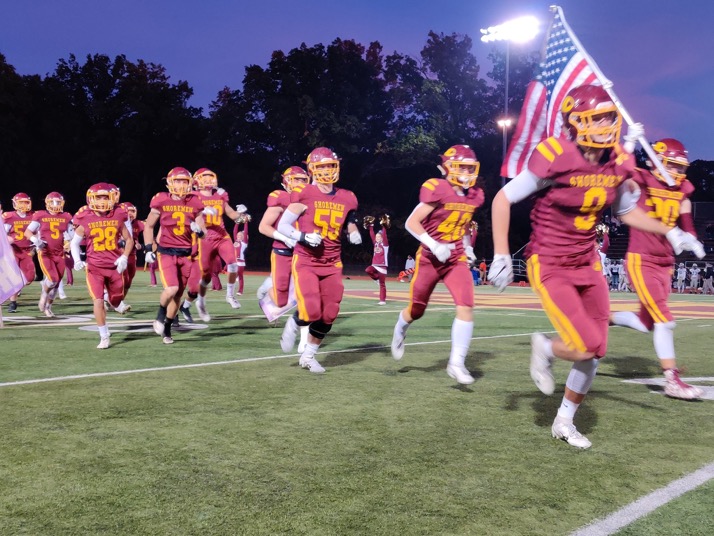 By Mark Perez
AVON LAKE, OHIO – Paving the way for the 7-1 (6-1) Shoremen was their defense. They have shutout five of their last six opponents and outscored them 269-7 after their (4-4, 3-4) Midview victory.
"Up front (on defense), we have played lights out all season," Shoremen's head coach Matt Kostelnik said.
"I'm really proud of our defense. Every week, we tell them: "what are you doing to challenge yourself internally? Are you learning from your mistakes? How are you challenging yourself to get better. Obviously, they are showing it week in and week out. Coach (Bob) Brickley and his (defensive) staff do a great job getting a game plan together and they are having fun. It's been great leadership, particularly out of (Nathan) Cikalo out at corner."
On both sides of the ball, Cikalo produced for Avon Lake with a 60-yard rushing touchdown in the first quarter and intercepted Middies' quarterback Ethan Surdock later in the game.
"I had three lead-blockers," Cikalo describes the touchdown.
"I had all three running backs Mason Wheeler, Griffin Lidyard, and Gage Duesler leadblocking for me. They did a great job and I went off their blocks and beat everybody else."
According to Cikalo, Avon Lake practiced the Wildcat play during the week of the game. It was his lone carry of the night.
Cikalo's interception happened late in the second quarter after Duesler scored a one-yard rushing touchdown to make the score 20-0. He returned the interception for good yardage to put the Shoremen inside the Red Zone.
"[I was] just reading the quarterback's eyes," he said. "We've got some good pressure up on that play. We have forced him to make a bad throw. I just got it."
The Middies' defense held them to a 25-yard field goal to head to the locker room trailing 23-0 at halftime.
The defense had its moments against the Shoremen offense, but Midview's offense struggled the whole game as they crossed the 50-yard line twice the entire night.
The first time they cross the 50 was in the mid-second quarter after three of their first four drive concluded in three and outs. The drive resulted in an interception off a tipped pass from the line of scrimmage and into Lidyard's hands. This started the drive that resulted in Duesler's one-yard touchdown.
The Middies' best chance to score, was in the third quarter with a first and goal on the five-yard line after an offsides penalty on the Shoremen. Eventually the drive was left to a fourth-and-one, trailing 30-0 as they enter the fourth quarter.
Avon Lake kept the shutout by stuffing the Middies' power running back Tyshawn Nelson behind the line of scrimmage.
"(Shutouts) are our goal every week for defensed," Shoremen defender Harry Herbert said.
"Just put a goose-egg on the board and it was awesome. On that fourth down (on the goal line), we got in the huddle we got all amped up. And we knew that we were gonna get them in the backfield."
Avon Lake received the ball in the second half and conducted a 10-play, 67-yard drive to trigger Duesler's second touchdown of the game from eight yards out to lead 30-0.
Avon Lake's special teams efficiently generated points as Herbert, who is also their place kicker converted all three field goals and three extra points.
"(Herbert) can boot the ball can he?" Kostelnik said.
"Harry (Herbert) does a great job. I love him. He is such a weapon. He's been great. I love touchdowns in there, but it does feel good to know that he can come in there and deliver."
"Every point is crucial for us," Herbert said.
"Our special teams' coach is saying it's the same kick every time, no matter where it is. I just try to do my best to convert every time."
The punt return unit for the Shoremen also put points on the board from a safety in the fourth quarter that was triggered by a bad snap in the endzone.
Next week, Midview hosts Berea-Midpark and Avon Lake will travel to North Olmsted.

NEO Sports Insiders Newsletter
Sign up to receive our NEOSI newsletter, and keep up to date with all the latest Cleveland sports news.