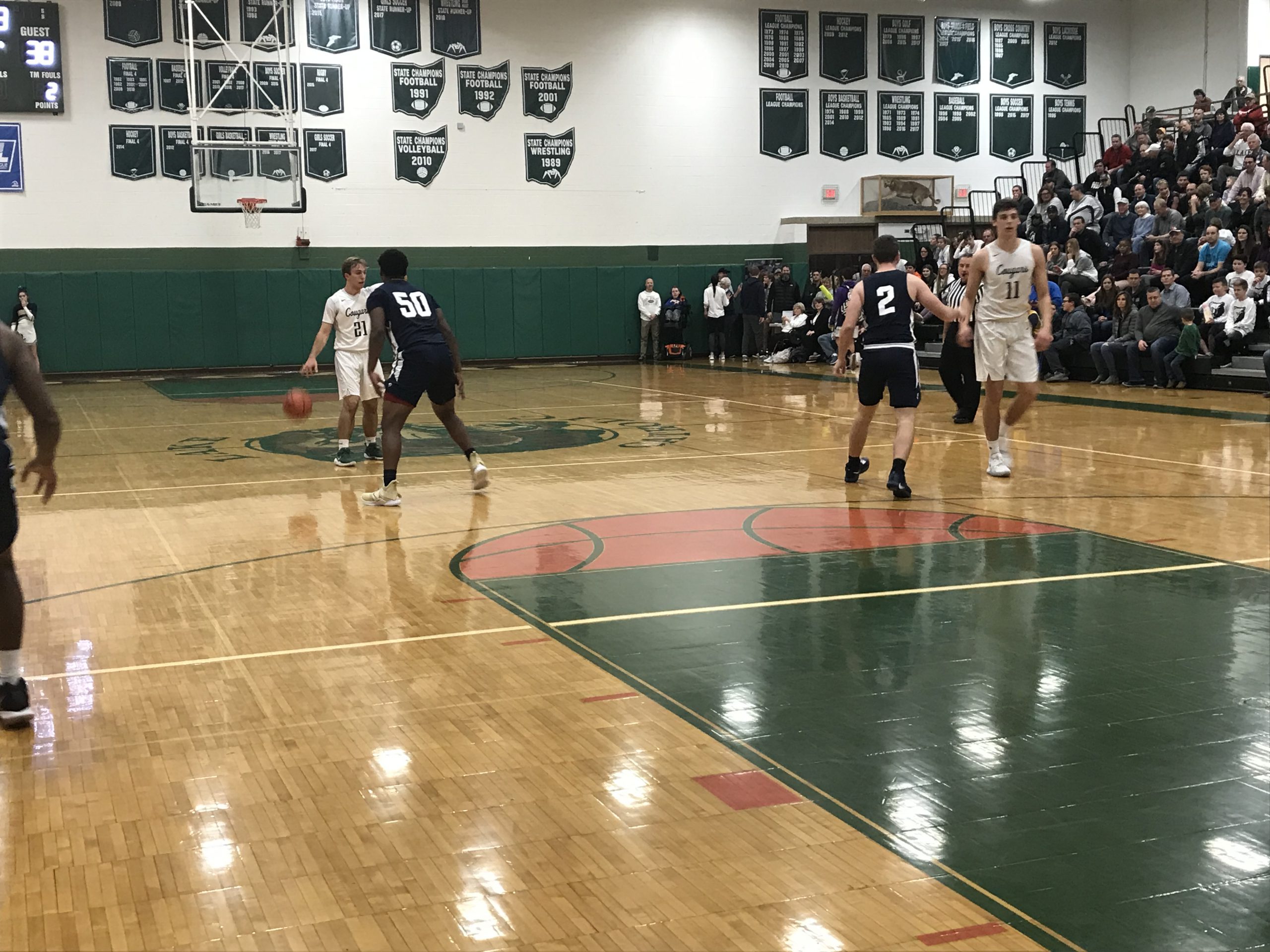 Mentor, OHIO- A strong second-half shooting performance is what lifted the Knights past the Cougars Friday night by a final score of 61-54.
Senior guard Jacob Snyder paced the Hoban offense in the fourth quarter by knocking down two 3-pointers. The team combined to make five of them in the fourth quarter alone to help outscore Lake Catholic 21-12 and lead them to victory. Head coach TK Griffith liked the penetration and aggressiveness his team showed throughout the second half of the game.
"Some guys started to learn that if you make the extra pass, your team is going to succeed," Griffith explained. "More philosophical than coaching and players making really good and unselfish plays."
Snyder would lead all Hoban players in scoring Friday night while pouring in 17 points. Quan Easterling and Brayden Fox would round out the scoring for the Knights with 15 and 13 points, respectively.
For Lake Catholic, turnovers all throughout the fourth quarter was one thing that stood out to head coach Matt Moran. In fact, the Cougars turned the ball over six times in the final eight minutes, something that the Knights ended up capitalizing on down the stretch.
"We were having trouble in the fourth containing the basketball," Moran said. "They produced open shots from the penetration and hats off to them. Missing assignments hurt us in the end."
Junior forward Luka Eller paced the Lake Catholic offense in scoring, putting up a team-high 21 points. Ryan Boruszkowski and Sean Fitzgerald each contributed with 12 points along with Luke Frazier rounding out the night with nine points.
A combination of man and zone defense in the second half was something that took a toll on the Lake Catholic offense. The zone defense slowed down the game for coach Moran, who thought his players were getting a bit lazy on the offensive end just passing the ball throughout the zone.
"The best part of their defense was that it took the energy out of us," coach Moran said. "We weren't being aggressive and when you don't do those types of things against a team like Hoban, you're not going to win those games."
Heading into the fourth quarter, Lake Catholic held a two-point lead. Hoban was able to maintain a couple of scoring runs to open up the game. As soon as the Cougars came climbing back in the game, the Knights were able to hit on their 3-pointers to ultimately put the game out of reach. Hoban's lead got as high as eight points, but the Cougars were unable to keep the deficit under four points down the stretch.
The loss bumps the Lake Catholic record down to 5-2 and they will try to bounce back in a quick way with a matchup against Solon Sunday afternoon.

NEO Sports Insiders Newsletter
Sign up to receive our NEOSI newsletter, and keep up to date with all the latest Cleveland sports news.