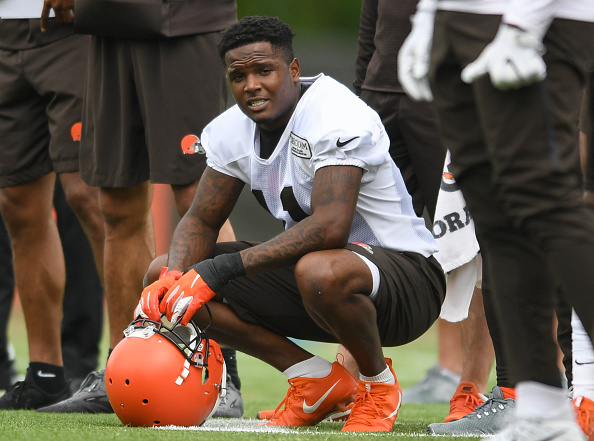 Last week, I questioned whether wideout Antonio Callaway was truly willing to take advantage of the opportunity the Cleveland Browns were giving him. Yesterday, we got a little more clarity on this, and not in a good way.
Per Ian Rapoport, Callaway has been handed a four-game suspension for violating the NFL's substance abuse policy. It's yet another disciplinary issue for a player who had more than a few of them coming out of college.
The Browns have long hoped Callaway would prove worth the risk they took when drafting him last year. Yesterday's news certainly doesn't help the cause. As a result, you're forced to wonder just how many more chances they're going to give him.
This is now the third questionable offense from Callaway in a little over a year. He was cited for driving on a suspended license and possession of marijuana last summer.  He also showed up to this year's training camp out of shape.
Combine all of this with this latest suspension, and it sure seems like you have a player who doesn't seem eager to prove Cleveland was wise to take a chance on him. Instead, it just makes you wonder how much longer the team will keep him around.
From a roster perspective, this isn't damaging for the Browns. Wideout is a position the team has plenty of depth at, so Callaway's absence shouldn't severely impact anything during the first four weeks of the season.
However, this is also a fact Callaway needs to realize.
The Browns have plenty of options at receiver. His absence doesn't create a glaring hole in the depth chart. Nobody is decreasing Cleveland's odds of winning games now that he's temporarily out of the picture.
Simply put, he's expendable.
As a result, it's fair to wonder just how many more chances the Browns are going to give him. How much longer are they going to go before determining it's time to cut their losses?
I get it, Callaway is a very talented wideout. Said talent is what made GM John Dorsey willing to make peace with his incidents at Florida when selecting him in the fourth round last year.
Yet, we're not even two seasons into Callaway's professional career, and he's already raising more red flags. He hasn't been able to go one year without getting into hot water with the team.
Making matters worse for him is the fact Cleveland has been burned before when holding out hope for a troubled, yet talented player.
We're just a little over a year removed from the Browns finally cutting ties with receiver Josh Gordon. Despite numerous off-field incidents occurring over a six-year span, Gordon continually received second chances from several regimes due to the talent he brought to the field. Time after time, Cleveland held out hope his latest disciplinary issue would be the last, only to be let down once again.
Perhaps Callaway assumes he'll get the same leeway Gordon did. Maybe he's of the mind that, if the Browns were so willing to draft him despite his past issues, he'll continue to get second chances.
Again, though, Callaway doesn't have the same benefit Gordon did. He's not the lone standout in an otherwise barren receivers room. The Browns shouldn't feel compelled to keep him.
One would hope Callaway realizes this. That he's on incredibly thin ice regardless of his draft status. I'd also hope he remembers the man who drafted him is also the one who decided enough was enough with Gordon.
For what it's worth, Callaway at least claimed he's aware of this, releasing a statement in which he admitted the only way he'll regain his team's trust is through his actions.
I sure hope he takes that to heart, if only because one more false step may be his last in a Browns uniform.

NEO Sports Insiders Newsletter
Sign up to receive our NEOSI newsletter, and keep up to date with all the latest Cleveland sports news.