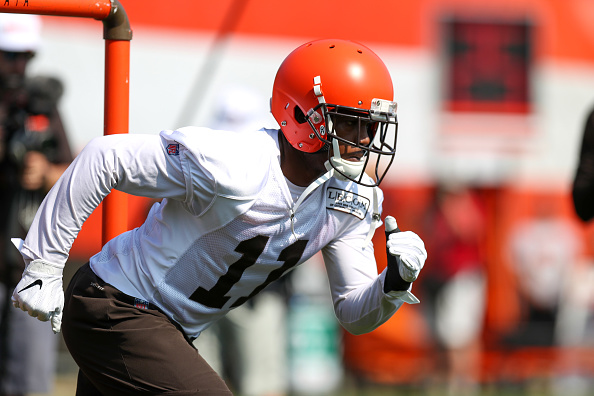 Considering the potential we've seen from Cleveland Browns wideout Antonio Callaway, it was admittedly puzzling to watch him spend the bulk of training camp working with the second team offense. It wasn't until Wednesday's sessions that he finally got some time with the starters.
We found out why today.
Per coach Freddie Kitchens and offensive coordinator Todd Monken, Callaway arrived to camp out of shape. This news came a day after Kitchens and quarterback Baker Mayfield asked for more consistency from the second-year receiver.
You could argue that, in the long run, Callaway will be whipped into shape and this will end up being a minor incident. However, it certainly makes you question just how eager he is to pursue the opportunity the Browns have given him.
Remember, this isn't the first time Callaway found himself in hot water with the coaching staff.
During last year's training camp, he was given a citation for possession of marijuana and driving on a suspended license when getting pulled over at 3am. GM John Dorsey wasn't subtle when telling him this was the kind of trouble he needed to avoid.
This was partly because Dorsey took a gamble when drafting Callaway last year, selecting him with a fourth-round pick despite the fact he was suspended for his entire 2017 season after being involved in a felony fraud case.
So, while Callaway showing up to this year's training camp out of shape may seem minuscule compared to previous incidents, it becomes a bit more of a red flag when you consider the big picture.
Essentially, this is another instance of Callaway's dedication being called into question.
His time at Florida was shortened due to multiple suspensions. Despite being drafted by Cleveland after many other teams took him of their boards, he found himself in trouble again just a few months later.
Now, as the Browns prep for one of their most important seasons in years, he's showing up with conditioning that apparently left a lot to be desired.
It's frustrating to see, mainly because of the massive opportunity he has on his hands in the season ahead.
Opposing defenses are going to spend Sundays putting intense focus on Odell Beckham Jr. and Jarvis Landry, hoping not to get burned by the Pro Bowl duo. Knowing that, the field should be wide open for Callaway, as his speed will make him a deep threat Mayfield should be able to take advantage of quite frequently.
Simply put, this year has all the makings of a breakout season for Callaway. For him to show up out of shape despite that makes you question how much he's willing to make that happen.
Again, this is fixable. Monken made sure to note that today's practice was one of Callaway's best. Provided he keeps this trend going, how he arrived up to training camp will become irrelevant.
At the same time, this instance is another indication that Callaway still has some work to do when it comes to gaining his team's trust.
Dorsey gave Callaway a chance most GM's didn't even consider. In the time since, his willingness to take advantage of it has wavered.
The hope is this latest incident was his last. He has the talent to help make the Browns' offense a powerhouse, and you'd hate to see him throw an opportunity like that away.

NEO Sports Insiders Newsletter
Sign up to receive our NEOSI newsletter, and keep up to date with all the latest Cleveland sports news.