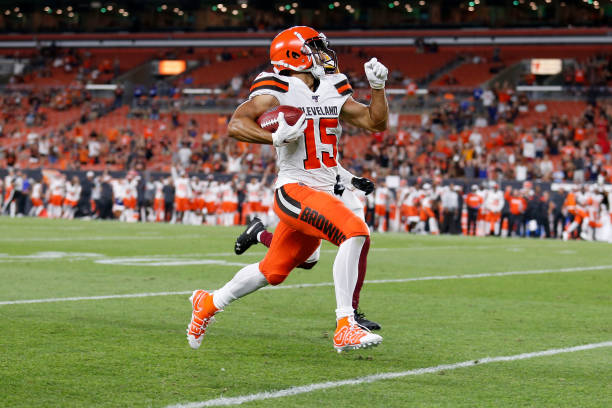 Before Thursday, most Browns fans couldn't have even told you who Damon Sheehy Guiseppi was.
Three days after returning a punt 86 yards for a touchdown in the Browns preseason opener, he's the training camp darling. But it's not just that one play that's made him the most talked about guy in Cleveland for the week. It's how he got here.
As the story goes, Sheehy-Guiseppi's learned about a workout in Miami from a friend he played flag football with out in Arizona and promptly packed his bags for South Beach. There was a bigger hurdle than the more than 2,000-mile journey standing in Sheeyhy-Guiseppi's way though; the workout was invite-only.
With no guarantee of even getting in, the 24-year-old did some research discovered that Browns vice president of player personnel Alonzo Highsmith would be there, introduced himself and quite literally talked his way into a workout. After impressing Highsmith with a lightning-fast 4.38-forty time, he earned himself another workout, this time with an actual NFL team: the Cleveland Browns.
The tryout was still several weeks away though and with little money to his name, Sheehy-Guiseppi used what cash he had left to pay to train at a local facility owned by NFL combine trainer Pete Bommarito. He slept on the grass with his two bags outside of the facility at night, charged his phone at a laundromat, showered at another local gym and ate minimal meals each day.
For the former Phoenix College returner it was all worth it just to earn this atom-sized shot at chasing his NFL dream.
So far he's made the most of it. After nailing his workout, the speedy returner signed a three-year deal with the Browns. And his punt return on Thursday night has officially put him on the map. Sheehy-Guiseppi's story is the definition of hard work pays off. But like money in his contract, nothing is guaranteed.
That's just life in the NFL. It's a performance-based business and you need more than an inspiring story and a memorable preseason punt return to survive roster cut down day at the end of the month.
Still, there may be a path to making the 53-man roster for Sheehy-Guiseppi; starting with the fact that the Browns haven't had a dangerous returner since Josh Cribbs last dawned the Brown and Orange in 2012. There's no question Sheehy-Guiseppi can be that on this team, but he's going to have to prove it throughout the remainder of the preseason. That's first and foremost.
Then there's the Antonio Callaway situation. News of Callaway's four-game suspension, which came down Friday, may have just opened the door for Sheehy-Guiseppi. Think of it as one man's misfortune is another man's opportunity — or at least it could be.
No, the Browns aren't going to move on from Callaway. Based on Freddie Kitchens' remarks on Friday, the 2019 fourth-round pick remains in their good graces. That said, Callaway enters the season as one of the Browns top candidates to return kicks. In fact, he was listed as the team's primary punt returner on their first "unofficial" depth chart and one of two kickoff returners alongside Dontrell Hillard.
With Callaway now set to miss the first four games of the season though, there is at least a temporary job opening. On August 31, the Browns will have to reduce the roster to 53 players and Callaway won't count as part of the active roster.
That four-week window without Callaway may be the perfect storm for Sheehy-Guiseppi to make this team, even for a temporary stint. Beyond that four weeks there's no guarantee he won't become a roster casualty once Callaway returns – he'll likely have to prove he has value as more than a returner to retain a roster spot long-term. But at the very least it could buy Sheehy-Guiseppi four more weeks to prove that or audition for another team.
Even with Callaway's suspension to consider, this is all still a long shot. Sheeyhy-Guiseppi is ___ on the roster bubble at this point and if cuts were made today he'd more than likely be on the outside looking in. Lucky for him, defying the odds is nothing new; he's literally defied the odds just to get here.
There's no sign of Sheehy-Guiseppi letting up. He continues to be the last player off the field after practice and with three weeks remaining in the preseason, he's got plenty of time to prove he deserves one of those coveted 53 spots on the roster. We'll see if his made for Hollywood story continues come Aug. 31.

NEO Sports Insiders Newsletter
Sign up to receive our NEOSI newsletter, and keep up to date with all the latest Cleveland sports news.