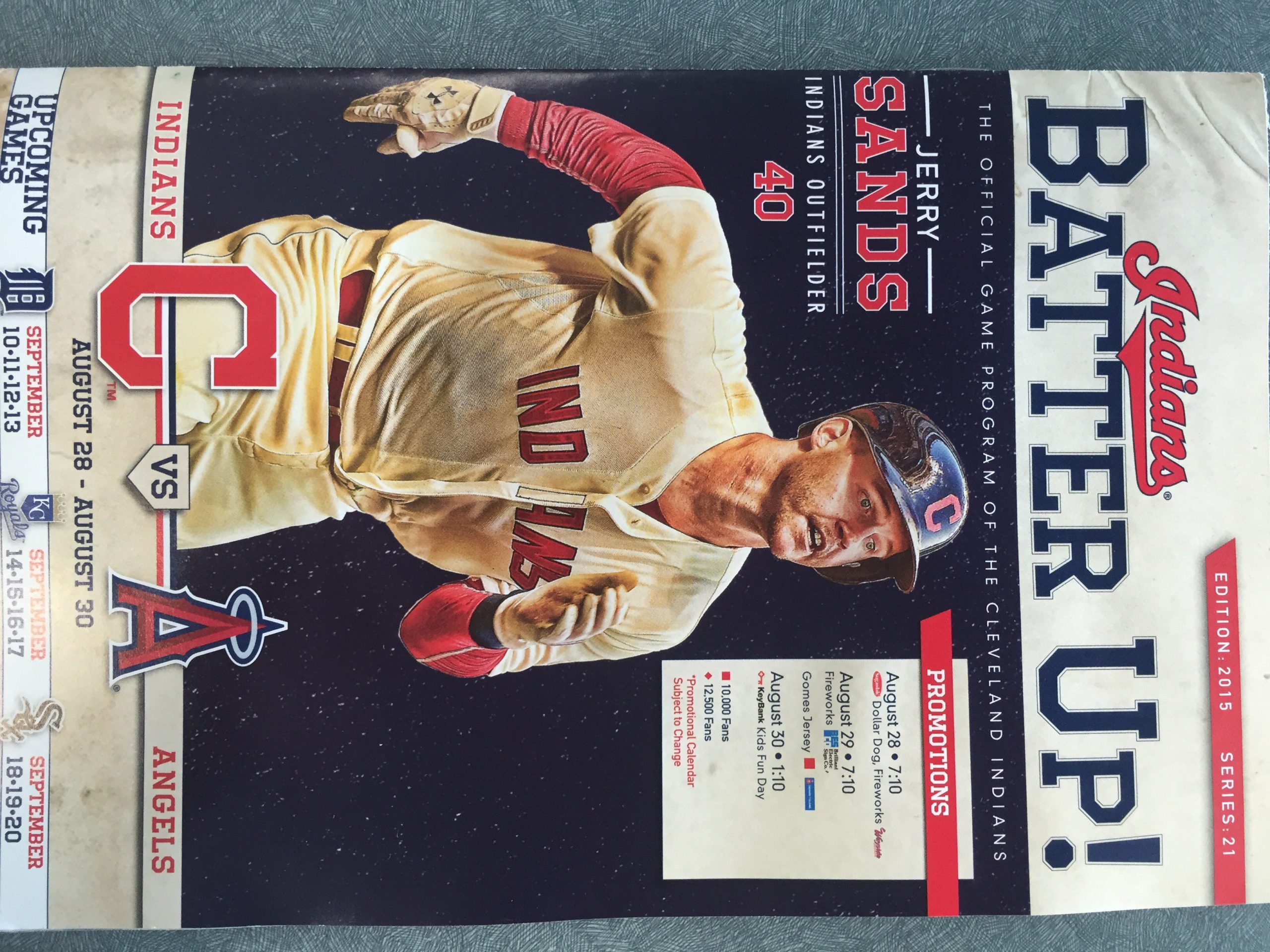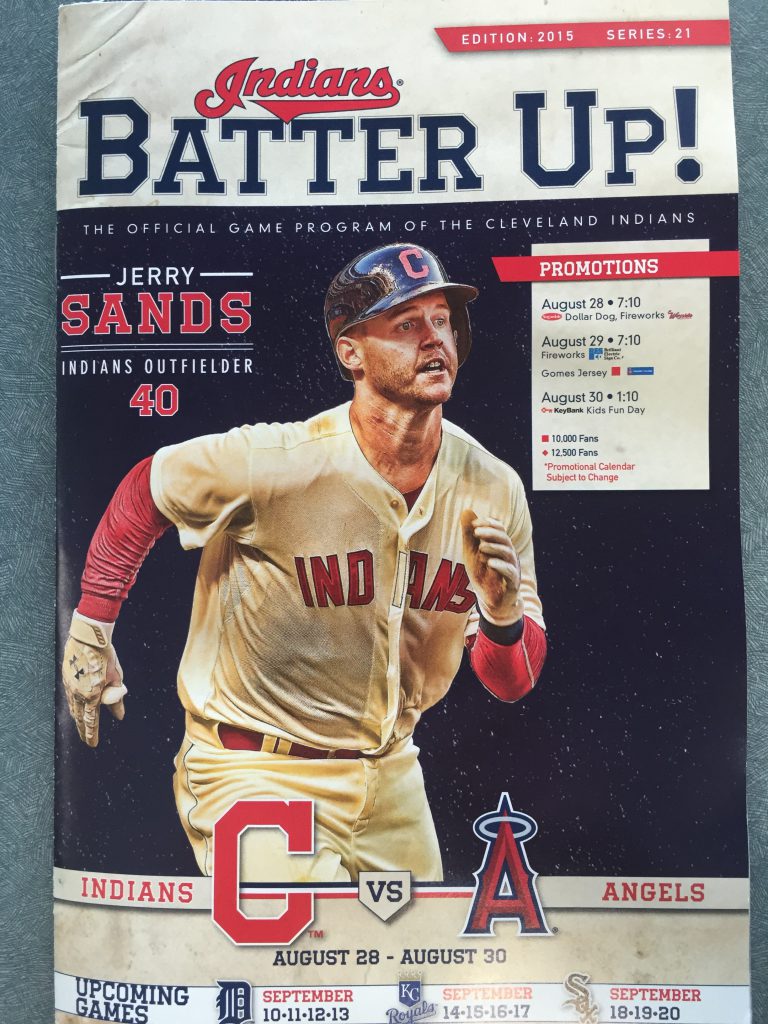 CLEVELAND – Don't look now, but the Indians are one of the hottest teams in baseball, winners of 7 of their last 10 games. Today they look to wrap up a perfect homestand as they look to sweep the LA Angels, a team that has lost 7 of their last 10.
Matchup: Indians (62-66) vs Los Angeles Angels (65-64) 1:10 at Progressive Field – Game #129 Home Game #63
Pitchers: Indians – Josh Tomlin (2-1, 3.26) vs Angels – Jared Weaver (6-9, 4.59)
Media: TV – SportsTime Ohio Radio – WTAM, WMMS, IRN
12:02pm – Rain fell early this morning, but from all indications it looks like we're okay for baseball today, as it's quickly clearing up and the tarp has been pulled off the tarp and is in the outfield.
Jared Weaver has had a tough season, going just 6-9, but if you know anything about his history against the Indians, the Tribe can't fall asleep against him today. Consider this – he's 9-4 with a 3.30 ERA in 19 career starts vs the Indians, BUT at Progressive Field, he's a lifetime 7-1 with a 2.24 ERA in 11 starts. From 2008 to 2013 he was 5-0 with a 0.93 ERA at Progressive Field. Today is his 5th start since coming off the DL.
Josh Tomlin is a career 1-2 with a 4.50 ERA in five career starts against the Angels.
Today's lineups: LAA – Calhoun 9 Trout 8 Pujols DH Murphy 7 Cron 3 Aybar 6 Perez 2 Cowart 5 Green 4
Indians – Kipnis 4 Lindor 6 Brantley DH Santana 3 Chisenhall 9 Urshela 5 Almonte 8 Perez 2 Aviles 7
1:03pm – The sun is shining, and baseball will go on as normal here at Progressive Field, the Indians have 10 plus hits at home in 11 straight games, and over their last 11 home games are putting up 7.9 runs per game.
1:12pm – Just like last night Callhoun goes swinging at the first pitch, this time lining a single to left center. Beautiful day, 77 degrees at first time.
1:14pm – Tomlin with a dart to first gets Callhoun leaning for a pickoff, the Angels appeared to want to challenge the call, but let it go for the first out in the first.
1:17pm – Not everyday you see a team get a single and triple in the first two at-bats but don't score, but the Angels have done that already, as Mike Trout just barely missed a HR with a triple off the wall in center.
1:21pm – Kudos to Tomlin for working out of a one-out triple, as he strikes out Albert Pujols and gets former Indians OF David Murphy to fly out to end the top of the first with no damage.
1:28pm – Leadoff double by Jason Kipnis and a one-out double by Michael Brantley and the beat goes on, as the Tribe takes a 1-0 lead off Jared Weaver and the Angels. It's RBI number 73 for Brantley, team high.
1:30pm – The sun is shining, and that means trouble for Angels CF Mike Trout, who lost it in the sun, and Carlos Santana gets a gift double which scores Brantley to make it 2-0. Don't look now, but things are going the Indians way big time for the first time all season.
2:19pm – Another good inning for Tomlin, who strikes out David Murphy and gets C.J. Cron to fly out to end the 4th. Tomlin is at 57 pitches thus far.
2:32pm – Tomlin on cruise control – 1-2-3 fifth and they maintain a 2-0 lead. Would be nice to see the offense get hot here against Weaver.
2:39pm – Remember the first inning when Mike Trout lost one in the sun on a ball by Carlos Santana. Well, Kole Callhoun just did it again, and now the bases will be loaded after an intentional walk to Lonnie Chisnehall.
2:43pm – For the second day in a row the Indians have blown it open with a grand slam, last night Yan Gomes and today Abraham Almonte, who slams his 3rd HR with the Indians. Weaver will be hitting the showers soon, Indians lead it 6-0 in the 5th.
2:45pm – First career grand slam for Almonte, 403 feet on the homer.
2:47pm – Last time the Indians hit grand slams in back-to-back games was September 17th ad 18th vs Kansas City, Shin-Soo Choo and Matt Laporta.
2:49pm – Just like the other night vs Milwaukee, the Indians get a good lead and Tomlin allows the long ball, as Grant Green goes deep for his first HR of the year to make it 6-1.
3:01pm – Carlos Santana makes it a 8-1 game with a two-out RBI single. It's the 9th hit for the Indians, meaning one more over the last 2 innings and they will have at least 10 hits or more at home for the 12th straight game. Not bad for a team that couldn't seem to buy a hit earlier in the season.
3:33pm – Angels with a threat in the 8th, two on and two out and Zach McAllister gets David Murphy to hit a grounder to first to end the frame.
3:24pm – Mike Aviles singles for the Indians 10th hit, giving them 12 straight home games with at least 10 hits. Longest streak in the Majors since the Texas Rangers in 2002.
3:44pm – Former Akron Beacon Journal Indians reporter Sheldon Ocker just tweeted that he hears Indians President Mark Shapiro heading to the Blue Jays is a DONE DEAL. Ocker points out that the Jays need permission to speak to Shapiro from Paul Dolan. This move would not be a surprise, as the Jays are in a much bigger media market and have more resources.
3:51pm – Ballgame. Indians a 9-2 winner, and it's a perfect 5-0 homestand with two wins over the Brewers and three over the Angels. Tomlin goes to 3-1 with the win, and the Indians again reach the 10 or more hit mark for the 12th straight home game. Stay tuned for more post game coverage.

NEO Sports Insiders Newsletter
Sign up to receive our NEOSI newsletter, and keep up to date with all the latest Cleveland sports news.