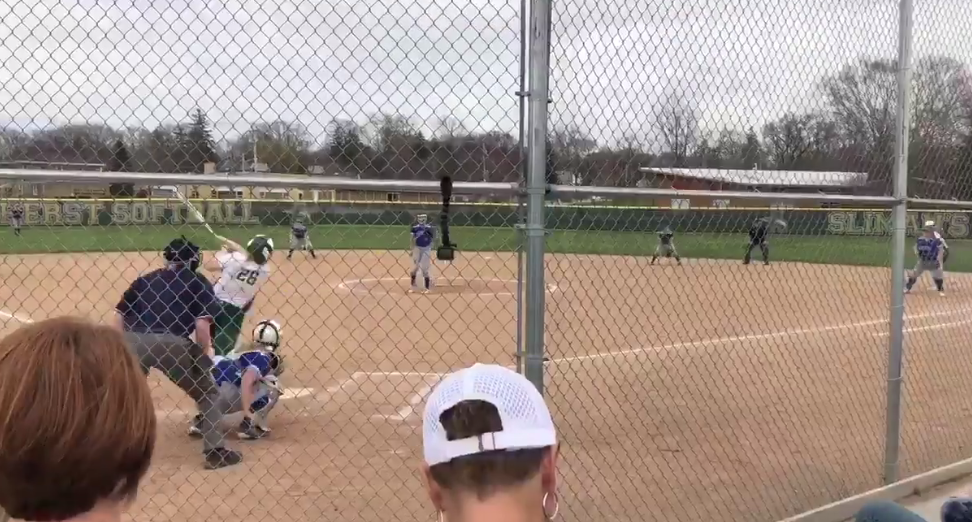 AMHERST, OHIO– The Amherst Lady Comets defeated Midview on Monday, 4-3, thanks to a sixth inning offensive rally.
Madison O'Berg was the winning pitcher for the Comets, striking out nine and giving up two walks and two earned runs. At the plate, O'Berg went 1-for-3 as well.
After trailing 2-1, Amherst scored three runs in the sixth inning to keep the Middies at bay.
Kasey McGraw put up an RBI single in the third inning that brought the Comets to within one run, 2-1. In the bottom of the sixth inning, a triple from O'Berg scored McGraw to tie the game.
The Comets took a 3-2 lead on a pick off attempt that plated Delaney Stojkov. The final run of the game for Amherst came on an RBI single from Kylee McGraw that scored Lauren Kachure. Midview would put one run on the board in the seventh, but was unable to rally back.
The Varsity Softball Team came out on top against Midview, winning 4-3. Here are some of the best hits from the game including a single from Kate Iliff, two singles from Kylee McGraw, a double from Amanda Crisler and a triple from Madison O'Berg! Go Comets! ??? pic.twitter.com/nd8PxXicFc

— Steele News Live (@SteeleNewsLive) April 23, 2018
Check out a box score below:
WP: Madison O'Berg: 3R, 2ER, 9K, 2BB
LP: McMahon
Amherst:
Amanda Crisler: 1-3, 1R, 2B
Kasey McGraw: 1-2, RBI, R
Madison O'Berg: 1-3
Lauren Kachure: 1-3, 2B, RBI
Midview:
Evins: 3-4
Liszeski: 2-4
Hamilton: 2-4