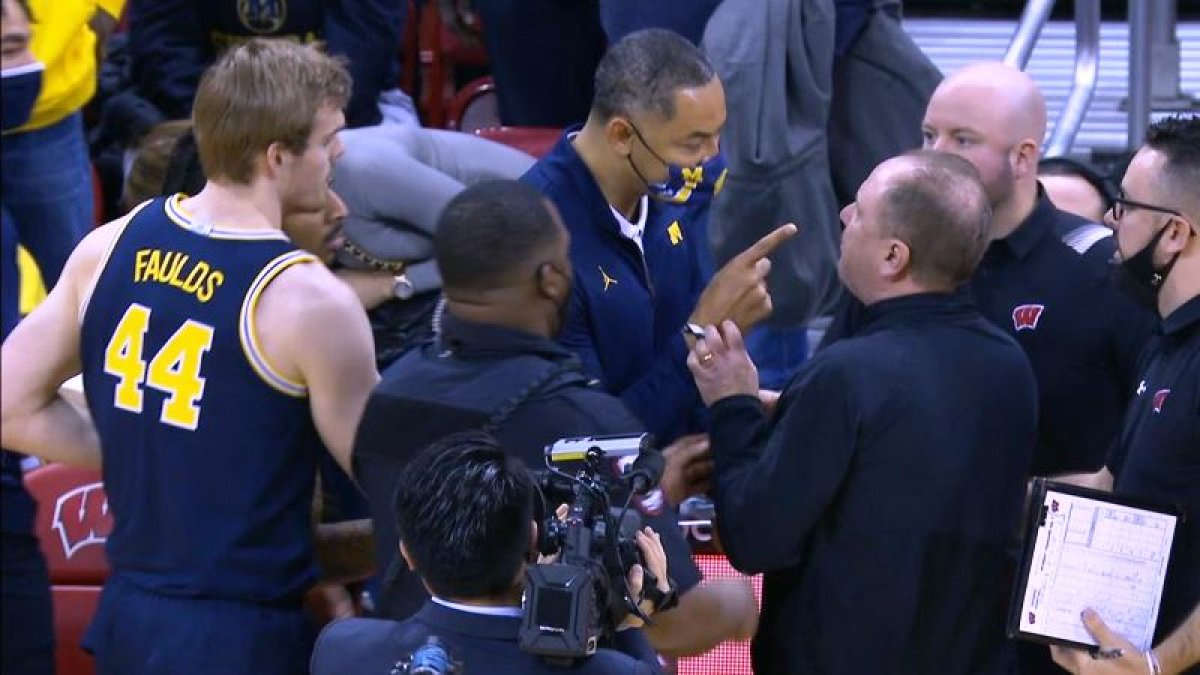 Reprehensible.
That, among a few other choice selections, is one word that more than describes what took place immediately after the clock struck zero in the college men's basketball game between Michigan and Wisconsin last Sunday.
A 77-63 win by the No. 15 Badgers over the non-ranked Wolverines wound up not being the story, more is the pity. With both teams engaging in the traditional post-game handshake line, emotions went beyond reason and tempers flared out of control. Two head coaches who are supposed to be setting a prime example for their young players to follow and emulate didn't come remotely close to doing that.
Wisconsin coach Greg Gard and Michigan coach Juwan Howard were hardly exchanging pleasantries as both men proceeded to engage in a heated discussion that resulted in selected players looking for physical confrontations with anybody, they could find wearing the opposition's jersey, and Howard taking a swing at a Wisconsin assistant coach. Yes, it was both disgusting and ugly with seemingly every collegiate coach, broadcaster and television analyst offering their opinions.
Well, yours truly would like to weigh in. Let me be very clear that there is blame on both sides regarding this unfortunate matter. I sum things up this way in that Gard clearly set the tone for this incident, but Howard escalated the incident. Let's go back to the beginning, or the end, if you will, as far as what transpired at the conclusion of the game.
With roughly 15 seconds remaining in this Big 10 contest, and the Badgers up by double-digits certainly ready to put this one into the win column, Gard, with backups in the game, called a timeout. Such a move was baffling, to say the least, and raised a few eyebrows. It certainly got Howard's attention who gave Gard a look that resembled the sentiment of "are you kidding me?"
And looking to send a not-so-subtle message to his coaching counterpart, Howard instructed his squad to foul a Wisconsin player as the soon as the ball was inbounded. It was the old "mind game" now being played between the two head coaches with Howard telling Gard "Okay, you want to call a timeout stopping the clock under these circumstances, well, I'm going to foul to stop the clock again just to keep you here a little while longer."
Gard offered, in my opinion, a very weak reason as to why he would call a timeout in that situation. There is a rule in college ball that would have put 10 seconds on the clock coinciding with Wisconsin getting the ball across half court. Gard's implication was without calling a timeout, his backups would have only had four seconds to advance the ball, and he didn't want to put his backups in that position-what?
First of all, unless college basketball implemented a 14-point play at the outset of this game Michigan could have taken advantage of, there was no way Wisconsin was going to lose this game, even with the last five players comprising the roster on the floor for the Badgers. Furthermore, if Gard felt those players did not possess the ball-handling and passing skills to close this game out without turning the ball over, maybe they shouldn't be on the roster in the first place.
Even if those five on the floor for Gard would have failed in preserving the basketball in the closing seconds, the only thing that would have changed on the scoreboard would have been the actual points scored by Michigan, which would not be enough to change who the victorious team would be on this given day.
That was Gard's bad decision. Now, it was Howard's turn to make his poor choice. Howard could have done any number of things to handle this situation better. If he was so bothered by Gard's "strategic" timeout, he could have just walked to the locker room. Yes, he probably would have been labeled with a "poor sport" tag, but it would have been better justifying a quick exit off the floor over a fast haymaker aimed at an opposing coach's face.
Instead, Howard chose to purposely not come to the front of the handshake line where traditionally both head coaches meet. And when he finally got to the spot where Gard was waiting, Howard never even looked at him and just kept walking forward. Here is where things get a little "testy" and confusing. Many have said Gard put his hands on Howard, which would be inappropriate. But I don't believe Gard was putting his hands on Howard in a manner that would indicate the Wisconsin coach was ready to grab him by the collar and start a fight. Gard was, in my opinion, stopping Howard with his hands to just get his attention. Maybe he was going to "explain" himself right then and there to Howard, I don't know.
What I do know is that Howard had a choice to make. He could have walked in the opposite direction of Gard in order to cool down, keep his composure, and simply look to talk to Gard privately in an office to find out why he did what he did at game's end. Howard would have avoided a lot of problems had he done just that, but he chose to interact with Gard in a manner that defies all rules of sportsmanship. And it matters not whether Howard swung with a clenched fist or an open hand-he took a swing at somebody that could have caused physical harm. Such an action is never acceptable and cannot be condoned, at any level of sports.
It is also puzzling that in some circles there are suggestions that Howard did nothing wrong, yet he apologized for his actions and said "I will learn from my mistake and this mistake will never happen again. No excuses!" His apologies also extended to Wisconsin Assistant Coach Joe Krabbenhoft, the apparent target of Howard's ill-advised punch.
Unfortunately, as is in most of these cases, others pay the price for the mistakes of others. Michigan players Moussa Diabate and Terrence Williams were suspended one game, while Wisconsin's Jahcobi Neath will also be suspended one game. Gard was fined $10,000 with Howard receiving a suspension that will cause him to sit out the remainder of the regular season. He is eligible to return for the start of the Big 10 Conference tournament March 9 in Indianapolis.
Howard is not the first coach in the history of athletics to let his emotions get the better of him, and while I don't believe he should be relieved of his duties at Michigan, I do believe he should not be allowed to coach for the rest of this season. Coaches are human beings, but they are also held to a higher standard. Their actions are always on display and are viewed by so many, especially the young players they coach who are looking for proper guidance.
What took place on Feb. 20 is a stain on college basketball. A blemish that both of the head coaches involved should share equal blame for. Howard's actions more than crossed the lines of integrity but Gard needed to make a better coaching decision, and he did not. Hopefully, both coaches will learn from this and know that while all humans make mistakes, those who truly learn from them know not to make the same mistake twice.
It won't be a "quick fix" because time is needed to heal certain wounds. And please, let's dismiss that quick remedy some analysts and former players (current coaches) are suggesting will help this situation-the eliminating of the post-game handshake by the players and coaches.
That is beyond ridiculous and foolish. That will not help in terms of fostering good sportsmanship, but mature behavior, exemplary actions and common sense will.

NEO Sports Insiders Newsletter
Sign up to receive our NEOSI newsletter, and keep up to date with all the latest Cleveland sports news.