The Cleveland Indians finally captured their first win of Spring Training on Monday, defeating the Los Angeles Dodgers 8-5.
Here's Monday's edition of 5 Notes from the Desert.
1. HALLELUJAH! A WIN!
It had to happen eventually, but after an 0-4-2 start, the Tribe came through with their first win of Cactus League play.
It also is a nice bow on top that the offense was able to put eight runs across.
This is a complete anomaly and there's absolutely nothing substantial to take away from it, but coincidentally in 2015, the two teams with the best Spring Training records in the Cactus League and Grapefruit League were the Kansas City Royals and New York Mets.
The two teams ended up facing each other in the World Series.
Don't expect Spring Training to be a big indicator of how a team does when the games count, but it's an interesting fact nonetheless.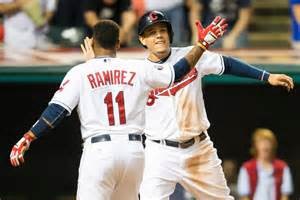 2. Four Runs in the First Inning
If you were wondering if the Tribe was hungry for a win, their first inning would seem to suggest that. The Tribe scored four runs in the top of the first, as Jose Ramirez and Giovanny Urshela each homered.
Ramirez's solo shot was his second bomb of camp and Urshela hit a three-run shot for his first homer of Spring Training. Urshela would later double, going 2-for-4 with four RBI on the day.
2. Shutout Salazar
After a rough first outing, Danny Salazar pitched three shutout innings on Monday, allowing just one hit.
The right-hander struck out two and walked two.
He now has struck out seven batters in five innings of work, with an ERA of 5.40 in two appearances.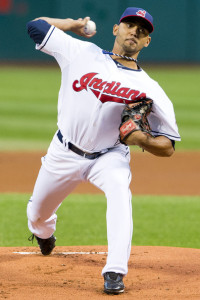 3. Naquin Stays Hot
Tyler Naquin is off to a great start this Spring. The left-handed hitting outfielder went 3-for-4 with three singles, scoring two runs.
He is 7-for-15 to start Cactus League play, and although we're only seven games in, his .467 batting average is impressive.
I don't want to get overly excited, but Naquin is a player I was hoping would impress in camp because of the Tribe's precarious outfield situation and he could not have gotten off to much better of a start than what he's done so far.
4. Lonnie and Rajai Finally Collect their First Hits
Two days ago, one of my notes from Goodyear was that Lonnie Chisenhall and Rajai Davis were a combined 0-for-16 to start the Spring.
Both of them finally reached base, as they each singled in Monday's win over the Dodgers.
Davis went 1-for-3 with a two-run single. Chisenhall went 1-for-3 with a single and came across to score a run.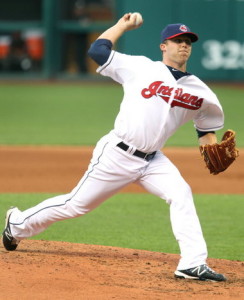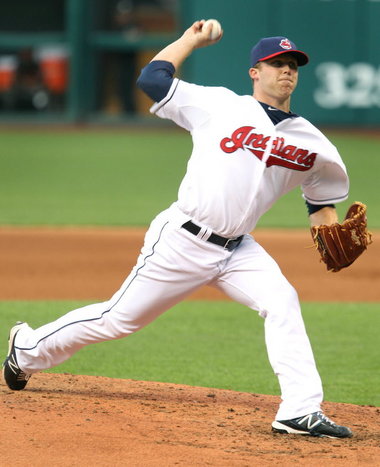 5. Up and Down Day for Bullpen
The Tribe's bullpen was not great in Monday's win, as the middle-inning relievers struggled, but the back end of the pen shut the Dodgers down in the eighth and ninth innings.
The Tribe had a 5-0 lead to work with after Salazar left the game at the end of the third inning.
Closer Cody Allen worked the fourth inning and set down the side in order, striking out one.
Then came the trouble.
Joba Chamberlain gave up three earned runs in the fifth inning, his only inning of work.
Austin Adams allowed an earned run in the sixth, his only inning of work.
Jeff Manship allowed an earned run in the seventh, his only inning of work.
But left-hander Giovanni Soto pitched a scoreless eighth inning and Kyle Crockett closed it out in the ninth, working a 1-2-3 inning to earn his first save of the Spring.
The different innings that guys appeared in the game is not something to really take into account because Allen will normally be the ninth inning closer, but it's nice to see Crockett finish strong, as he will be expected to play a big role in the pen this season.
Soto and Chamberlain are two guys who I wouldn't consider to be "locks" to make the team. Soto is still a pretty raw pitcher with plenty of upside and Chamberlain is a veteran just hoping to have a chance to extend his MLB career.
Both of them have a lot to gain by impressing in March. Soto has made three appearances and so far owns an ERA of 10.13 while Chamberlain now has a 13.50 ERA in two innings of work.
It was nice to see Soto bounce back after getting shelled on Saturday, allowing three runs in two-thirds of an inning's work.
It's still early in camp, but we'll be keeping an eye on those two throughout March to see if either shows enough to be worthy of a spot on the 25-Man Roster.
We'll see if the Tribe can make it two in a row on Tuesday when they return to Goodyear to face the Seattle Mariners.

NEO Sports Insiders Newsletter
Sign up to receive our NEOSI newsletter, and keep up to date with all the latest Cleveland sports news.