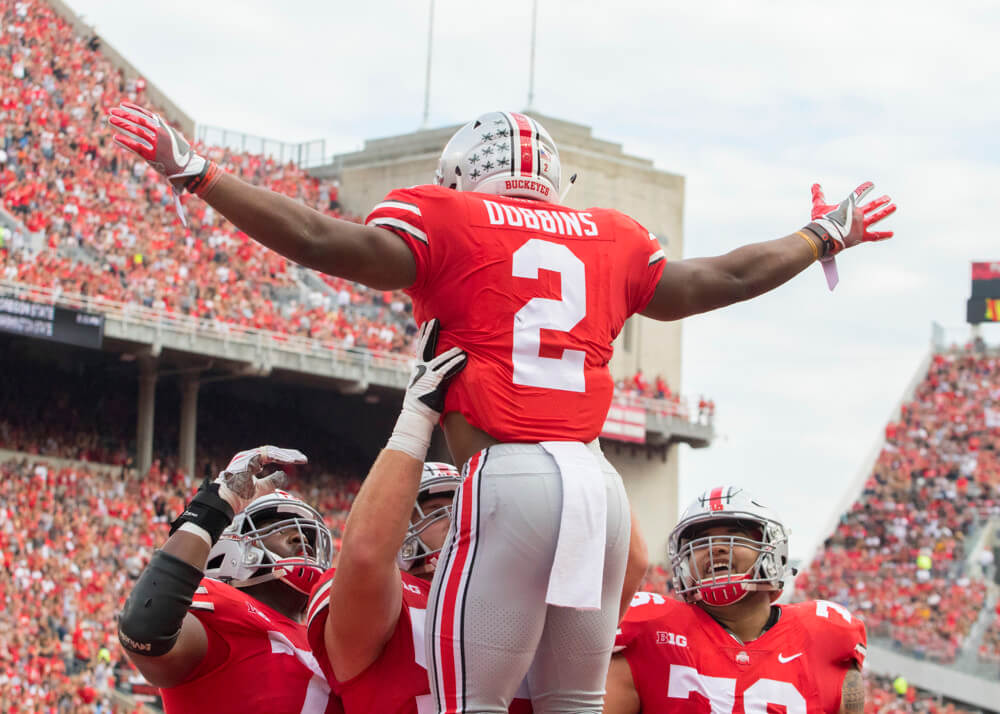 CLEVELAND, Ohio: The Ohio State Buckeyes will travel to Dallas to take on Texas Christian Horn Frogs. Both Ohio State and TCU are 2-0 to start the season. TCU is coming off a 30 point over victory SMU. The final score was 42-12. Ohio State is coming off a rout over Rutgers. Ohio State destroyed Rutgers 52-3.
Here are three keys for a Buckeyes victory:
1.      Dwayne Haskins: Haskins is an early candidate for the Heisman award. This is not only a big test for Ohio State, but a potential Heisman clinching game for Haskins. Yes, it's only week three. But for Haskins, this could be signature game for him. Haskins has a 79.2% completion percentage, 546 passing yards, and 9 touchdowns on the season. This will be Haskins biggest game in his early career at Ohio State.
2.      Mike Weber and J.K. Dobbins: Ohio State has had a ton success with the running game. Junior Mike Weber has 217 yards and 3 touchdowns in two games for Ohio State. Sophomore J.K. Dobbins 147 yards and 1 touchdown. Both have attempted 27 carries this season. Between the two, that's 364 yards and 4 touchdowns. Back in August, TCU lost defensive tackle Ross Blacklock to a season-ending Achilles injury. For different reasons, this is big for both teams. Expect Ohio State to establish the run early-on. For TCU, they will be without a potential early first-round pick.
3.      Statement game for the Buckeyes and Ryan Day: For Ohio State, this is the first of few chances they will have to impress the College Football Committee. A big game on the road against a top 15 opponent. Ohio State will also be on the road against Penn State in two weeks. Later in the season they will be at East Lansing to take on Michigan State. They will finish against Michigan at the Horseshoe. This is the beginning of the some very important games for Ohio State. For Ryan Day, this will be his last game as interim head coach. Day has been acting head coach with Urban Meyer on suspension for a domestic violence case during the offseason. Meyer will return for his game back next week against Tulane. Day could be coaching for a future job outside of Ohio State. Assuming some coaching jobs will be opening after the season. This will be a chance for Day to make a statement.
While the Buckeyes prepare for their upcoming trip to Texas, you don't have to travel nearly that far for outstanding food and game day atmosphere.  In fact, watching a game at "Gameday Tavern" is better then being on the sidelines.  They are the official watch party location for every big game, including Indians, Browns, Cavaliers and the absolutely best place for Ohio State action.
The food, the beautiful servers, the ice-cold drinks and beer specials, it's a can't miss!  In fact, during every Buckeye game you can get their world-famous Buckeye Burger for only $6.50.  They are so good, you may just have to order two!  Make sure to also try their new Chicken and Shrimp dish. (pictured below)
Game Day Tavern Is located at 15119 Snow Road, Brook Park, OH 44142.
Follow: @Tim_Whelan216

NEO Sports Insiders Newsletter
Sign up to receive our NEOSI newsletter, and keep up to date with all the latest Cleveland sports news.