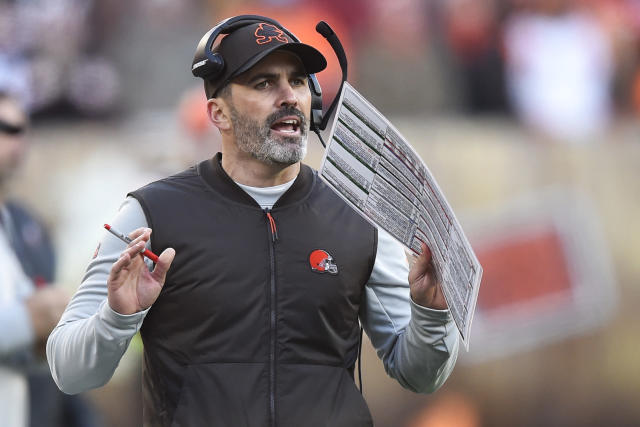 After making their first playoff appearance in 2021, the Browns took a major step backwards last season. Most of the blame fell on Baker Mayfield, who is still on the roster but will likely never suit up for the team again. Insert Deshaun Watson, who is facing a potential year-long suspension, complicating things for a team ready to win. With all the talent on the roster, anything less than another playoff appearance would be a disappointment, whether Watson plays or not.
If Watson is suspended, that means Jacoby Brissett becomes the starting quarterback. Despite fans' feelings, it remains to be seen whether Brissett is an upgrade over Mayfield. This puts Head Coach Kevin Stefanski in a difficult situation: win now with a backup or potentially lose your job. Let's look at a few different scenarios that might impact Stefanski's future.
Best Case Scenarios
We'll start with what I feel is the least likely situation: Watson gets no suspension or less than a season. In this scenario, Watson fits seamlessly into the offense and the team succeeds. If Watson does play, he is arguably a top ten QB in the league. Pairing that with the best backfield in the league and Amari Cooper gives the Browns a very dangerous offense. Barring a lot of injuries, the Browns make the playoffs and are in the running for a top seed.
Let's move to one that's a little more realistic: Watson gets a long suspension, but the team still wins. Brissett isn't going to set any passing records, but there is enough talent around him to succeed. The backfield of Nick Chubb and Kareem Hunt can handle a heavy workload. If Brissett can limit his mistakes and the defense plays to their talent level, a playoff appearance isn't out of the question. The Browns start with a fairly easy schedule, so coming out of the gate fast is important.
Worst Case Scenarios
With the Watson suspension looming, there are a lot of things that could go wrong. For example, Watson gets a full season suspension and Brissett struggles. As I mentioned earlier, Jacoby Brissett isn't going to light the world up with his arm. He was brought in as a backup and could succeed in that role, but now he's being asked to be the starter. The receiving corps is still a question mark, and, if he's asked to throw more, there might be trouble. After giving up three first round picks, the Browns can't afford a down season. If it happens, the organization may look to bring in a coach who more fits Watson's play style.
Here's a scenario not many fans are contemplating Watson plays, but it just doesn't work. When Kevin Stefanski was hired, he brought his two tight end, power run offense with him. With Mayfield, a loaded backfield, and a healthy offensive line, that was almost ideal. Watson would thrive in a wide-open, high-powered offense, which is not what Stefanski runs. Based on last season, I think things could break down quickly if the team struggles early.
My Take
Barring a deep playoff run, I don't think Kevin Stefanski is the coach at the start of next season. Despite winning Coach of the Year, a season ago, his play-calling has become somewhat predictable. Last year, every first down seemed to be a handoff to Chubb up the middle. While Chubb is arguably the best running back in the league, teams can stack the box when they know the play.
Not only is play calling becoming predictable, Stefanski's system doesn't highlight Watson's strengths. The team mortgaged its future on Watson and should put him in the best situation to succeed. Unfortunately for Stefanski, his two-tight end, power run offense is far from ideal.
I could be totally wrong. Brissett and the team may make a long playoff run and Stefanski wins another Coach of the Year. Stefanski could adapt his offense and playbook to better fit his talent. But, if the Browns are looking to succeed long-term with Watson under center, they may look to hire a coach who fits more stylistically. 
Follow me on Twitter @devinlowe123 for more Browns coverage!

NEO Sports Insiders Newsletter
Sign up to receive our NEOSI newsletter, and keep up to date with all the latest Cleveland sports news.