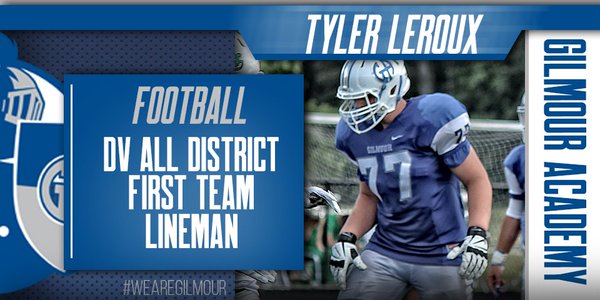 NEO Sports Insiders learned Class of 2018 offensive lineman Tyler Leroux has committed to the University of Buffalo to continue his football career after his senior season at Gilmour Academy.
Leroux, a 6-foot-5, 295 pound offensive tackle ranks in the top 70 of 24/7 Sports' composite rankings heading into the 2017 season.
The senior received offers from Buffalo, Toledo, Bowling Green, Marshall, UMass, Cornell, Dartmouth and Air Force.
In a recent NEO Sports Insiders article previewing some of Northeast Ohio's players to watch, we wrote that Leroux had not yet committed, but we were informed he made his decision back in late-March.
Leroux was drawing interest from several Big Ten, MAC, and Ivy League schools, including Indiana, Purdue, Miami (OH), Yale, Harvard, Columbia and Penn among others.
He had a 3.2 grade-point average, scored a 29 on the ACT and a 1,280 on the SAT.
Gilmour went 7-3 in 2016 and Leroux is part of an impressive returning core, which figures to be in store for another exciting season this fall.