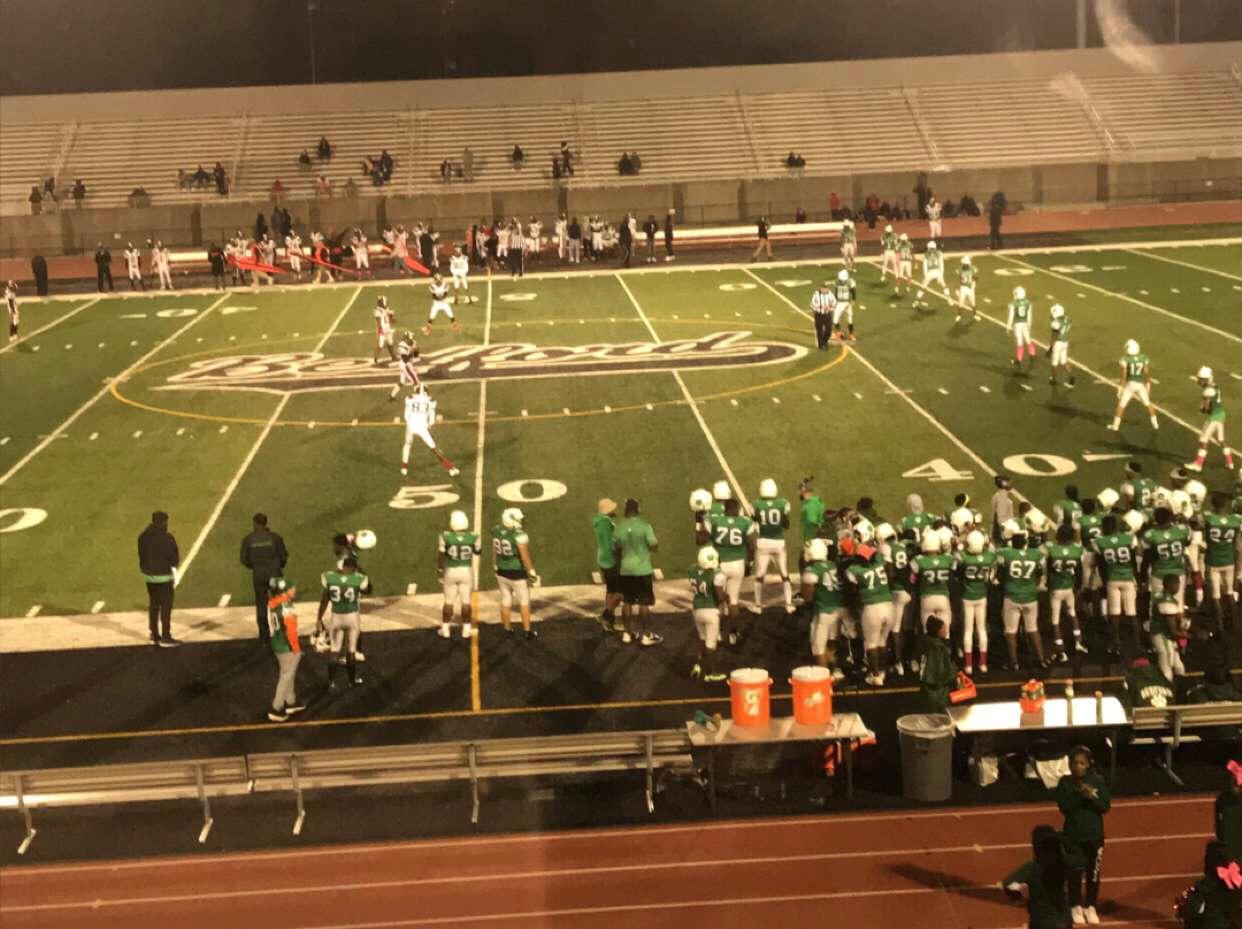 This game recap is brought to you by Westlake Interior Painting.
By Jaret Andrews
BEDFORD, OHIO – Despite late game heroics by All-Ohio wide receiver Jaden Smith, the Bedford Bearcats fall to 1-7 (0-3) on the year, losing to the 3-4 (1-1) Shaw Cardinals 7-6 on senior night.
Bedford was down 7-0 on their own 30-yard line on fourth down with 17 seconds left, when quarterback Raymell Hester found Smith on a curl route.
Smith took the catch and made an outstanding run to the end zone for 70-yards, making several Cardinals miss along the way.
"The defense played lights out." Shaw head coach Rodney Brown said after the game. "We played perfect defense until the last 30 seconds of the game. All we had to do was tackle the guy and its over with. They had no more timeouts."
Bedford decided to go for the win by attempting a two-point conversion.
After a false start penalty, the Bearcats were looking at an eight yard try. DC Townsend got the call on the biggest play of the game, but was unable to find the end zone, resulting in a one-point defeat.
When asked if he was surprised Bedford went for two to win the game, Brown replied, "No, I would have went for two too. They wanted to win the game, get it over with so I would have also went for two. To me that was a smart play, they wanted to win. What hurt them was they had the penalty and that gave us an advantage."
Both teams hurt themselves with multiple penalties, committing several fouls throughout the entirety of the contest.
Shaw started their first drive with 2 false starts and Bedford answered with an offsides causing the Cardinals to burn an early timeout to regroup.
Running back for the Cardinals Daeshawn Davis was responsible for the only touchdown in the first half for either team. Scoring on a five-yard run with 4:46 to go in the second quarter.
Turnovers were a problem for both teams in the first half, with Bedford giving up two fumbles, one of them with 1:07 to go in the half.
Shaw also had two turnovers in the first half, fumbling in the first quarter, and quarterback Elijah Smith throwing an interception late in the second half while attempting to extend their lead going into the locker room.
Shaw was able to take a 7-0 lead going into the second half.
Hester bounced back after a rough 14 passing yard performance against Cleveland Heights last week, finishing the game with 131 passing yards and one touchdown.
The freshman found himself eclipsing his passing total last week with one pass for 16-yards in the second quarter, finishing the first half with 47 pass yards in total.
Shaw was looking to go for the kill with under four minutes to go inside Bedford territory, when DC Townsend forced and recovered a fumble giving the Bearcats a chance to drive down the field to potentially tie or take the lead.
After being limited last week against Cleveland Heights, Townsend found himself in a bigger role this week.
Townsend, who is the 102nd ranked prospect in the state of Ohio, finished the game with only four rushing yards, after not playing a single snap on the offensive end last week.
After Hester threw an interception to Cardinals corner Melvin Pitts, Shaw had the ball at the Bearcat's 12.
Shaw was unable to take advantage after a fumbled snap derailed their drive forcing them to give up possession on a failed fourth down attempt.
"We were inside the red-zone seven times and only scored once, and that's been our season." Brown said. "If we just put the ball in the end zone this game's not even close. I give them credit, they stopped us. They played good defense and I give those kids credit. They wanted to win, and they played hard. I take nothing away from them."
Hester and the Bearcats offense were unable to put a drive together, turning the ball over on downs with under one minute to go.
Shaw took over from there and were able to run down the clock to 32 seconds left in the game, before giving possession back to Bedford which lead to the late game score by Smith.
PLAYER OF THE GAME: Bedford wide receiver Jaden Smith
He may not be the movie star/singer, but he performed like an "Icon" in his own right. He electrified the stadium with a 70-yard touchdown reception with 17 seconds to play bringing Bedford within a point of Shaw. Smith has proven time and time again that he is the heart and soul of this team. He finished the night with two catches for 85 yards.