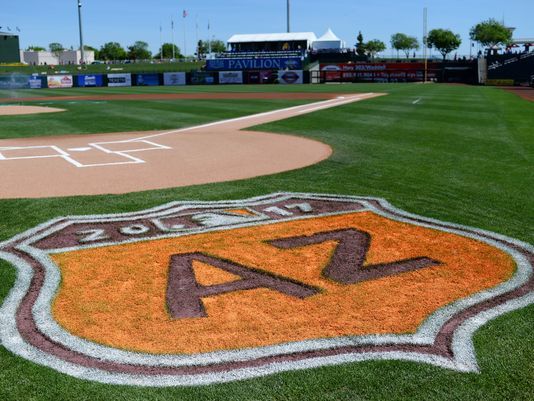 The Cleveland Indians continue to tread forward in Spring Training and as the case should be, more news is circulating around the Tribe. Check out the Indians Spring Training roundup for today:
The big news coming out of camp today was the fact that reliever Andrew Miller and center fielder Bradley Zimmer were sent home due to a run-in with the flu.
Andrew Miller and Bradley Zimmer are both battling the flu and have been sent home from the complex.

— Zack Meisel (@ZackMeisel) February 20, 2018
Miller and Zimmer will have plenty of time to recover before Opening Day, so no major concerns there obviously.
In other news, Zack Meisel of The Athletic wrote that the Tribe will have a tough decision to make when it comes to the final roster spots. Both Erik Gonzalez and Giovanny Urshela are battling for a platooning infielder role on the squad and it's an interesting battle to keep an eye on for one key reason: Both of the players are fresh out of minor-league options in their career.
The Indians could get some outfield help in the form of a power bat. 
Cleveland.com's Paul Hoynes wrote
 that Tampa Bay's Corey Dickerson could be on the Indians radar if the opportunity presents itself. Dickerson just was designated for assignment following the Rays' acquisition of the Angels' outfielder C.J. Cron. Dickerson put together a solid season in 2017, batting .282 while hitting 27 home runs and 62 runs batted in. At 28 years old, Dickerson would provide a nice pop in the lineup and some more security in the outfield.
Terry Francona spoke on the situation on Tuesday:
From a 
Jordan Bastian report from MLB.com
, the Tribe also paid respect to recently passed Columbus Clippers clubhouse manager, Matt Pruzinsky. The team will wear a patch on their hats that reads "MATTI P 26". Pruzinsky spent a lot of time with some of the current members of the team and impacted not only their careers but their lives as well.
Indians outfielder Lonnie Chisenhall talked about Pruzinsky on Tuesday:
"He affected just about everyone's life who's come up through the Minor Leagues. He actually turned into a really good friend, getting to know him, spending a lot of time in Columbus…I wish we could wear it on our hats, but we'll keep him in our hearts."
Tribe starting pitcher Ryan Merritt expounded on the subject with some of his thoughts:
"It goes to show you the impact he had on a lot of people. As a clubbie, he respected all the players, and all the players respected him. He did a great job. But he did an even better job at just being a good guy and a good friend. It was amazing to see how many people stepped up and were honoring his family, and how much they cared about him. It's a sad deal, but I think it maybe brought a lot of people together."
That's the roundup for today's Tribe news.