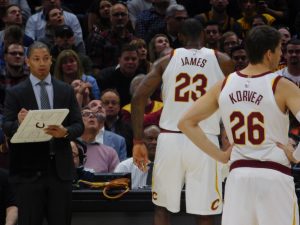 3. Don't ask us how…
With the way the Cavs played for the first three quarters it seemed like they were headed towards yet another puzzling loss, and their second this season to the Knicks.
Realistically though, a win like this will hopefully start something positive for the Cavs. It's been 11 years since the Cavs overcame a 23-point deficit for a win, and for a team that was below .500 coming into Monday, this is arguably their most important win of the season.
They showed fight and a sense of urgency down the stretch, and now own a winning streak (albeit two games) for the first time since the first two games of the season. They've also now won three out of their last four games, the only loss being a close one to the Rockets, and have a 7-7 record.
With the way the Cavs started the year out, there was arguably no team more in need of a springboard type win in the entire league.
Next, they will end their four-game road trip with a trip to Charlotte to take on the Hornets on Wednesday at 8 p.m.