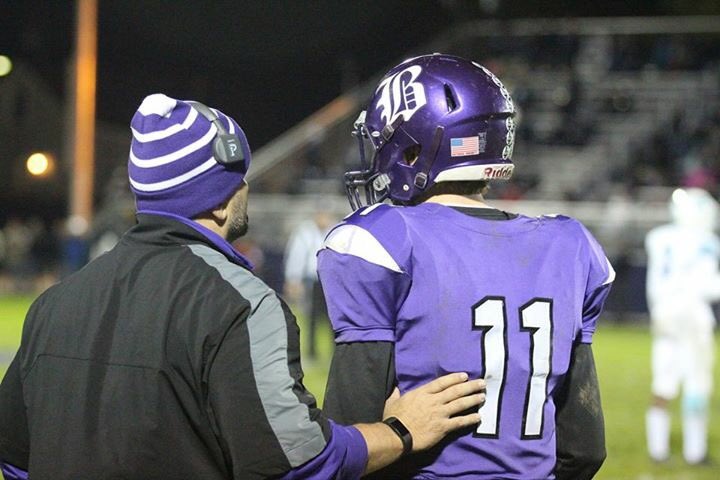 BARBERTON, OHIO– Barberton Magic Quarterback Zane Ries has won the 2017 Matthew Medley NEOSI Player Of The Year.  Ries, along with his number one threat wide receiver Garrett Turnbaugh, were two of the main reasons the Magic went 10-0 this season, and have now advanced into the third round of the OHSAA playoffs.
They will look to stay hot and advance this Friday night with their big Regional Final Matchup against Akron Arch Bishop Hoban at Green Memorial Stadium.  Hoban is the top seed in Division II, Region 5, but will have a rude welcome waiting for them when the Magic come to town.  They have rolled in the first two rounds of the playoffs with big wins over Benedictine, and crushed the high-octane attack of Bedford this past weekend.
Ries had a huge season with 2,220 passing yards and 30 touchdowns.  He and Garrett Turnbaugh became the most impactful 1-2 punch in the entire state. Ries faced a brutal schedule of opponents and just kept the Magic rolling.
Like a true champion and outstanding young man, Ries had plenty of praise to spread and thanks to give when finding out he won the award.
"Our community and fans have been truly amazing these past couple years," he said. "They continuously have packed the stands this year and they show so much love and support week in and week out. Being apart of the Barberton community is truly something special and I wouldn't want to live anywhere else.
"My teammates from the past and the present all have played a huge part in my success. Without them I wouldn't half the player I am today. I have had great lineman throughout my high school career and I have had so much talent around me these past four years. My teammates have made my job very easy. Coach Gotto is truly amazing, he puts so much time and effort into coaching and he puts together a great game plan for us each week. He has done an amazing job the past four years and he has turned our program around.
"I intend to play football in college, I have offers from 5 different schools right now but I intend on waiting till after the season to pick a school to attend. In college, I plan to major in education so I can be a teacher and a coach. Football is my true passion, I've been playing since second grade and my love for the game seems to grow every year. It is the ultimate team sport and that's why I love it so much."
This award is named after one of our original editors at the site, a good friend, a great writer and someone who we all miss daily.  Matthew Medley passed away on August 1, 2017 and his memory lives with us every day.  He would be very proud of Zane Ries and his terrific season.
The vote was a combination of the fans votes and editors of the High School Football content at NEOSI.  For a breakdown of the votes, please see below.
| | | | |
| --- | --- | --- | --- |
| | 1rst | 2nd | 3rd |
| Vince McKee | Zane Ries | Ryan Maloy | Ronald Lee |
| Eli Mooneyham | Zane Ries | Ronald Lee | Ryan Maloy |
| Payton Vince | Zane Ries | Ronald Lee | Ryan Maloy |
| Matt Loede | Zane Ries | Trenton Cramer | Ronald Lee |
| Ashley Bastock | Ryan Maloy | Zane Ries | Ronald Lee |
| Fan Vote | Zane Ries | Ryan Maloy | Trenton Cramer |
| | | | |
| | | | |
| First Place | Ries | 28pts | |
| Second Place | Maloy | 13pts | |
| Third Place | Lee | 9pts | |

NEO Sports Insiders Newsletter
Sign up to receive our NEOSI newsletter, and keep up to date with all the latest Cleveland sports news.