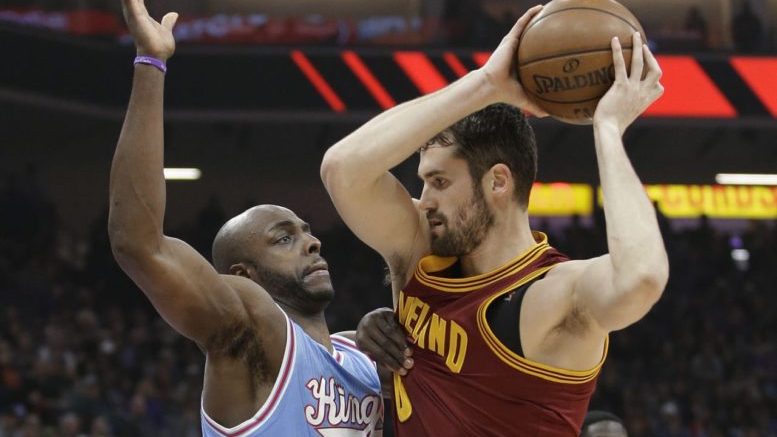 Random dribbles following the Cavaliers' 120-108 win over the host Sacramento Kings on Friday:
1. The Kings aren't very good, but that's beside the point. The Cavaliers needed a night like this. Kyle Korver really needed a night like this.
2. Mostly, just look at how the Cavs returned to moving the ball, to snapping their passes, to not being lazy with cutting and screening. Look at the nice open looks at the basket all of it created.
3. The Cavs snapped a two-game losing streak. They finished with 27 assists — or a dozen more than their previous two games COMBINED.
4. LeBron James scored 16 points and had 15 of those assists. For the second straight game, he took just 12 shots. He played 42 minutes, which could indeed be considered too many. But James was efficient, didn't overly tax himself inside (he grabbed just two rebounds) and played with a good pace.
5. Some nights, you just need a win. So some nights, Cavs coach Tyronn Lue will call for lots of LeBron. This clearly was one of those nights. I have no problem with that.
6. Kyrie Irving really returned to form with 26 points. His timing appeared "on" for the first time since his three-game absence more than a week ago. Like Korver and all the Cavs, Irving needed a game like this.
7. Kevin Love went for 15 points and a season-high 18 rebounds. As is so often the case, Love was brilliant in the first quarter as the Cavs burst to a 28-10 lead. Wasn't really much of a game after that.
8. Iman Shumpert got the start in place of DeAndre Liggins at shooting guard, and Shumpert performed probably even better than Lue had hoped. Shumpert was dynamite all the way around in perhaps his best game of the season — 16 points, two steals and 4-of-6 shooting on 3-pointers.
9. OK, now on to Korver. He went 1-of-5 shooting in each of his first two games with the Cavs, and told FOX Sports Ohio he "felt like a rookie out there." He said his mind was "racing." Then he buried his first 3-pointer since the trade against the Kings. And suddenly, everything changed.
10. He finished 7-of-10 from the floor for 18 points. He told FOX Sports Ohio, "LeBron just makes it so easy." And it seemed as if James really did go out of his way to make Korver feel comfortable and build his confidence.
11. So, the skid is over and the Cavs (29-10) now get another rematch with the Golden State Warriors. This one comes Monday in Oakland. It's the biggest rivalry I've seen since Michael Jordan vs. the Bad Boy Pistons. It may be as big as Larry Bird's Celtics vs. Magic Johnson's Lakers. No matter how you spin it, it's great for the NBA. I'm sure we'll talk more about it over the weekend.