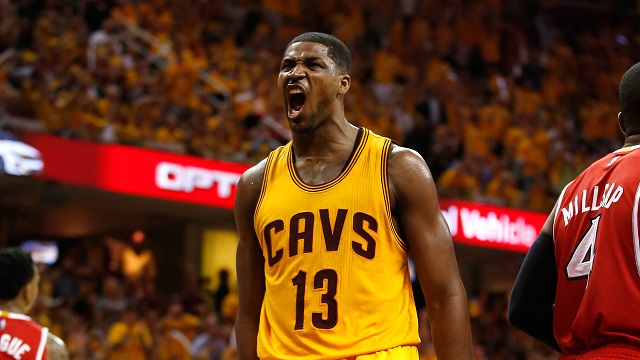 The soap opera that is the Tristan Thompson contract negotiation saga continues to have new twists and turns.
Last week, the deadline for Thompson to sign passed and the Cavaliers removed all merchandise and signage related to the backup power forward from the team shop, online store and arena.
There is a growing sentiment among Cavs fans that the team doesn't need him and if he wants to walk, then just let him.
The Cavaliers front office appears to be sending him that same message by their latest actions, but the guy whose opinion is really the only one that matters is LeBron James.
LeBron took to social media to send a message to the fans, the front office, and the whole world that he wants something to get done.
If we rewind to the day LeBron announced his decision to return to Cleveland, let's remember that there was no certainty of Kevin Love being traded from Minnesota.
There was no J.R. Smith, no Iman Shumpert, no Timofey Mozgov. There was a core of Kyrie Irving, Thompson, Andrew Wiggins and Dion Waiters.
LeBron came back for a multitude of reasons; his family and Northeast Ohio roots, the chance to play with Irving, but not far down the list was the opportunity to play alongside Thompson.
When the Cavs traded for Love, it may have diminished Thompson's role temporarily, but when the games started to really matter, Love was in a cast and Thompson was one of the few guys left on a decimated supporting cast.
Throughout the 2014-2015 regular season, there was a feeling among Cavs fans that Love was not producing like a three-time all-star should.
Apparently, 16 points and 10 rebounds per game wasn't good enough for a third best player on a team to average in a city that was fresh off of winning 97 out of 328 games the previous four seasons combined, for a grand total winning percentage of .295.
It's true Love did not mesh well with the team for much of the regular season, but neither did anyone else on the team for at least the first half of the 2014-2015 season.

NEO Sports Insiders Newsletter
Sign up to receive our NEOSI newsletter, and keep up to date with all the latest Cleveland sports news.