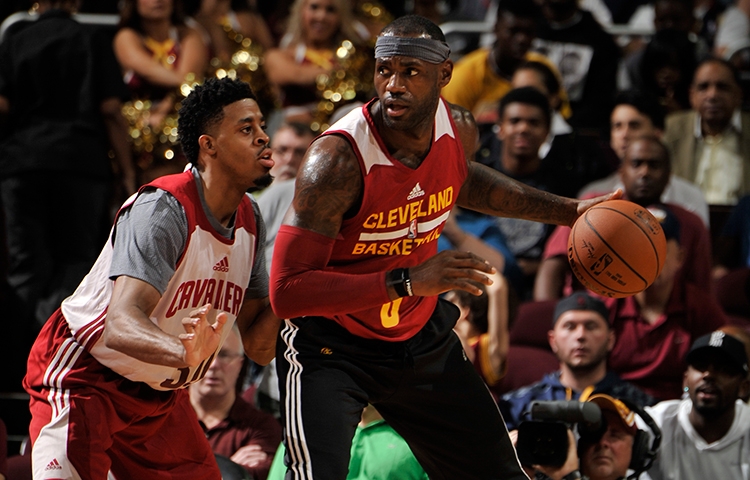 CLEVELAND – It's not often that the final score at the Quicken Loans Arena doesn't mean a thing, but tonight was one of them as the Cavaliers hosted their Wine & Gold Scrimmage. This was the first time they stepped back onto the court since Golden State celebrated on it, but that just seemed like a distant memory.
It was evident it was time to get back to work.
When the team ran out of the tunnel this evening, not only were they reacquainted with Ahmad's signature, "Clevelaaaaaand Cavalieeeeeeeeeers!" they were greeted by a deafening roar.
The crowd was ecstatic to see the wine and gold back in action. I thought to myself, "Wow. Are we really back already? All this, for just a scrimmage?" Yes. All this, and it didn't go unnoticed by the coaches and players either, particularly #23.
"It was a great turnout, our fans are unbelievable." LeBron James said about the crowd of over 14,000.
"On a Monday night, to have that many fans, is unbelievable. We accomplished one thing; that was do not get hurt. We played hard."
James would have six points and three rebounds in the only quarter he played in.
Not all Cavaliers would take to the court tonight as Kevin Love, Kyrie Irving, and Iman Shumpert all sat out recovering from their various injuries. They were right there on the sideline though, cheering on their teammates and even signing some autographs.
One Cavalier that did make his way back out to the hardwood tonight was Anderson Varejao.
Varejao was sidelined for last year after suffering from a torn Achilles in late December.
"I try to not think about it, but it's tough." Varejao said after the scrimmage.
"To be hurt lately, it's not easy, but I'm not really thinking about my injury right now when I'm out there which is good. I'm just trying to get my rhythm back and get my body 100% so I can help this team."
Of course, tonight was all about getting the guys out there and playing beyond camp. One person that couldn't go unnoticed for his unyielding hustle was Matthew Dellavedova, who dropped in his signature floater, followed by a three-ball and a steal that had the Q reminiscing of his breakout playoff performances just months prior.
He would finish with seven points, four rebounds, and four assists. It was noted that he came into camp in incredible shape, and it surely showed.
"I thought we did play with pretty good flow and continuity for our first time in a game-like situation." Cavaliers head coach David Blatt said.
"I like the fact we are on our floor playing. It feels good to get the guys back out in the atmosphere they're going to play in. I thought we saw some good things, and some other things that weren't great, but that's to be expected in this kind of an environment."
The Cavs have their first preseason game this Wednesday in Cincinnati against the Atlanta Hawks.

NEO Sports Insiders Newsletter
Sign up to receive our NEOSI newsletter, and keep up to date with all the latest Cleveland sports news.