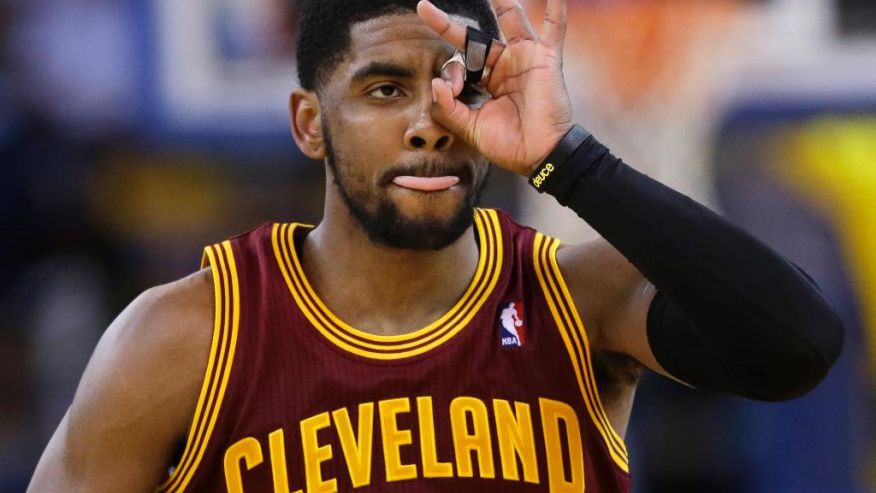 The Cavs are back. And not a moment too soon. The painful memory of the Golden State Warriors celebrating their championship win in game six of the 2015 NBA Finals is all too fresh in the minds of Cavs fans and even harder for the Cavalier players themselves to picture.
2014-2015 was a storybook season that no Hollywood writer could script, but the ending was far from "happily ever after."
Thankfully, the sequel is here, starting tonight. The honeymoon of LeBron James returning to Cleveland and Cavs fans just being happy to have some great basketball in town is over now as well.
The glimmer of just being grateful to have King James back home has worn off, and it's time for the King and his supporting cast to deliver a ring to Northeast Ohio.
Granted, it won't be easy and is far from a lock, but anything short of a championship this season would be a disappointment.
As bad as the fans throughout Northeast Ohio want it, there may be no one who wants it more than LeBron.
Back in September at Cavs Media Day LeBron expressed how difficult it has been for him at different times in his career to deal with losing an NBA Finals series. He has lost four out of six times in his NBA career.
LeBron told reporters, "It gets worse and worse each time… One thing we did that didn't even need to be talked about after we lost our first year in Miami when we came back, we [were] angry…We [were] very, very, very angry. And everybody that we went against knew it when we came back."
When comparing LeBron's first season in Miami in 2010 to his first season back in Cleveland in 2014, the similarities are not hard to notice.
In 2010, there was a great spectacle of LeBron joining Dwayne Wade and Chris Bosh, and it really was a bit of a circus all season. The Heat did not get off to a fantastic start, but chemistry grew as the season went on and they still made the Finals, but fell short against Dallas.
When LeBron returned to Cleveland in 2014, there was a great spectacle, and although the season got off to a rough start, the Cavs made the Finals and fell short against Golden State.
If one were to project how a LeBron-led team would bounce back based on coming up short in their first year together, the 2011-2012 season would be a great indication of good things to come for Cleveland.
The Heat bounced back after their first season together and went on to win the NBA Finals convincingly, four games to one over the Oklahoma City Thunder. LeBron was the MVP of the Finals and the regular season averaging 27 points, 8 rebounds and 6 assists per game in the regular season.
It wasn't just the fact that they won the Finals, but the way they bulldozed their way through competition, playing with a purpose and like a team on a mission, that stood out.
Judging by LeBron, Kevin Love, and Kyrie Irving's demeanor in conversations they have had with the media recently, there is a similar attitude amongst the Cavaliers this season.
Irving told reporters a little over a month ago at Media Day "For me, it will just be a lot more rage, a lot more emotion going out there.There won't be too much smiling or anything like that from our team. We know the mentality that we have."
Kyrie and Love are both coming back fresh off of watching their teammates struggle in the Finals, while they had to sit out with injuries, and they will be even more motivated this season to help their team reach the ultimate goal.
The two young stars had never reached the postseason in their careers up to last season, so having the experience of being battle-tested in the 2015 playoffs should be valuable in 2016.
Veterans Anderson Varejao and Mo Williams were here before LeBron left in 2010, and they both have a burning desire to bring a title home to Cleveland. Varejao has had trouble staying healthy for years, but has been a leader on this team with and without LeBron; and Williams was adamant about his desire to stay in Cleveland even after LeBron made his "Decision."
The Cavaliers enter the 2015-2016 campaign a bit more banged up than they would like, but the important thing is whether or not they will have a full cast of characters come May 2016.
Over a year's worth of chemistry developed between James, Love, Irving, Smith, Thompson, Mozgov, and Shumpert; along with the experienced veteran leadership on the bench, and the experience of a championship run for the younger guys on the team; combined with the burning desire and motivation of falling short in year one, should all add up to the Cavaliers making it one heck of a season to watch. And now, as legendary ex-Cavs announcer Joe Tait would say, "It's basketball time."