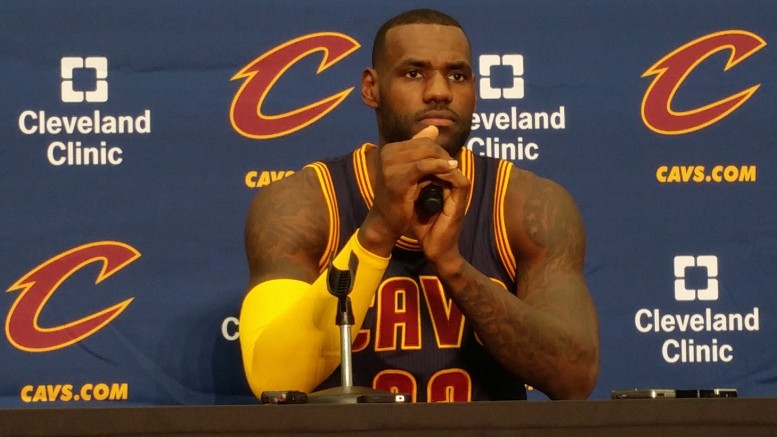 It only took about six or seven weeks for the Browns to drive every die-hard Cleveland sports fan into deep depression, but never fear; the Cavs are here!
The season starts tomorrow night in Chicago and despite guards Kyrie Irving and Iman Shumpert expected to miss a significant portion of time to start the season, the team is in good shape overall.
One question mark is whether or not LeBron James will be on the court for the season opener Tuesday night in Chicago.
General Manager David Griffin told reporters last week, "I don't think that there's any reason that he won't play on Tuesday. We have no reason to believe that, but we also are of the mindset that it wouldn't be the end of the world if he didn't play on Tuesday."
Griffin's answer is about as perfect as anyone could sum it up. "It wouldn't be the end of the world if he didn't play Tuesday."
Let's all keep that in mind this season as LeBron will, at times, be rested in games that don't mean much in the grand scheme of things. When it comes to the season opener, sure there is a bit of symbolic importance of having all the starters on the floor, and sure it would be nice to have LeBron out there, but is it really all that big of a deal if he were to miss the game?
Almost exactly one year ago, LeBron made his homecoming to Cleveland and played his first game as a Cavalier since 2010. The city was elated; people took off work; streets were shut down; SportsCenter was broadcasting live on East 4th Street. It was a giant spectacle.
The Cavs went on to lay an egg that night with all the Hollywood stars in the building, and lost to the New York Knicks 95-90. The Knicks went on to finish the season with a record of 17-65.
Did that game mean anything in the grand scheme of things?
This season it will be imperative for Head Coach David Blatt to resist the outside noise and pressure to play LeBron simply to appease the fan base's desires. The health of LeBron is the number one priority for the franchise this season and every other season until LeBron is no longer one of the greatest players in the league.
That statement could apply to any franchise in the league with any superstar on their team, but for LeBron it's a bit different considering he has played the ninth-most minutes in NBA history and is only 30 years old.
LeBron played in 69 regular season games in the 2014-2015 season. In the 13 games he missed, the Cavs won three and lost ten. There may not be a player in the league who is more valuable to his team regardless of who wins the MVP.
As LeBron gets older, it would be fair to say his minutes played and games played in the regular season are expected to decrease, but that is not a bad thing. When Blatt gives LeBron a night off, don't panic.
The San Antonio Spurs have built one of basketball's all-time greatest dynasties, and they didn't do it by listening to fans complain about Tim Duncan and Tony Parker getting a night off.

NEO Sports Insiders Newsletter
Sign up to receive our NEOSI newsletter, and keep up to date with all the latest Cleveland sports news.