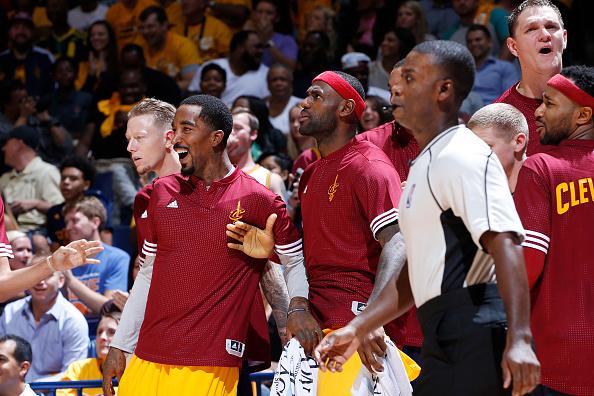 The biggest additions coming into the season are veterans Mo Williams and Richard Jefferson.
However, Williams at the moment is a starter, so his contributions are not even factored into the bench statistics for now.
Jefferson appears to be a perfect fit in Cleveland. Jefferson has played 20 minutes per game, averaging nine points, and is 7 for 12 from three-point range, or 54 percent. Last season in Dallas, Jefferson shot 42 percent and made an average of one three pointer a game. So far at the rate he's going he has doubled that. The 35-year old is in his 15th season in the league, and is arguably the first legitimate backup small forward LeBron James has ever had. This will be essential as the season goes on, in limiting the wear and tear on LeBron's body.
Thompson has continued to produce at the level he's shown in his previous three seasons in Cleveland, not scoring much but averaging 9.5 rebounds per game in just 24.5 minutes per game. There is no way the Cavs could have expected Anderson Varejao and Sasha Kaun to fill that void with equal production if Thompson continued to hold out.
Anything the Cavs get out of Varejao will be a bonus compared to the past three seasons, and Kaun is just learning his way around the league, but is a better true center off the bench than anyone who was healthy on the roster last season.
Williams and Smith are currently filling in as starters, (Smith is expected to miss the next two games with a knee injury) and Williams is averaging 14 points per game, while Smith is off to a slow start, but has a proven track record of being a high-volume scorer and is better suited for a sixth man role than starting.
Imagine the output the Cavs will get when Williams and Smith are coming off the bench, and Kyrie Irving, one of the elite point guards in the game is back on the floor, along with the Cavs' best on-ball defender, Iman Shumpert.
Backup point guard Dellavedova was the subject of scrutiny during the regular season, but came up big at times in the playoffs, and became a fan favorite. Now, Delly is temporarily playing backup point guard to Williams and is making the most of his time, averaging 8 points and 6.5 assists off the bench in 25 minutes per game.
The Cavs can still expect veteran James Jones to come up big from time to time, like he did in Monday night's win at Philadelphia, hitting four of five three pointers for 12 points on the night, including a dagger in the final 30 seconds of the game to seal the victory.
If you're keeping score at home, I've mentioned eight guys above, who will be contributing off the bench when the roster is fully healthy. Let's throw in Jared Cunningham and Harris. That gives the Cavaliers 10 guys they can rely on to produce valuable minutes off the bench if needed. Just five months ago, the starting lineup in the Finals consisted of Delly, Smith, LeBron, Tristan, and Mozgov.
Give some credit to GM Griffin for realizing a weakness and addressing it promptly, and as the season goes on, get to know and love your Cavaliers' second unit, who will save the team in more ways than one come postseason.
Pages: 1 2