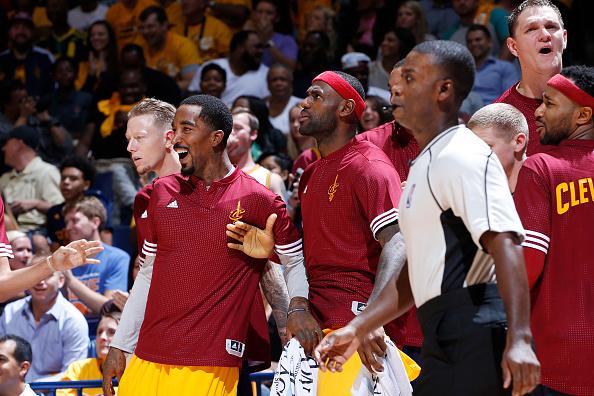 The NBA season is just getting started, but through four games it is already clear the Cleveland Cavaliers have a vastly superior bench to that of the 2014-2015 season.
Last year, the bench was a weakness of the team, and so far it looks like one of the team's biggest strengths.
In the 2014-2015 regular season, the Cavaliers bench averaged 23.8 points per game, while opponents' benches averaged 33.2 points per game against Cleveland.
So far, Cleveland is averaging 36 points per game off the bench, while allowing an average of 28.5 points per game to opponents.
This turnaround would not be possible without some great moves by General Manager David Griffin.
If you look at last season, the names on the list of the reserves were nothing to write home about.
Dion Waiters played and complained his way out of Cleveland. Shawn Marion and Mike Miller were expected to be veteran leaders on and off the court, but neither contributed as much as they would have liked.
First round pick Joe Harris spent more time in Canton than Cleveland, but that isn't necessarily a bad thing, just not ideal when the Cavs rotation pretty much consisted of eight guys total.
Brendan Haywood, along with his huge contract, was strictly brought to Cleveland to take up a roster spot in the hopes that maybe the Cavs could turn him into a big addition through a trade in the future, which may or may not still happen.
Kendrick Perkins was acquired to fill a need on the roster and be a reliable big man, but even diehard fans would be forgiven for not remembering Perkins was on the team.
And who could forget the outstanding play of Alex Kirk, Lou Amundson, Will Cherry, and A.J. Price?
I don't say this to single out these players or bash them, but it's important to acknowledge that the second unit of the Cavaliers had a significant amount of room for improvement after the 2015 Finals in June.
Aside from Tristan Thompson, Matthew Dellavedova, J.R. Smith, and occasional bursts from James Jones, the Cavaliers bench was not heard from in the 2014-2015 season. That bench averaged 79 minutes per game total during the regular season. Although it's early, the 2015-2016 Cavaliers' bench is averaging 102 minutes per game, roughly two quarters' worth of minutes more.

NEO Sports Insiders Newsletter
Sign up to receive our NEOSI newsletter, and keep up to date with all the latest Cleveland sports news.