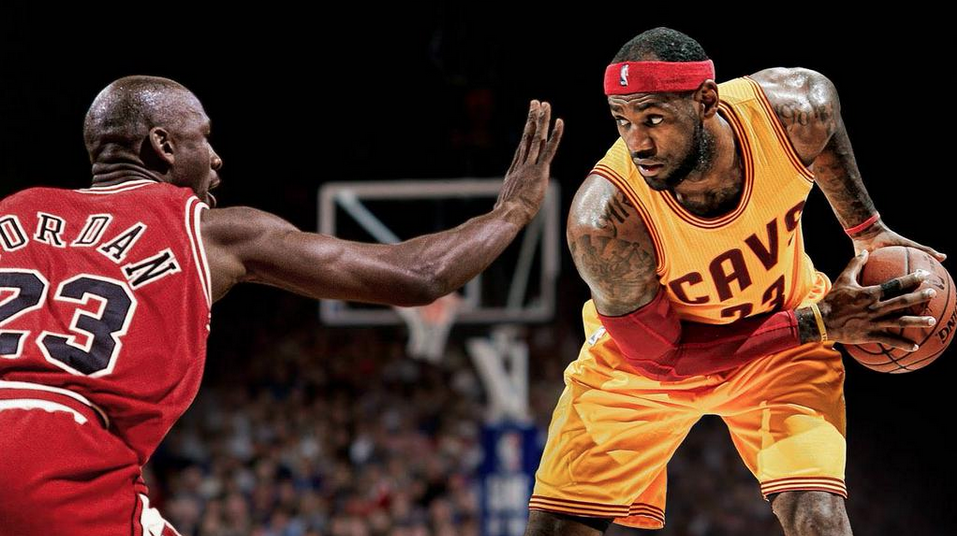 At 36 years old, I have lived a blessed sports fan's life, despite only seeing my beloved Cleveland pro teams take home one championship.  I've gotten to witness first hand the greatest hockey player (Wayne Gretzky), the greatest golfer (Tiger Woods), a quarterback and coach combine to win five Super Bowls, even a horse win the Triple Crown.  Not to mention, the single-season homerun record get broken in baseball, not once, but twice.
However, the greatest sports feat I can lay claim to is watching Michael Jordan single-handedly dominate the NBA, leading me to believe he may never be replaced as the greatest athlete not only in basketball, but in the rich history of sports.  Suddenly, all of that is on the verge of changing.
Michael Jordan went 6-0 in NBA Finals throughout his immaculate career.  Had he not retired twice, there is a strong chance he could have went 10-0 in 10 consecutive seasons.  He didn't have close to the weapons around him as LeBron James did in his Miami tenure that saw him go 2-2 in the NBA Finals.  Not only that, but the competition was stronger in the 90s then it is now.
Jordan and the Bulls beat men like Charles Barkley, Karl Malone, John Stockton, Clyde Drexler and Magic Johnson in the Finals along the way.  Those men were on the Dream Team and the face of basketball.  Jordan also took down Larry Bird, Patrick Ewing, Reggie Miller, Mark Price, Isiah Thomas and countless other big names to make it to the Finals each year.
LeBron never beat Kobe Bryant (although he never faced him) in a Finals and needed a loaded roster to beat a young OKC team featuring Kevin Durant, James Harden and Russell Westbrook.  If it wasn't for a clutch shot by Ray Allen, and terrible foul shooting by Kawhi Leonard, James would have gone 0-3 lifetime against the Spurs in the Finals, and be 2-6 overall instead of 3-5 as it currently stands.
Yet, despite all of those facts I have just given you, 5 out of 10 people will consistently tell you LeBron James is the greatest basketball player of all time.  They will argue that Jordan had Scottie Pippen and Horace Grant.  That Jordan also had Phil Jackson as a coach and Dennis Rodman in his second stretch with the Bulls.  These same people will insist that if James played in that era he would have dominated as well.  Up until a few days ago, I would have called those people fools.
I have firmly been in the Jordan camp for GOAT for many years, and until recently thought nothing would ever change that.  For the first time, I feel myself starting to slip into the thought, that maybe, just maybe, if the Cavaliers beat Golden State this year in the NBA Finals, that James will finally surpass Jordan as the greatest ever.  It is a scary thought for some, but the argument for Jordan would take a severe blow.
Harkening back to his first NBA Finals run with the Cavaliers, James has never played with a Finals team this defunct of solid talent.  There is no Kyrie Irving, Chris Bosh or Dwyane Wade.  He has no bench, and no consistent supporting cast.  They are about to take on one of the most star-studded lineups in the history of the NBA, a team that wiped them off the floor last season in five games.
All that being accounted for, as much as I would argue to anyone willing to listen that Michael Jordan is the greatest of all time, if LeBron finds a way to pull this off, he takes that title moving forward.  This has been James' most grueling playoff run since returning to Cleveland, and far tougher then any of them in Miami.
He played all 82 games this season with a variety of different players coming on and off the roster.  Love was far from a solid number two, and even Tyronn Lue had to take time off for health reasons.  Nothing was consistent, but James and his dominance.  This has been his finest effort.  It didn't matter if cans of soup were being throw at Damon Jones, or Rodney Hood refused to check in a game, James kept focused and kept winning.
The two years Jordan was away from Chicago, the Bulls still made playoff runs.  If you were to take James off this Cleveland Cavaliers team, they would be lucky to win 20 games.  It is still hard to fathom, and at times I almost feel dirty typing it, but if LeBron James and the 2018 Cleveland Cavaliers stun this Golden State Warriors team, there is no denying he is the greatest of all time.
This Warriors team is even more seasoned and improved from their 73-win season in 2016, and their NBA championship season in 2017.  The Warriors have one of the best coaches in the NBA and the deepest bench to go along with it.  The Warriors are as close to unbeatable as a team has ever been.
Throw away the scoring titles, or the perfect record in the Finals.  Set aside the game-winning shots that live in infamy and the legacy that will never leave MJ.  If James does the unthinkable, then it is case closed argument over.  We are all witnesses to the new GOAT.
That is just one writer's opinion, however. Please take note that the title to this article did end with a question mark.  We want to know your thoughts, leave a comment in the comment section below and let us know what you think.

NEO Sports Insiders Newsletter
Sign up to receive our NEOSI newsletter, and keep up to date with all the latest Cleveland sports news.