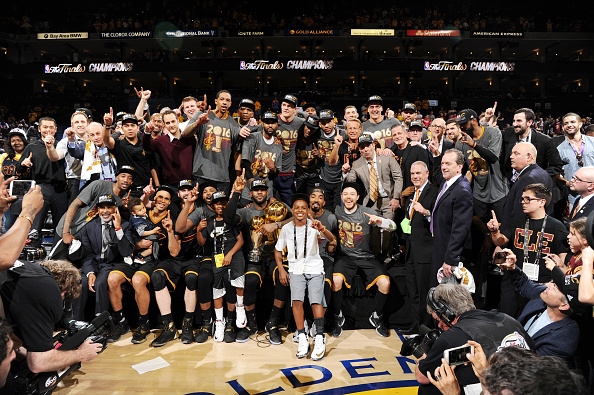 CLEVELAND– The Cavaliers are heading to the NBA Finals for a fourth consecutive year, but this time around, they're doing it with a much different group.
Following the Kyrie Irving trade in the offseason, and a major roster overhaul at the trade deadline, only head coach Tyronn Lue and four players remain from the team that ended the city of Cleveland's 52-year championship drought: LeBron James, Kevin Love, J.R. Smith and Tristan Thompson.
Kyle Korver was on the squad that lost in five games to the Warriors in last season's Finals, but other than that, no other player on the Cavs' current roster has played for a championship. But still, Lue says he and the returning veterans have a strong bond that has helped contribute to the championship culture overall in Cleveland.
"It's a great bond," Lue said during a Tuesday conference call with media. "I think we've done a good job of building a great culture here in Cleveland. Dan Gilbert, he does what it takes to win a championship, to try and win a championship. We've done some good things. Just having these guys here who have been through it, who have been through some tough times, who have been through some great times as well, it's a bond that can't be broken.
"It just reminds me a lot of guys I played with back in the day. When you see Horace Grant, Robert Horry, Derek Fisher, there's just something about winning a championship with those guys that you'll never forget. It's a bond that can't be broken."
That bond is also what has allowed him to keep the faith in two of those guys, Smith and Thompson, who have struggled on and off throughout the year. Thompson battled injuries throughout the regular season, and was effectively out of the playoff rotation until Game 7 of the Cavs' opening round series against Indiana when he was called upon to start. He put up 15 points and pulled down 10 boards, and also started the final six games in the Eastern Conference Finals against Boston.
Smith has had a season filled with ups and downs on both ends of the court, and also went back-and-forth between starting and a bench role. In the playoffs, however, he has come up with some big performances as a starter, including a 20-point outing in Game 1 against the Raptors and 12 points against the Celtics in Game 7.
There were calls to bench one or both players throughout the regular season, but part of the reason Lue has never given up on either is because of that bond from 2016.
"I'm always going to stick behind my guys, even when they're struggling," he said. "I just have confidence and belief that when we need those guys and call upon those guys, they'll be ready and they'll produce. And you've seen that throughout the course of the playoffs this year, you've seen it throughout the last three years that those guys are up for the challenge, they rise to the occasion, and just because a guy's not playing well you can't give up on a guy.
"I think you gotta give those guys a chance, especially when you've been there before with them and you know who they are. You gotta just try to get them in better situations, or get them easier shots. But you know that you just can't give up on those type of guys because they've been there, they've done it before."
Even with the bond of the core that remains however, the Cavs are still going into the series as underdogs; the Warriors are the 10-to-1 favorites to win the 2018 title.
But no matter who Vegas or pundits are picking, Lue and the Cavs aren't too concerned with deriving extra motivation from not being favored to win.
"Our main focus and main objective is to win a championship, so we can't worry about what the outside guys are saying and who's being picked," he said. "We know who we have here, and what we're trying to do."
Game 1 of the NBA Finals is Thursday night at 9 p.m. in Oakland.

NEO Sports Insiders Newsletter
Sign up to receive our NEOSI newsletter, and keep up to date with all the latest Cleveland sports news.