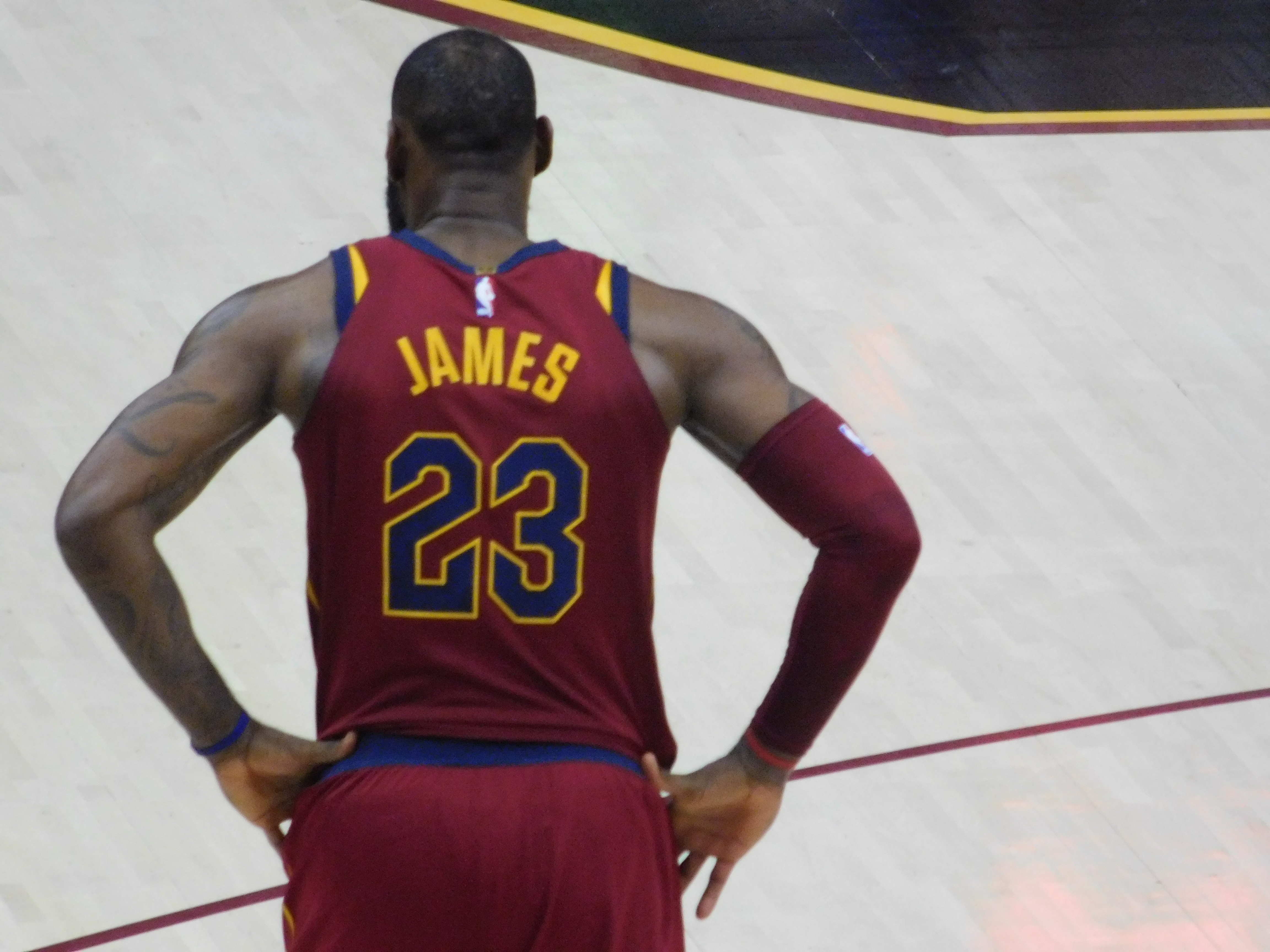 CLEVELAND– Every time the Cavaliers play the Lakers, it seems to ramp up the intensity of speculation that LeBron James is heading for L.A. in free agency.
Thursday night, after the Cavaliers topped the Lakers 121-112, there was an additional layer to those speculative questions. The occasion was also marked by the fact that it was the first time James faced off against high-profile rookie Lonzo Ball.
It's well-documented that Ball is a James fan. He had James jerseys growing up, has said that James was his favorite player, and has tweeted about wanting James to come to L.A.
James in return, has wished the rookie a happy birthday, sat courtside at a Lakers Summer League game in Las Vegas, and congratulated Ball for passing him as the youngest player to get a triple-double last month.
Post-game, it wasn't really unexpected then that the conversation turned to the eldest Ball brother. James said that his praise of Ball is no indication of his plans beyond the 2017-18 season, or to get a rise out of fans. Instead, it is simply him reciprocating Ball's respect.
"I don't do it to get a reaction," James said. "I do it because he's said over and over since he was growing up and who he modeled his game after. Who was his favorite player? It was me, and I was humbled by that. So me wishing him a happy birthday was kind of the salute back to him."
LeBron said he was "humbled" when Lonzo said he was his favorite player. Also jokes that he can't "buy a house" in LA without there being all kinds of noise. pic.twitter.com/KTPbP8J8vo

— Ashley Bastock (@AshleyBastock42) December 15, 2017
James also said that "of course" he can relate to the intense scrutiny the Ball is under in his rookie season. He also said as a player he admires the fact that "it's always team" with Ball and that he looks to pass first, an observation that Cavs head coach Tyronn Lue also made.
But James was not the only one dishing out compliments on Tuesday night.
"I'd say he's the best player in the world right now," Ball said when asked about playing against James. Ball finished with 13 points, 11 assists and eight boards.
But with the compliments will no doubt come another turn of the rumor mill concerning James' impending free agent status.
The reality of the situation remains that James is arguably the most high-profile athlete in the world. When he was a free agent in both 2010 and 2014, the rest of the league effectively froze until James made a decision. Even though James said at media day that his plans to retire in Cleveland haven't changed, and that he would not give a thought to his next move until after the season, with each compliment to Ball, or with each new home bought, the rumors simply strengthen.
"I see all the stupid noise that happens," James said. "You know I can't buy a place in L.A., I can't live in L.A. It's funny noise. But I don't get involved in it, because when I post things I don't look at comments, because I'm so far removed from the white noise and the noise doesn't matter to me."
So for now, we can't read anything into James complimenting Ball beyond a mutual respect. Fans watching likely saw the two huddle together after the final buzzer at midcourt, with James covering his mouth with his jersey as the two appeared to talk. The rumor mill will have to do its work with that one as well.
"That's none of y'all business," said James when asked about their conversation.
As always, the ball remains firmly in James' court.
ALSO NOTABLE:
With the Ball family in attendance, James put on a show. He recorded his 59th career triple-double in a 25 point, 12 rebound, 12 assist effort. The guy who is "a walking triple-double" as Lue put it, is now tied with Larry Bird for sixth all-time on the career triple-double list.
"One of the greatest players to ever play this game," James said when asked about his thoughts on Bird. "A kid from French Lick. Boston, one of the few guys to ever be in the 3-point contest and shoot with a warmup shirt on. He played until he couldn't play anymore, obviously. We know that. He played until he literally couldn't play anymore. He gave everything he had. … I've always been a big fan of Larry Bird. If I'm linked with any of the greats, especially like him, that's pretty cool."
LeBron talks tying Larry Bird with his 59th career regular season triple-double pic.twitter.com/6aLEYGb0f2

— Ashley Bastock (@AshleyBastock42) December 15, 2017

NEO Sports Insiders Newsletter
Sign up to receive our NEOSI newsletter, and keep up to date with all the latest Cleveland sports news.