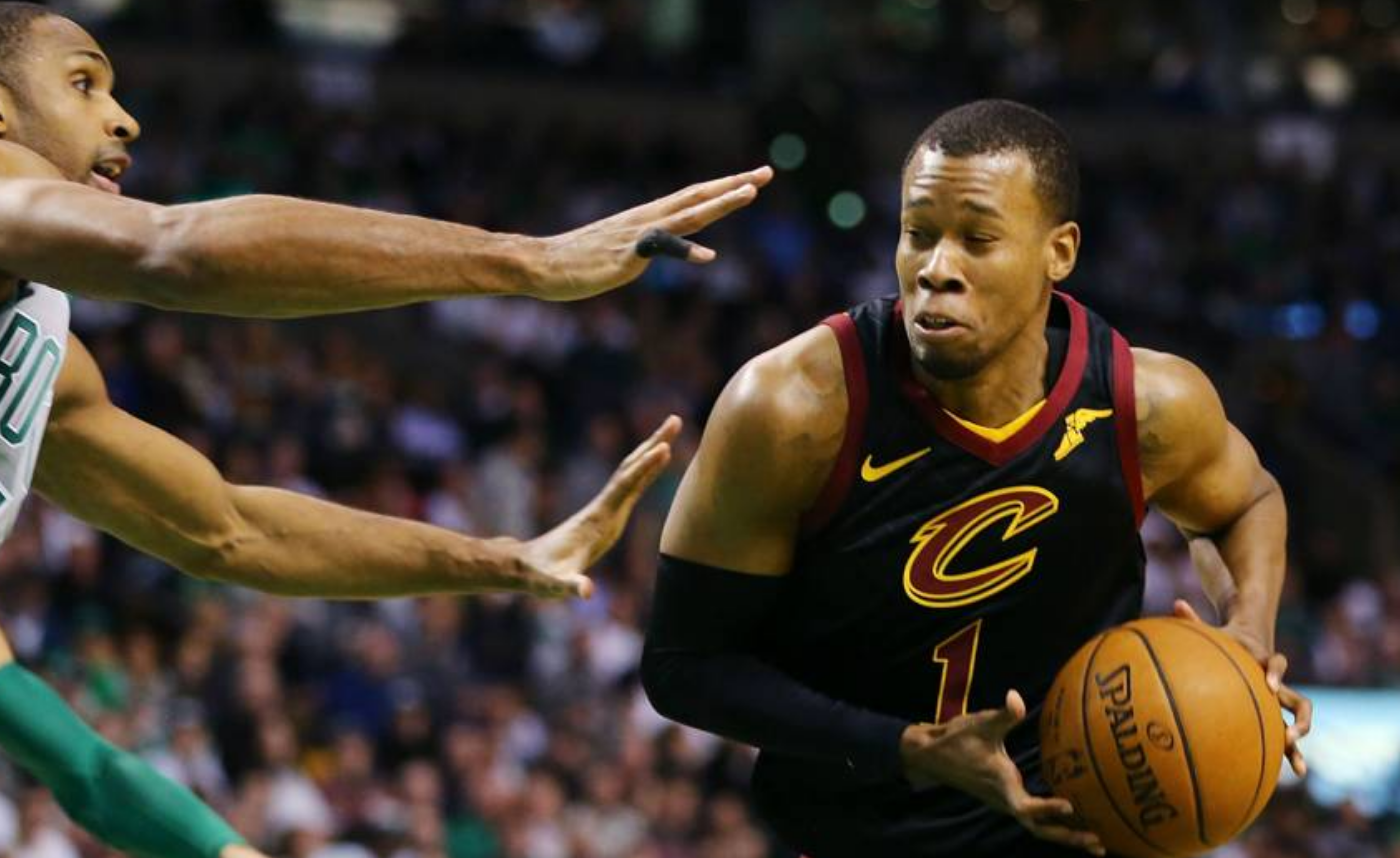 CLEVELAND – The Cavaliers have grown accustomed to having a gauntlet of scoring options, with LeBron James, Kevin Love and Kyrie Irving spearheading the team to three straight NBA Finals appearances.
Trades and injuries have separated the dynamic trio in 2017-18, leaving the Wine and Gold without a convincing third-best player in 2018.
When James and Love are struggling, who will head coach Tyronn Lue lean on the most this upcoming postseason?
—
Jordan Clarkson and JR Smith scored 16 and 15 points respectively, Rodney Hood tallied nine points and Larry Nance Jr. chipped in seven points during the Cavs' 98-87 win over the Mavericks on Sunday evening at Quicken Loans Arena. In a game where James shot 23.8 percent (5-of-21 for 16 points) and Love notched a 30.8 percent (4-of-13 for 13 points) clip from the field, the bevy of secondary contributions came at the right time.
Cleveland is still working through the peaks and valleys of integrating four deadline acquisitions into a revamped rotation. Lue and interim head coach Larry Drew have used 26 different starting lineups. General manager Koby Altman has made three blockbuster trades in seventh months.
From Irving to Isaiah Thomas to George Hill, the never-ending search for another scorer to team with James and Love continues to linger on. Does the depth of the 2017-18 team compensate for the lack of star power?
For one night – against the fifth-worst team in basketball – it did.
But what about a potential first-round matchup against John Wall, Bradley Beal, Otto Porter Jr. and the Wizards? Or a potential Eastern Conference Finals bout against DeMar Derozan, Kyle Lowry, Serge Ibaka and the Raptors? Will using a third-scorer-by-committee approach be just as effective?
One of the keys to the Cavaliers' past playoff runs has been clutch scoring down the stretch, a strategy fronted by James, Irving and Love. For Lue and the coaching staff, pinpointing a third-best player will be a priority over the remaining five games of the regular season.
Here are the top candidates (stats as of March 31)…
Jordan Clarkson: 22 games, 23.6 MPG, 13.5 PPG, 2.4 RPG, 1.8 APG, 0.6 SPG, 0.1 BPG, 1.2 TPG.
Rodney Hood: 17 games, 25.8 MPG, 10.9 PPG, 2.8 RPG, 1.4 APG, 0.6 SPG, 0.3 BPG, 0.4 TPG.
Larry Nance Jr.: 18 games, 22.6 MPG, 10.1 PPG, 7.7 RPG, 1.3 APG, 1.4 SPG, 0.8 BPG, 0.4 TPG.
Jeff Green: 72 games, 23.2 MPG, 10.6 PPG, 3.2 RPG, 1.3 APG, 0.5 SPG, 0.4 BPG, 1.0 TPG.
George Hill: 22 games, 29.1 MPG, 9.9 PPG, 2.8 RPG, 2.9 APG, 0.8 SPG, 0.6 BPG, 1.2 TPG.
Clarkson is undoubtedly the top scorer, leading the bunch in points per game despite ranking third in playing time. He averages nearly two turnovers (1.7) per contest over the course of his four-year career, and ranks eighth on the Cavs in defensive rating (107.9). With little to provide besides scoring, Clarkson is best suited for fast-paced affairs against high-octane offenses.
Hood's numbers might be skewed, as a lower back strain has hampered his brief stint in Cleveland. He is having his best season with career-highs in points (15.0) and three-point field goal percentage (38.3 percent), and has been stellar in taking care of the basketball since arriving on Feb. 8. If the offensive stats rise, then Hood could create separation and find a postseason role in front of his new teammates.
Nance Jr. is a spark on both ends of the floor, as he can provide a flurry of dunks, blocks and steals in five-minute bursts. He has been the best defender on the Cavaliers (103.6 defensive rating), and has added an offensive dimension to his game since returning to his home state. The biggest concerns are his team-high 2.8 personal fouls per game, and the wealth of other interior presences on the roster (Love, Tristan Thompson, Ante Zizic).
Green has been a model of consistency this campaign by staying healthy, averaging double-figures and providing a veteran presence for a second unit that lost Dwyane Wade. He has three 20-or-more-point games, and 39 games scoring in double-figures. Nothing flashy, but Green has been a steady force for a team that has been unsteady all year.
Hill is the opposite of Green, recently battling a left ankle sprain after posting his lowest points-per-game average (10.1) dating back to 2011-12 (9.6). His seven-foot wingspan makes him a threat on defense, and he ranked among the best in the NBA in three-point percentage (45.3 percent) before joining the Cavs. When healthy, Hill has the track record to propel a contender deep into the postseason.
The playoffs are still weeks away, but Lue and Drew will have to find their best five-man lineup for the final five minutes soon. Sharpshooters like Kyle Korver or JR Smith could also emerge, but both are having poor seasons.
The question remains: Who steps up when James or Love have an off night like they did on Sunday?
John Alfes has covered Cleveland sports since August of 2016. Follow him on Twitter @JohnAlfes for breaking news and in-depth coverage all season long.

NEO Sports Insiders Newsletter
Sign up to receive our NEOSI newsletter, and keep up to date with all the latest Cleveland sports news.