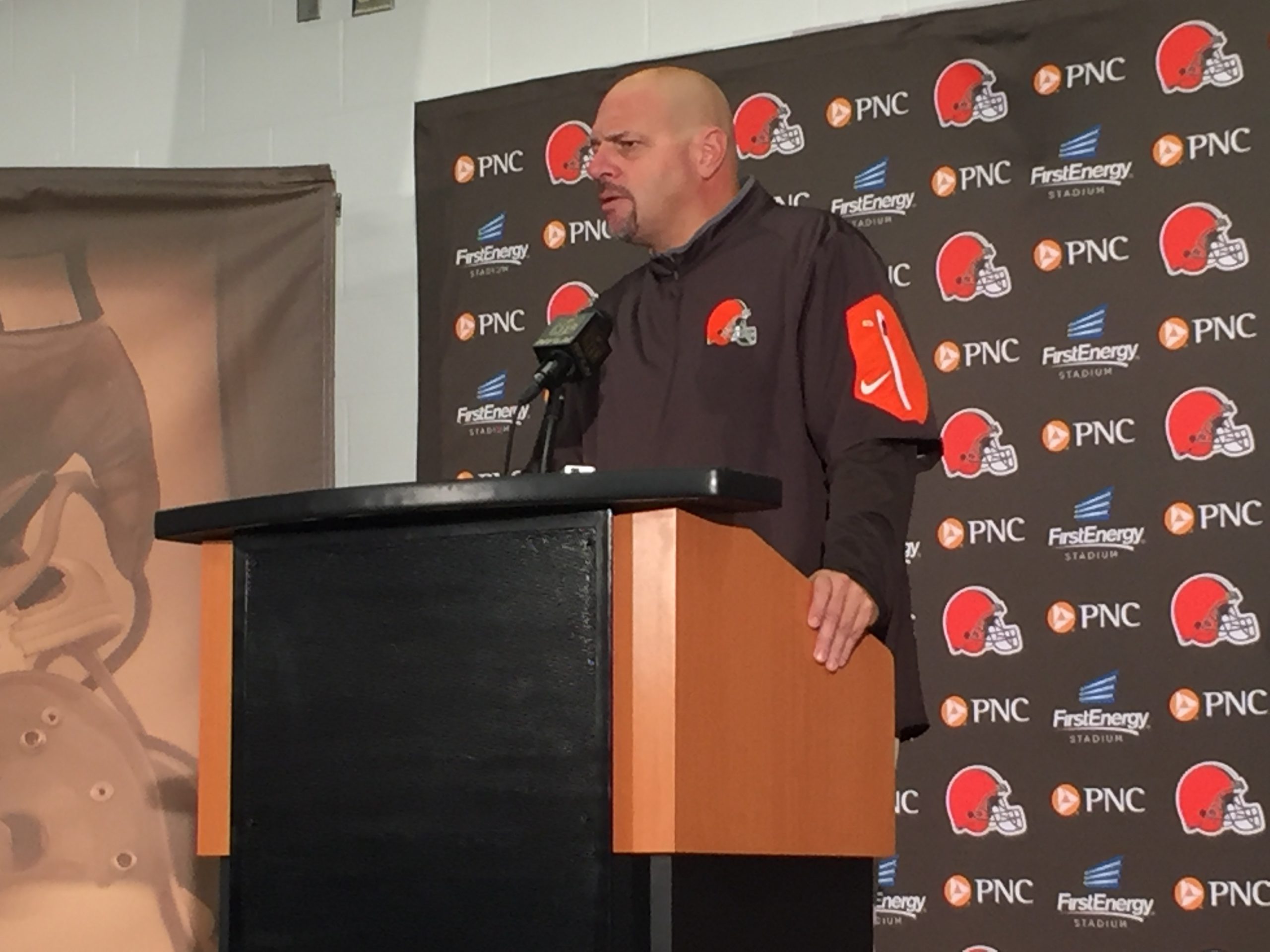 Answer me this question in three seconds….ready?
What's the identity of the 2015 Cleveland Browns?
Couldn't do it – could you?
That's okay, because six games into the 2015 season, it doesn't appear that the Browns or anyone that coaches, plays for, or works for the Browns knows that answer either.
Sunday's 26-23 overtime loss to the Broncos was frustrating for oh so many reasons, but one of which seems to pop up week after week is – what is this team truly made of?
Want proof that even the players don't know what identity they have over a third into 2015? I submit to you a quote from Browns wide out Travis Benjamin on playing the Denver defense Sunday:
"It was tough. They have a pretty good defense, front seven and the back end. We as an offense want to come in, play our type of ball and move up and down the field like we should."
'Play our type of ball.' Um, what exactly is 'our type of ball?'
Is it the power run game that we were all promised this past offseason and when Mike Pettine was hired? The power run game that saw lead running back Isaiah Crowell run for 32 yards on Sunday with an average per carry of 2.9 yards?
The power run game that is ranked 25th in the NFL with 91.8 yards per game? The power run game that has scored two rushing touchdowns in six games, one that was scored by quarterback Josh McCown?
So maybe the 'our type of ball' isn't a power run game, but a pass heavy game led by McCown. While that seems to make sense based on the numbers the team has put up in the first six games, it doesn't lend itself to long term success based on the personnel on the roster.
While tight end Gary Barnidge is having a breakout season with 27 catches and five touchdowns in six games, the three lead wide outs don't exactly strike fear when they take the field.
Benjamin scored four TD's in the his first three games, and is the most consistent of the three wide receivers. Andrew Hawkins and Brian Hartline have combined for a total of 27 catches for 314 yards and no touchdowns. Long term, throwing the ball a lot is not going to bring the Browns success.
Then there's the defense, which under coordinator Jim O'Neil is a complete mess. The Browns after six games are ranked 30th in yards allowed, 22nd in passing yards allowed, 32nd in the league in rushing yards allowed.
Considering how much talk we heard about the Browns defense being a strong unit this past offseason and through camp, and how they have played in the first six games, something simply doesn't add up.
Let's not forget the fact the team is averaging 8.1 penalties per game, 65 yards per game against them.
A lot of these identity issues seems to have to do with not knowing week to week what Browns team is going to show up. Instead of having strengths that other teams seem to have to prepare for, the Browns often seem to be the team on the defensive.
Can anything change to avoid this mess being a completely lost season?
Probably not.
Pettine was expected when he was hired to come in, lay down the law, and have a team that would have a physical style of play that would eventually pay off.
So is he a fraud? Is it the fault of GM Ray Farmer for giving him a roster full of players simply not good enough? Or does all this fall on the players for not buying into what the coaching staff and front office are selling?
No matter how you look at it, the Browns seem to be in complete denial about this team being ready to win, and win now, and the pressure seems to be mounting on their head coach.
"We're going to attack this the only way we know how, learn from it and move onto the next one," Pettine said Monday.
"Just remind the guys stay focused on their job. We're not going to flinch, but that's a tough one to move on from, knowing how close it was."
Close is not good enough, and until this team figures out some type of identity, it's likely never going to change.

NEO Sports Insiders Newsletter
Sign up to receive our NEOSI newsletter, and keep up to date with all the latest Cleveland sports news.